Are you planning to enter an instructional program? Are you a visiting student enrolling in English, mathematics, or other restricted courses? Are you a high school student taking college courses? Need to take a proctored test? If any of these apply to you, we are here to help! Contact the Welcome Center for assistance at 336-633-0200 or you may call the Assessment Center directly at 336-633-0321.
Types of Testing
Who takes the placement test?
All students applying at Randolph Community College for degree programs are given the option to take the placement test unless determined to be exempt (see chart for details). Students who are NOT exempt from the placement test and would prefer to take developmental courses instead, may opt to do so by submitting the Placement Assessment Waiver Signature Form. Students who choose to complete the placement test may setup an appointment to talk with their counseloror make an appointment to take the test.
REINFORCED INSTRUCTION FOR STUDENT EXCELLENCE PLACEMENT GUIDE
How long do placement test scores last?
Placement test scores are valid for ten (10) years. 
Students may retest once during the 10 years in which their scores are valid. It is recommended that students meet with a counselor to discuss and review preparation options prior to retesting. If the student is already enrolled in pre-college level courses at the time he or she retests and if the scores on the retest place him or her out of pre-college level, the student will follow the college's standard withdrawal and refund procedures for tuition and books if he or she chooses to exit the pre-college level course.
 What is the cost for placement tests?
There is no fee for the placement test.
How long will the placement test take?
The amount of time the test takes varies with each individual. The average time is about 4.5 hours, but some people have taken much less time, and others will take 6-7 hours. There is no time limit so you can take as long as you feel you need. If you do not have enough time available in one session to complete the test, you can schedule for another session and pick up where you left off.
How to prep for the RISE Placement Test?
RISE Placement Test Practice Test (English)
RISE Placement Test Practice Test (Math)
What happens if I don't do well on the test?
You cannot fail the test. Its purpose is to ensure you enroll in a class that you need, and not in one that will frustrate you. Your score may indicate that you need a developmental class to ensure you are prepared for the college-level class when you take it. The best plan is to take the test early, well in advance of registration. Then if you do not do as well as you had hoped, you have time to work on those skills you need to develop. You can only re-take the placement test once during the 10-years in which your scores are valid. It is recommended that you meet with a counselor to discuss and review preparation options prior to retesting.
 Can I complete the placement test before I submit my admissions application?
You need to submit your application at least 24 hours prior to taking your test so we have a student ID number in which to attach your scores. Additionally, you should submit your transcripts (from high school and any prior colleges) prior to taking your assessment. The grades you earned elsewhere may keep you from having to take the placement test.
 Can I take my placement test at another college?
In most cases, yes. However, there are some schools outside of the North Carolina Community College System that will not transfer your scores if the test is taken there.
When is the best time to take the test?
You should definitely take the test at least 2 weeks before you plan to register for classes. That leaves you with enough time to pull up your scores if you need to. If you feel you might need extra help, take the test as early as possible, then take a prep course before you take it again. Take the test when you feel you are ready, but definitely do not wait until the last minute.
The two nationally-recognized assessments used to obtain a state-issued High School Equivalency credential in North Carolina are GED® and  HiSET®. Both High School Equivalency assessments are recognized by US Department of Education USDOE GEN-14-16 and cover the same content areas. Passing the complete battery of either of the assessments will lead to the same High School Equivalency Diploma issued by the North Carolina State Board of Community Colleges.
RCC offers both high school equivalency assessments at the Assessment Center.
Candidates who successfully complete the HSE tests in North Carolina will receive a diploma from the State Board of the Community College System.
Please note that students 16-17 years of age planning on taking their HSE tests in RCC must contact College and Career Readiness Front Desk at 336-633-0106 to request drop-release minor paperwork to be eligible to take high school equivalency assessments in North Carolina.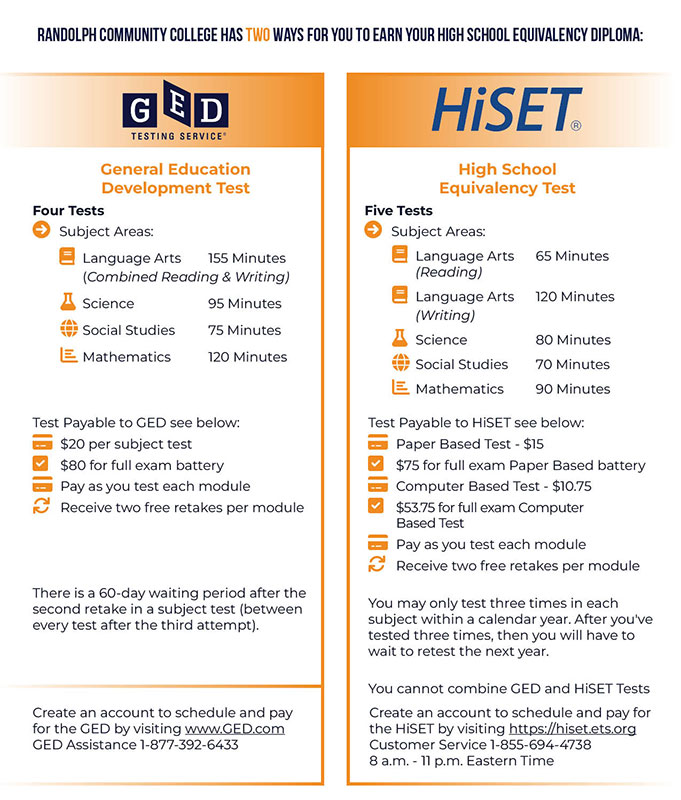 Learn more about each assessment on their websites:
RCC's College and Career Readiness department offers FREE classes, available both in the classroom (AM and PM) and online, or a combination of the two, to prepare learners to successfully pass a designated high school equivalency assessment.
Scholarships to cover test costs are available to those who qualify.
For more information about classes and scholarships, call College and Career Readiness Front Desk at 336-633-0106.
For more information about HSE testing, contact the Assessment Center at 336-633-0321 or tgdawkins@randolph.edu.
Student sign up for TABE 11/12 testing through the RCC assessment center.
Student sign up for CASAS Goals testing through the RCC assessment center.
The ATI TEAS, or Test of Essential Academic Skills, is designed specifically to assess a student's preparedness for entering the health science fields. The ATI TEAS exam is comprised of 170 total questions, with 209 minutes in allocated testing time. Question types include multiple choice, multiple select (select all that apply), fill in the blank, ordered response and hot spots.