Are you planning to enter an instructional program? Are you a visiting student enrolling in English, mathematics, or other restricted courses? Are you a high school student taking college courses? Need to take a proctored test? If any of these apply to you, we are here to help! Contact the Welcome Center for assistance at 336-633-0200 or you may call the Assessment Center directly at 336-633-0321.
Types of Testing
Who takes the placement test?
All students applying at Randolph Community College for degree programs are given the option to take the placement test unless determined to be exempt (see chart for details). Students who are NOT exempt from the placement test and would prefer to take developmental courses instead, may opt to do so by submitting the Placement Assessment Waiver Signature Form. Students who choose to complete the placement test may setup an appointment to talk with their counseloror make an appointment to take the test.
REINFORCED INSTRUCTION FOR STUDENT EXCELLENCE PLACEMENT GUIDE
How long do placement test scores last?
Placement test scores are valid for ten (10) years. 
Students may retest once during the 10 years in which their scores are valid. It is recommended that students meet with a counselor to discuss and review preparation options prior to retesting. If the student is already enrolled in pre-college level courses at the time he or she retests and if the scores on the retest place him or her out of pre-college level, the student will follow the college's standard withdrawal and refund procedures for tuition and books if he or she chooses to exit the pre-college level course.
 What is the cost for placement tests?
There is no fee for the placement test.
How long will the placement test take?
The amount of time the test takes varies with each individual. The average time is about 4.5 hours, but some people have taken much less time, and others will take 6-7 hours. There is no time limit so you can take as long as you feel you need. If you do not have enough time available in one session to complete the test, you can schedule for another session and pick up where you left off.
How to prep for the RISE Placement Test?
RISE Placement Test Practice Test (English)
RISE Placement Test Practice Test (Math)
What happens if I don't do well on the test?
You cannot fail the test. Its purpose is to ensure you enroll in a class that you need, and not in one that will frustrate you. Your score may indicate that you need a developmental class to ensure you are prepared for the college-level class when you take it. The best plan is to take the test early, well in advance of registration. Then if you do not do as well as you had hoped, you have time to work on those skills you need to develop. You can only re-take the placement test once during the 10-years in which your scores are valid. It is recommended that you meet with a counselor to discuss and review preparation options prior to retesting.
 Can I complete the placement test before I submit my admissions application?
You need to submit your application at least 24 hours prior to taking your test so we have a student ID number in which to attach your scores. Additionally, you should submit your transcripts (from high school and any prior colleges) prior to taking your assessment. The grades you earned elsewhere may keep you from having to take the placement test.
 Can I take my placement test at another college?
In most cases, yes. However, there are some schools outside of the North Carolina Community College System that will not transfer your scores if the test is taken there.
When is the best time to take the test?
You should definitely take the test at least 2 weeks before you plan to register for classes. That leaves you with enough time to pull up your scores if you need to. If you feel you might need extra help, take the test as early as possible, then take a prep course before you take it again. Take the test when you feel you are ready, but definitely do not wait until the last minute.
The two nationally-recognized assessments used to obtain a state-issued High School Equivalency credential in North Carolina are GED® and  HiSET®. Both High School Equivalency assessments are recognized by US Department of Education USDOE GEN-14-16 and cover the same content areas. Passing the complete battery of either of the assessments will lead to the same High School Equivalency Diploma issued by the North Carolina State Board of Community Colleges.
RCC offers both high school equivalency assessments at the Assessment Center.
Candidates who successfully complete the HSE tests in North Carolina will receive a diploma from the State Board of the Community College System.
The Multiple Pathways to High School Equivalency (MPHSE) diploma program is a standardized performance assessment program for the completion of a high school equivalency diploma. The MPHSE establishes a formalized system to provide students with a clear and flexible conduit toward earning a high school equivalency credential. The student must demonstrate high school-level competencies in the five selected content areas. Once the student has satisfactorily completed all requirements, a high school equivalency diploma will be awarded through the North Carolina State Board of Community Colleges.
Please note that students 16-17 years of age planning on taking their HSE tests in RCC must contact College and Career Readiness Front Desk at 336-633-0106 to request drop-release minor paperwork to be eligible to take high school equivalency assessments in North Carolina.
RCC's College and Career Readiness department offers FREE classes, available both in the classroom (AM and PM) and online, or a combination of the two, to prepare learners to successfully pass a designated high school equivalency assessment.
Scholarships to cover test costs are available to those who qualify.
For more information about classes and scholarships, call College and Career Readiness Front Desk at 336-633-0106.
For more information about HSE testing, contact the Assessment Center at 336-633-0321 or tgdawkins@randolph.edu.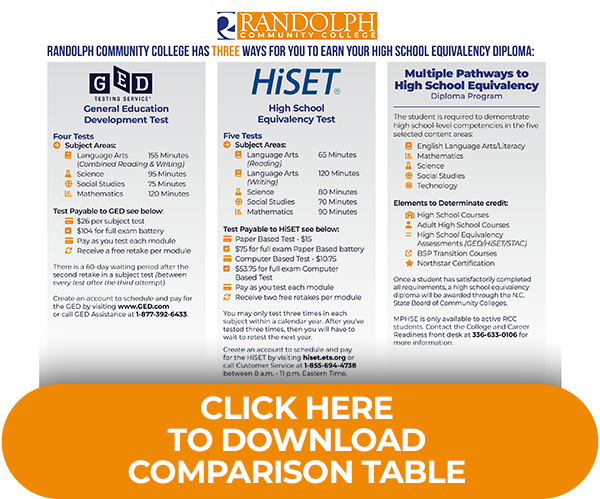 Learn more about each assessment on their websites:
Student sign up for TABE 11/12 testing through the RCC assessment center.
Student sign up for CASAS Goals testing through the RCC assessment center.
The ATI TEAS, or Test of Essential Academic Skills, is designed specifically to assess a student's preparedness for entering the health science fields. The ATI TEAS exam is comprised of 170 total questions, with 209 minutes in allocated testing time. Question types include multiple choice, multiple select (select all that apply), fill in the blank, ordered response and hot spots.
Reading
Mathematics
Science
English & Language Usage
Number of Questions
45
38
50
37
Number of Unscored Questions
6
4
6
4
Time Limit (Minutes)
55 min.
57 min.
60 min.
37 min.
Specific Content Covered
• Key ideas & details
• Craft & structure (9)
• Integration of knowledge & ideas (15)
• Numbers & algebra (18)
• Measurement & data (16) 
• Human anatomy & physiology (18)
• Biology (9)
• Chemistry (8)
• Scientific reasoning (9)
• Conventions of standard English (12)
• Knowledge of language (11)
• Using Language & Vocabulary to Express Ideas in Writing (10)
Randolph Community College offers limited TEAS testing at the Assessment Center:
End of February/ beginning of March

May
July
Check for available dates on ATI website (
www.atitesting.com
). Generally testing dates will be posted 2 months before the first testing day. All individuals preparing to take the TEAS® test must create an ATI account. You will have to register yourself for a specific test administration. The payment will be processed by ATI (you will need a credit or debit card).
Important tips:
Plan to arrive at the testing center at least 15 minutes prior to the exam start time. Students arriving after the exam start time will not be allowed to take the TEAS exam.
Do not wear any additional apparel: This includes, but is not limited to, jackets, coats, scarfs, hats and sunglasses.  Discretionary allowances are made for religious apparel. All apparel is subject to inspection by the proctor.
Plan on 4 hours maximum to complete your TEAS exam. 
TEAS exams cannot be rescheduled or reimbursed so plan accordingly. 
FAQs
 
How much does the TEAS test cost?
The price of the exam is subject to change. You will be provided with the final cost during checkout on ATI website.
What to expect on test day?
Testing staff will check your photo ID, admit you to your test room, and direct you to a seat. You will need to place all your personal belongings into the lockers located in the check-in area.  
Proctors in the testing room are monitoring for odd or disruptive behavior. Do not engage in misconduct or disruption. If you do, you will be dismissed, and your exam will not be scored.
A four-function drop-down calculator is built into the exam (multiplication, addition, subtraction, and division). You will not be allowed to use calculators that you have brought from home.
The proctor will provide you with scratch paper for use during the exam. Scratch paper is not to be used before the exam or during breaks. All paper, in its entirety, must be returned to the proctor at the end of the testing session.
After the Mathematics section, you make take a 10-minute break. During the break, DO NOT access any personal items. 
If you need to leave your seat at any time other than the scheduled break, raise your hand for the proctor. Time for the exam section will not stop. Lost time cannot be made up. 
If, during the exam, you have a technical issue with your computer, or for any reason need the proctor, raise your hand.
Test challenges or testing-room complaints should be reported to the proctor before leaving the room on exam day.
What to bring on test day?
Photo ID: To be admitted to your testing session, you will need to present government-issued photo identification, such a driver's license, passport, or green card. 
You will not be admitted to the test if you do not have your ID or if your ID does not meet the following requirements:
Government-issued
Current photograph
Examinee signature
Permanent address
Please note: a credit card photo, temporary license, or student ID do not meet these criteria.
ATI log-in information: If you're taking an online exam, please bring your ATI log-in information. You will need to create a student account at atitesting.comprior to test day (this was most likely done during registration) and have your log-in information with you. Test-takers who do NOT have their ATI username and password will not be able to take the exam. 
Can I use a calculator on the TEAS exam?
You may use the pop-up calculator that is available on the testing page. However, use of personal calculators and other personal electronics is prohibited during the exam.
How can I prepare for TEAS?
Like any test you take, studying beforehand will significantly boost your chances for success. Prepping for the TEAS isn't just helpful, it's crucial. It is recommended by the writers of the ATI TEAS Exam to allow at least 6 weeks prior to the exam to study. The study materials are available on ATI website https://www.atitesting.com/teas-prep. RCC will offer a TEAS prep class the week before TEAS is offered at the Assessment Center. "TEAS Prep" is taught by professional instructors who are able to convey important test information and provide understandable problem-solving methods that are easy to remember and apply. Contact Continuing Education Front Desk at 336-633-0268 for more information. The dates will be available about 2 months prior testing.
How do I request accommodations for TEAS exam?
You will need to contact the Disability Services Coordinator, at 336-633-0246 or twcheek@randolph.edu. Testing accommodations have to be awarded before you register for TEAS exam.
Randolph Community College uses Proctorio system to remotely proctor course assessments (such as tests and/ or quizzes) for students enrolled in online classes. You will receive an email from your instructor with details about your exam if it requires the use of Proctorio Platform.
Proctorio is an online, remote proctoring system that uses advanced machine learning and identity-verification technology to ensure test integrity.
Taking assessments with Proctorio requires the use of the Google Chrome browser; you cannot use any other browser. You must have a laptop or desktop computer with a webcam and a microphone; you cannot use a smartphone or tablet. You must have a stable internet to take the assessment from home.
The college recognizes that not all students may be able meet the minimum system requirements. If you do not have access to the minimum technology requirements, have disabilities that require the use of a screen reader or keyboard navigation shortcuts, or need a quiet place to take your assessment, please call the Assessment Center on campus at 336-633-0321 to schedule an appointment. Make sure to schedule in advance because Assessment Center has limited number of stations dedicated to Proctorio testing.
Make sure to:
Bring your photo ID. You will be asked to show a picture ID to the camera.
Check your email for any specific instructions from your instructor. The Assessment Center staff have no access to your exam details. You need to know if you are allowed any books, notes, or supportive materials for the exam.
Contact Distance Education at 336-633-0263 with any technical questions about Proctorio.
Proctoring services for RCC students with testing accommodations can visit our Accessibility Services page for more information. Testing accommodations have to be approved by the Assistant Director of Student Success Counseling.
New or currently enrolled students with disabilities who would like to request accommodations, please contact Tammy Cheek, Assistant Director of Student Success Counseling, at 336-633-0246 or email twcheek@randolph.edu in sufficient time for the College to assist, if necessary. If you would like to set up a phone appointment please click here.
Contact the Assessment Center at 336-633-0321 and our staff will advise you on whether it is possible or not to accommodate you at the Assessment Center based on the schedule and availability.
 You will need to provide the assessment center staff with following information:
The type of exam (computer/paper/ hybrid)
The length of your exam
The allowable testing dates
The communication process (any forms and agreements that need to be filled out, the submission process, etc.)
Any other instructions specific to your exam
 Be aware that:
We can NOT download any additional software for your exam to the computers in the testing lab.
You will need to provide a valid photo ID before your exam.
It is test taker's responsibility to make sure that the assessment center staff has all information necessary from your institution to administer the exam. Please check prior your testing day to avoid any delays.
Scheduling A Test
8:30 a.m. – 5:30 p.m. Monday- Thursday
8:30 a.m. – 3:00 p.m. Friday
We have specific hours dedicated for every type of testing. Testing is by appointment only. Please call 336-633-0321 for assistance. 
No placement assessment available in Archdale at this time.
A valid photo ID is required prior testing. We do not accept photos of IDs.
The assessment is computerized.
Use of cell phones or other electronic devices are not allowed.
All electronic and Bluetooth devices must be turned off and placed into a locker.
No food or drinks are permitted in the testing area.
A calculator is built into the assessment and will appear when appropriate.
We will supply you with scratch paper and pencils.
Short breaks are allowed while taking the placement assessment.
Unfortunately, RCC does not have a facility for child care. Please plan accordingly.
Hats and caps must be removed and stored in locker. Only religious head coverings may be worn while testing. Hoods are not allowed to cover your head while testing.
You will be advised of any additional test procedures and restrictions required by the test provider upon your arrival at the Assessment Center.
Frequently Asked Questions
629 Industrial Park Avenue, Building 300, Asheboro, NC 27205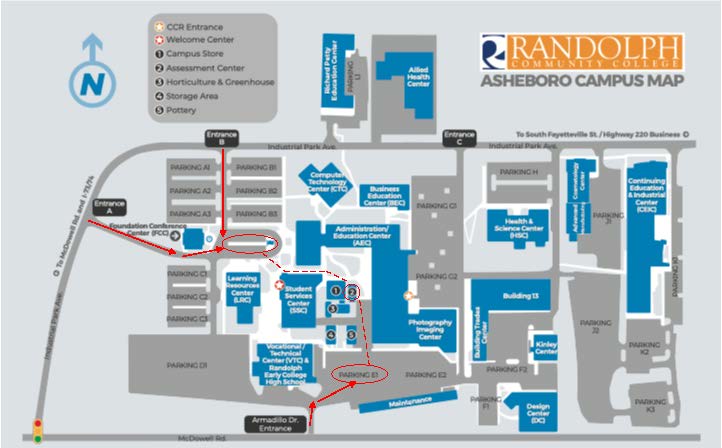 Individuals with disabilities may request reasonable accommodations for placement testing. Official documentation verifying the disability and the need for reasonable accommodations should be submitted to the Assistant Director of Student Success Counseling at least two weeks prior to the placement testing appointment. Accommodations include, but are not limited to, extended time and/or testing using audio or visual enhancing software.
For most testing accommodations within RCC you need to contact the Assistant Director of Student Success Counseling at 336-633-0246 or email twcheek@randolph.edu.
GED, and HiSET exams have their own accommodations team. Visit your test provider's website to learn how to apply.
In almost all cases, yes. If you have time to call, we can let you know if we still have time for the test. In the rare case where we do not, we can reschedule you for another time that works better for your schedule.
Call 336-633-0223 or 336-633-0321 and schedule another appointment.
A calculator is provided and is imbedded in the computer program. This is the only calculator that can be used.
A picture ID is required. The Assessment Center will provide pencils and scrap paper.
We strongly encourage students to make appointments because otherwise, we cannot guarantee a computer will be available for you to use. However, we know that sometimes life gets in the way and a student needs to take the test. We will take walk-ins on a 
space-available basis
. It's a good idea to call to ensure we will be able to support you. Unless all computers are occupied, we will get you started on your test as soon as possible.