Mixon awarded scholarship, 43 students inducted into PTK at RCC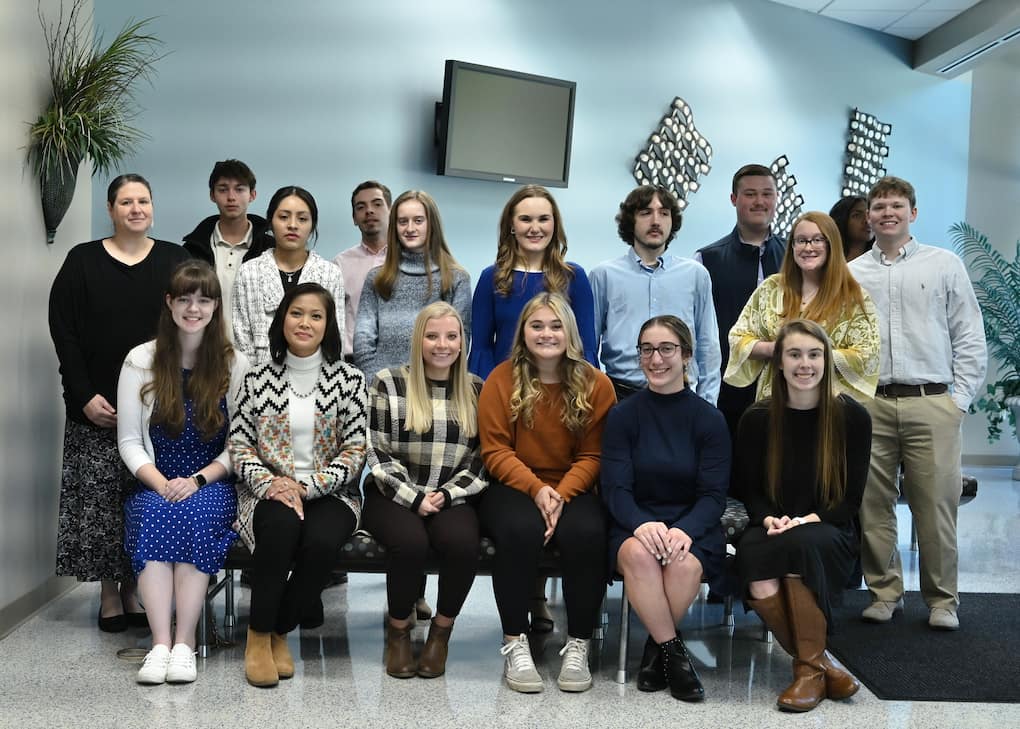 Family, friends, and Randolph Community College faculty and staff gathered Saturday, Nov. 19, as the College held its first in-person Phi Theta Kappa (PTK) induction ceremony in three years. Forty-three students entered the RCC chapter of the honor society, Beta Theta Rho, and Business Administration student Shannon Mixon was awarded the fifth annual Waymon C. Martin Phi Theta Kappa Scholarship.
RCC English/Communication Instructor and PTK Advisor Clark Adams opened the ceremony, which was held in the R. Alton Cox Learning and Resources Center Auditorium.
"This is what community college is all about," Adams said. "It's about fellowship and gathering together to celebrate our scholars. It's about seeing the families support these students. And these are extraordinary students. They've made their academics a top priority. One of the greatest soccer players of all time, Pelé, once said, 'Success is no accident. It is hard work, perseverance, learning, studying, sacrifice and most of all, love of what you are doing or learning to do.' Each one of our inductees today have exhibited those qualities."
After PTK Secretary Amber Ingold led the Pledge of Allegiance and PTK Vice President Aliza Abdul gave the invocation, Adams introduced Martin's daughter, Toi Gray, who spoke about her father before presenting Mixon with the $500 scholarship.
"I am so thankful, and my family is so thankful that his legacy is still alive here at Randolph Community College," she said. "I was lucky to be raised by someone who was such a giver in his community and a giver in his family. Education was very important to him, and he worked really hard to make sure that it was a very important part of my life. I was very lucky for his patience and his kindness — to have someone I could lean on and go to for advice. Helping people is what he loved to do — that's what he lived for and what gave him energy. And he loved Randolph Community College."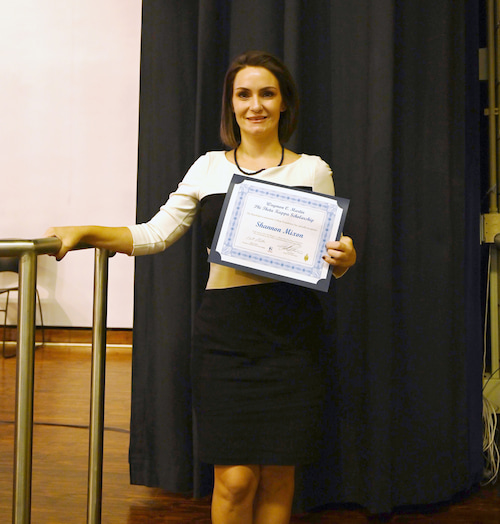 Mixon, who is earning her Business Administration degree, looks to turn her focus to non-profit business management as she started Chain Breaker House in Asheboro, which helps women with substance abuse problems.
"It's such a privilege to receive this scholarship," she said. "I feel like such a small person, but I have a strong heart and a strong will and I'm going to make it. I'm determined. Being an adult and going back to school was very intimidating, but I've really found my passion in helping others."
Adams then introduced the alumni speaker, Jeremy Grant, who is the Director of Product Marketing at LendingTree.
"Even though I'm several years removed, judging by the gray hairs on my head, from my time at RCC, the pillars of Phi Theta Kappa still ring strong for me — leadership, scholarship, fellowship, and service," he said. "While I'm not a master of those by any means, they've served as wonderful guides over the years, both as a marketer in corporate America, as a friend, as a husband, and now as a father.
"This is just the beginning of your story. Be bullheaded and do something. You don't have to have it all figured out. Everything you do today matters. Your experiences here at RCC are the building blocks to your future for you, your peers, your family, and your community. If nothing else, remember this: Work hard, have fun, and be open to the journey."
Assistant Director of Alumni Engagement at the University of North Carolina Greensboro and RCC graduate Yubi Sandoval gave the keynote address.
"The lesson I've learned and that I would like for you to take with you today is don't give up on yourself, on your dream," she said. "Life will be challenging. Give yourself grace. Take the time to know and heal your inner child and celebrate how far you have come. Knock on every door you come across. There may be a challenge or an opportunity behind it, but either one will prepare you to learn, grow, and blossom. Finally, build your own village. Have a support system of individuals who keep you accountable, motivate you, and champion you, and mentor you."
After RCC Vice President for Instructional Services Suzanne Rohrbaugh introduced the new PTK members and congratulated them, the students each went up on stage to sign their names and to receive a carnation and their certificates.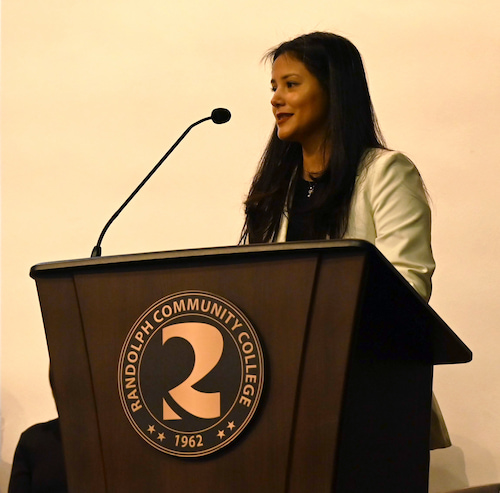 RCC Interim President Elbert Lassiter gave the closing remarks.
"A common theme I've heard today is "between" or "in between," he said. "I, too, was a student here at Randolph Community College — this is a solid foundation you're receiving. All our speakers talked about perseverance, getting through that period in between. Right now, you've had a major accomplishment and you should be so proud. What people can't see is that period in between where you weren't right here. There may have been times where you got in your own way, wondering 'Do I have the skill? I may not have what it takes to get to the next level.' Whatever your next goals are, find someone, that rock, that family member, that faith in yourself and know it's going to be OK."
Established by junior college presidents and students in Missouri in 1918, PTK is the only international honor society serving two-year institutions. It recognizes the academic achievement and integrity of students enrolled in curriculum programs. The organization is based on four hallmarks, leadership, fellowship, scholarship, and service. Students invited to join PTK must have completed 12 credit hours and have a cumulative grade point average of 3.5 or higher.
Beta Theta Rho, RCC's Chapter, was chartered Nov. 1, 1999, and has maintained a Five Star status for 18 consecutive years. Five Star status is the highest level that chapters can receive and recognizes chapters that have completed every requirement set by PTK and for chapters that go above and beyond to make sure their projects and service to the college and community are the best they can be. In addition to Adams, RCC chapter advisors are Ellen Adams (Mathematics Instructor), Alma Nall (Spanish Instructor), and Dolores Vargas Benavides (Spanish Instructor).
Martin, who passed away in February 2020, taught Business Administration and served as Department Head of Business Administration at RCC, starting in 2001 and retiring in 2017. He was the advisor for RCC's chapter from 2002 until his retirement. Martin and former Sociology Instructor Carol Savchack proposed a PTK Scholarship in 2007 through the RCC Foundation, on which Martin later served as a Board member as Faculty Representative for more than 10 years. The goal was to have the scholarship reach an endowment of $10,000, and, through annual campaigns, it was met in 2016. When Martin retired, the scholarship was named after him at the 2017 spring induction ceremony. The scholarship has been presented annually to PTK members who are full-time students with a cumulative grade point average of 3.5 or above.
(All hometowns are in N.C. unless otherwise indicated.)
Asheboro: Jessica Lynn Atwell, Anna Brooke Baynes, Michelle Lee Camp, Courtney Michelle Carlyle, Alanna Wrenn Cheek, Taylor Elizabeth Davis, Brock Austin Dunlap, Easton James Flinn, David Charles Francis, Elizabeth Hernandez, Carlyle Elizabeth Kern, Natalie Shae Latham, Rodney Mark Ledford, Thalya Lee Letterlough, Grant McKade Little, Paris Alaycia Rolle, Karis Wright Rowland, Hunter Jayce Shackleford, James Douglas Thomas, Sofia Tinoco-Leon, Kylie Morgan Zimpfer.
Climax: Ashlyn Noel James, Taylor Nicole Waugh.
Franklinville: Ryan Thomas Morris.
Liberty: Amy Denise Pierce-Coble.
New London: Leah Elizabeth Ingle.
Pleasant Garden: Dakota Ray Hicks, James Peyton McCollum.
Ramseur: Revin Lewis Bray, Bryson Seth Lawson.
Randleman: Haven B. Avery, Ryan William Challender, Kaitlyn Leigh Glaze, Ashlee Rae Maness, Jesselyn Perez, Michaela Nicole Street.
Seagrove: Dacia Marie Richardson.
Sophia: Ashlyn Paige Carpenter.
Thomasville: Heather Meredyth Ellis, Anna Joy Taylor.
Trinity: Ashton Nicole Johnson, Jordan Tally Lucas, Elizabeth Sekarsari.