RCC's Phi Theta Kappa chapter inducts new members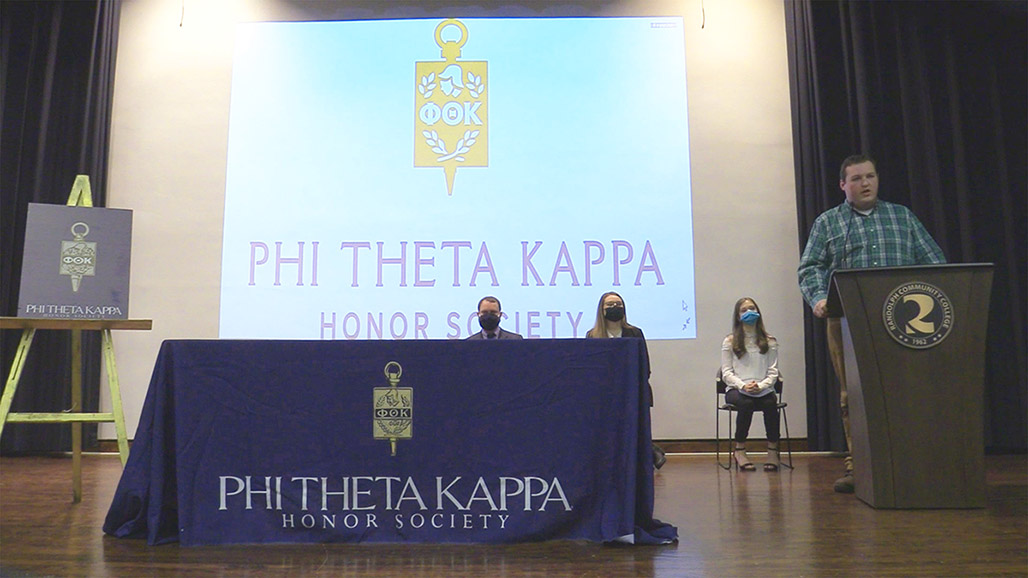 On Dec. 8,
Beta Theta Rho
, Randolph Community College's chapter of
Phi Theta Kappa (PTK)
, inducted new members into its Five Star chapter, and moved into its 23rd year. A ceremony was pre-recorded and sent to new members due to the COVID-19 pandemic.
The virtual ceremony was led by Phi Theta Kappa Advisor and RCC English/Communication Instructor Clark Adams, who welcomed the new inductees.
"We're so thankful to recognize our scholars and leaders and our new inductees into Phi Theta Kappa," he said.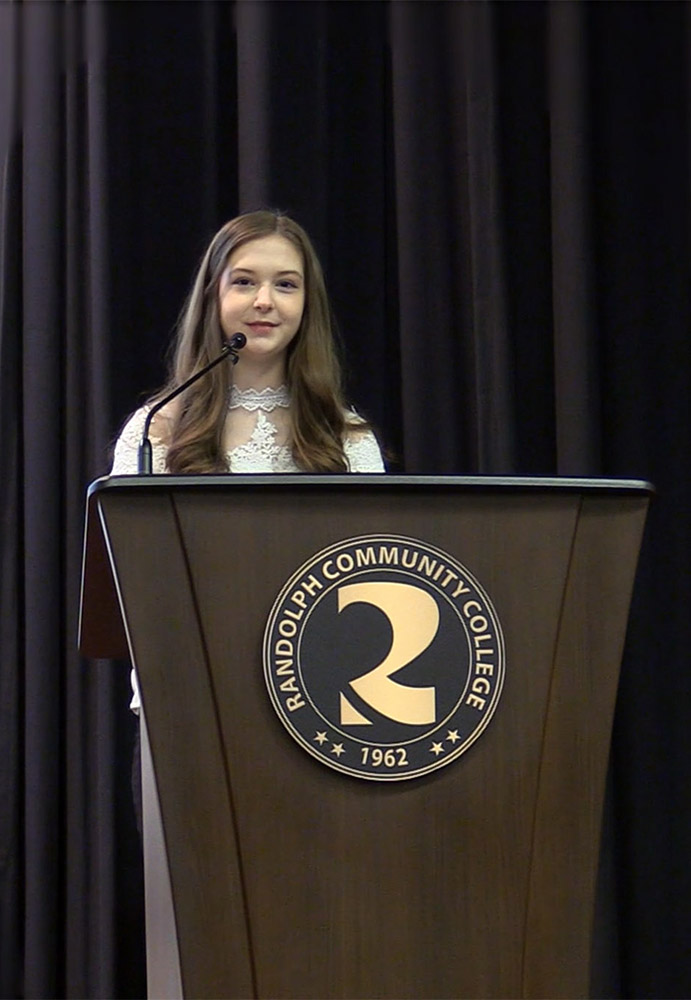 The Pledge of Allegiance was then led by PTK Public Relations Officer Kristen Jensen, while Vice President Faith Staton led the invocation for the ceremony.
"We honor their many sacrifices, their persistence, and their desire for knowledge and discovery," Staton said. "We are appreciative of our many faculty members and our administrators, who provide their guidance, wisdom, and time. Today, as we gather here, may this induction ceremony encourage these inductees to fulfill Phi Theta Kappa's mission of leadership, fellowship, scholarship, and service on both this campus and in the community."
Following the invocation, Adams, who has been a PTK advisor since January 20210, shared information about the honor society and praised the new inductees.
"For nearly 12 years I have stood here on this very stage and looked out at a crowd of over 200 family members, friends, and guests of these inductees; and although this year has brought many changes, what has not changed is that Phi Theta Kappa is still honoring and recognizing our students for their success at Randolph Community College," he said. "I am so proud to recognize each one of you. You are students who have gone the extra mile.
 "In the midst of a pandemic, you have still managed to focus on your academics, you have still kept your goals at the forefront, and you are great examples of persistence and determination."
Adams then explained the history, mission, and purpose of Phi Theta Kappa, and recognized the efforts of chapter officers, chapter advisors, faculty, and administrators who helped to make the induction ceremony possible and who support the mission and work of the honor society.
Briana Gullett, a 2014 RCC graduate and PTK Chapter President in 2013, served as the alumni speaker. A graduate of the Early Childhood Education program at the College, Gullett graduated from the University of North Carolina at Greensboro in 2018 with a Bachelor of Science in Early Care and Education, and, in January 2021, completed her master's degree in Psychology from Purdue University Global.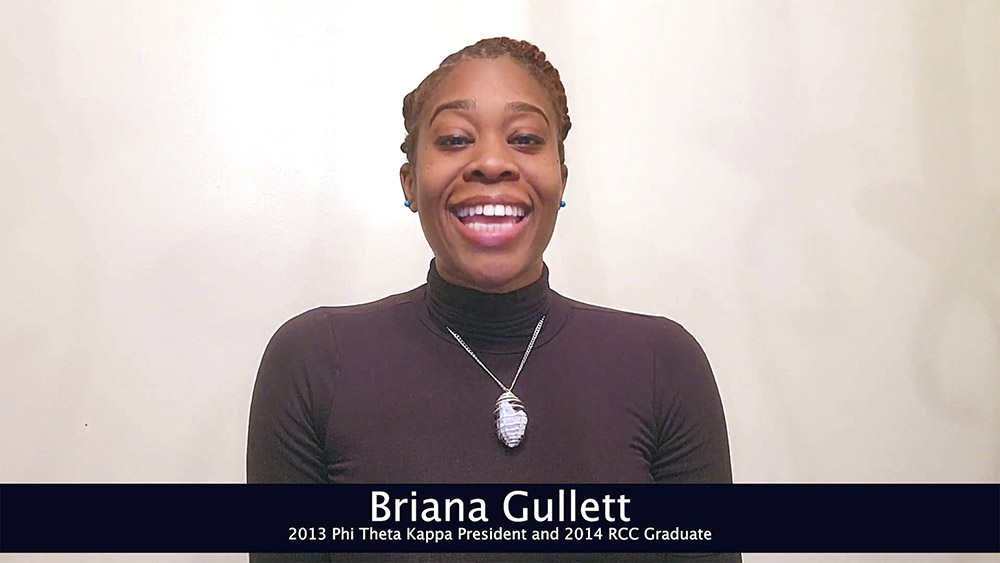 Gullett focused on the distinction of the new inductees' accomplishment and explained that when she was invited to become a Phi Theta Kappa member, she did not know much about honor societies or their purpose.
"I begin to realize that the honor is in the heart behind the accomplishment," she said. "Being a part of Phi Theta Kappa inspired me to move further in education and in my life."
Gullett did not go straight to college after high school, but joined the military and served overseas before attending RCC.
"When I received the invitation to join Phi Theta Kappa [honor] society, I felt so grateful to be recognized in such way, a way that did not look down on my unconventional way of doing things," she said. "Mr. Adams and Mr. [Waymon C.] Martin welcomed me into the society with open arms and they opened my eyes to so many ways that I could truly grow through scholarship, leadership, fellowship, and service."
Gullett defined each of these hallmarks and shared examples of her memories as Phi Theta Kappa President and how this experience contributed to her growth and development.
"I have led troops in the military, encouraging them to live by the hallmarks of PTK and to blaze forward despite perceived limitations," she said. "I will go on to receive my doctorate degree and take these hallmarks with me."
Gullett closed by reminding the new inductees that, "Honor is not in the accolade.  Honor is in the heart behind the accomplishment."
The keynote speaker of the virtual ceremony was RCC President Dr. Robert S. Shackleford Jr., who has served as President for nearly 15 years. Shackleford congratulated the new inductees on being selected for induction into Phi Theta Kappa.
"I want you to know, as President of the College, I couldn't be more proud of you," he said, focusing his message on building a personal legacy. "You are going to live your legacy every day between now and the end of your career and the end of your life, and whatever you want to be remembered for then, be sure that that's how you're living now. What do you want your life to count for? What kind of hopes do you hold?
"I hope that when I hang up my career and you hang up your career, that one of the things that can be said of us is that you had an influence and impact on other people's lives. You touched lives. You changed lives. You cared about people. You reached out your hand and lifted people up. … You cared about your family and your friends and your co-workers. … You were a person who gave instead of always wanting to take. The point is from this day forward that you are writing a legacy that you will always be remembered for. Write a beautiful legacy."
Adams then presented the new inductees for membership and recommended them for acceptance into the honor society. PTK President Grayson Greenwood explained the purpose of the honor society, led the new inductees in the PTK pledge and explained the significance of the symbol of Phi Theta Kappa. RCC Vice President for Instructional Services Suzanne Y. Rohrbaugh presided over the induction and announced the names of the inductees.
Despite the challenges of COVID-19 this year, the chapter has still been active to meet the requirements to be a Five Star chapter by working with RCC Career Services staff on campus to provide interview attire for graduates. In addition, the chapter has assisted with a trash clean-up at Worthville Dam, volunteered with Habitat for Humanity of Randolph County to work on a home in Asheboro, provided school supplies to Franklinville Elementary School students, and organized a First Responders Day event for Faith Christian School students.
Students (identified by hometowns) who were inducted Dec. 8, include the following:
Asheboro: Joshua Brian Davis, Maria Guzman, Alexa Shay Huggins, Aisha Kashif, Sarah Rae Kearns, Allison Kay Lamm, Avery James LeGlue, Alexandra Lopez Perez, Jacob Lee Parrish, Salamatou Warilha Mohamed.
Bennett:  Charlise Kyndall Phillips.
Denton: Rachel Elizabeth Davis.
Greensboro: Ashley Kay Mann, Rebekah Ruth Murphy.
Pleasant Garden: Aleah Kendall Batten, Zachary D. Rumley, Zoe C. Rumley.
Randleman: Wendi Michelle Peele, Elijah Edward Shafer, Shelby Saleen Vest.
Seagrove:  Madison Rae Rich, Kimberly Diane Taylor.
Sophia:  Kenneth Austin Gatlin, Skylar Grace Sexton.
Thomasville: Montgomery Lee McGee.
Trinity:
Gabriell Rose McArthur.