Calderon receives Waymon C. Martin PTK Scholarship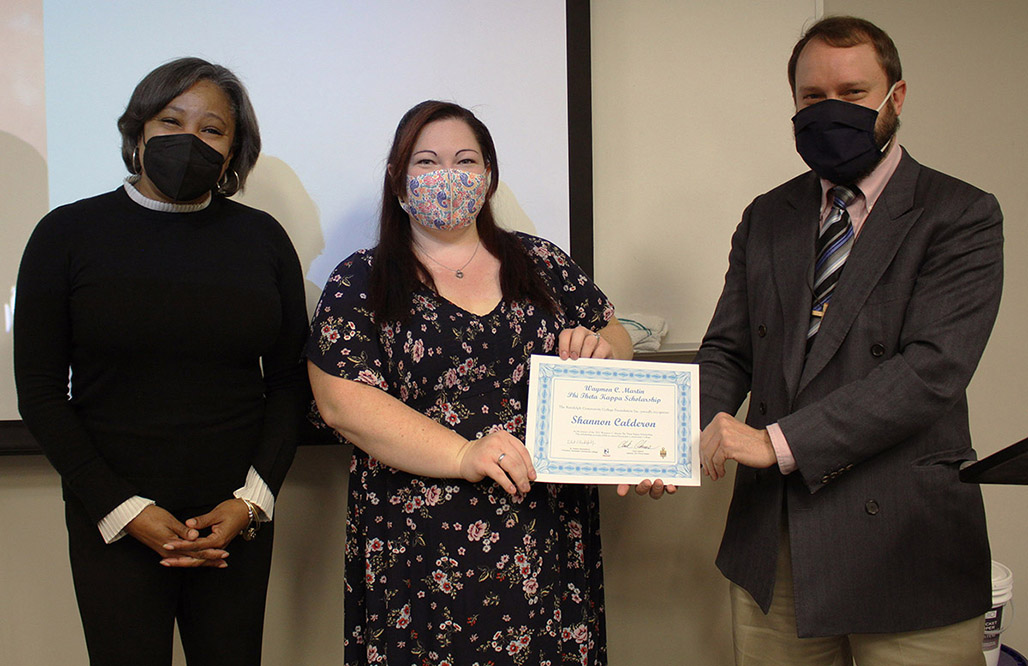 Randolph Community College student Shannon Calderon was presented with the fourth annual Waymon C. Martin
Phi Theta Kappa
Scholarship in a ceremony Friday, Dec. 10, in room 018 of the Administration/Education Center on the Asheboro Campus. The scholarship provides $500 to the recipient to attend RCC.
"This is actually my second time trying to attend college — I dropped out the first time," said Calderon, who looks to graduate this May with a degree in
Medical Office Administration
— the first in her family to earn a college degree. "Since the coronavirus hit, I've been out of work. This is a chance to fix my mistakes from the past. As I'm reaching the finish line here, every bit is helpful."
The Trinity native has a 5-year-old daughter, Zoey, who inspires her.
"Getting a degree or some kind of diploma has been a long-time dream of mine," Calderon said. "When COVID hit, me and my husband, we were struggling with our daughter as far as daycare. I wasn't happy where I was working. We talked about it. We decided to keep our daughter out of daycare and let me stay home. I went for financial aid and we said, 'What can we do to pull the funds together to make this happen?' We've been doing great ever since.
"I'm doing this not just for me, but also so I can better support [my daughter] in the future. I'm hoping to be an inspiration to her because I want her to keep carrying it on."
English/Communications Instructor and PTK Adviser W. Clark Adams opened the ceremony with a brief history of the scholarship and some anecdotes about Martin, noting that he always carried a smile and was impeccably dressed (save when he donned overalls to help on projects).
"The three things that stand out about Waymon Martin — positive attitude is the first one," Adams said. "I don't think I ever saw him upset. I think anybody who worked with him over that period of time would say 'service' is another big one. We were always doing something either on campus or out in the community. We've worked with all sorts of agencies — the Boys & Girls Club, Victory Junction Gang Camp, Boy Scout troops, Habitat for Humanity, you name it. Mr. Martin always stressed, 'Don't be afraid to get your hands dirty.' He'd jump right in there with the students. Third, selflessness. If we were working on something here on campus, all I had to do was ask, 'Mr. Martin? Can you hang around past five o'clock?' He was one of the ones you could always count on if you needed something."
Martin's daughter, Toi Gray, was on hand to speak about her father, who passed away in February 2020.
"I see my father as a philanthropist — giving his time and encouragement to people," she said. "It's not just about being a teacher; it's not just about being a leader. For him, it really was about helping people and making sure that people succeed and giving them what they need to succeed."
Adams then presented Calderon with the certificate.
"It's definitely changed from the first time, trying to get back in the hang of [college]," she said. "The way the system worked was different from how they do it now — and everything is always being upgraded. As you get older, you don't learn so easily. I've worked really hard. There's been days I've had to put it before everything else. I've managed to keep my GPA at 4.0. It's been a struggle, but I'm getting to the finish line."
Martin taught Business Administration and served as Department Head of Business Administration at RCC, starting in 2001 and retiring in 2017. He was the adviser for RCC's five-star PTK chapter from 2002 until his retirement. Martin and former Sociology Instructor Carol Savchack came up with the idea of the PTK Scholarship in 2007 through the RCC Foundation, which Martin later served on as a Board member as Faculty Representative for more than 10 years. The goal was to have the scholarship reach an endowment of $10,000, and, through annual campaigns, it was met in 2016. When Martin retired, the scholarship was named after him at the 2017 spring induction ceremony. The first scholarship was awarded in 2018, and it has been presented annually to PTK members who are full-time students with a grade point average of 3.5 or above.