RCC class transforms student's future dream car into reality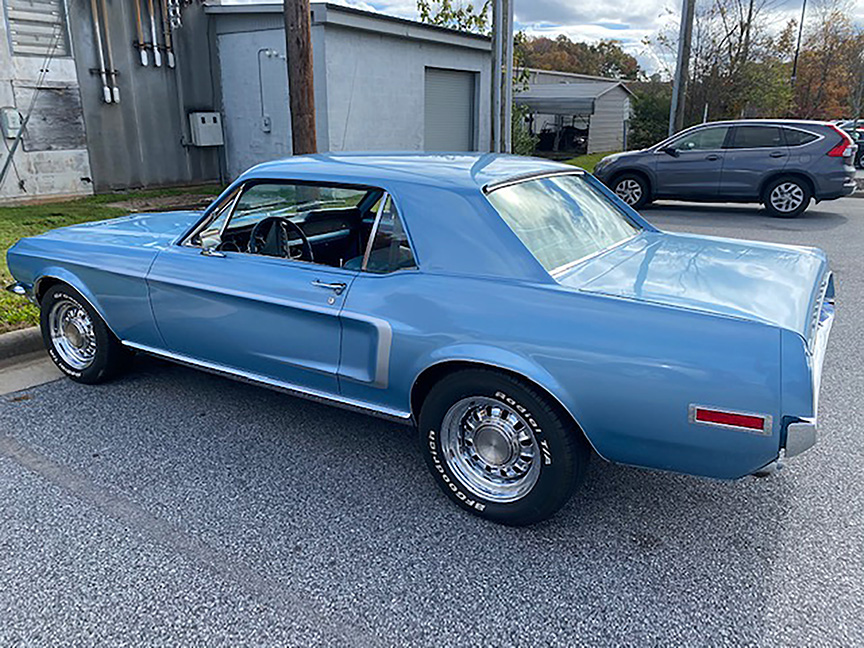 Alderin's '68 Mustang back to being a Brittany Blue beauty
ASHEBORO — Tommy Alderin found his dream car in Yanceyville. He just didn't know it yet.
For years, Alderin drove his rusty 1968 Mustang to church. One day, the pastor at his church, who was taking an auto body class at Randolph Community College, suggested that Alderin sign up for the course, and fix up his Mustang.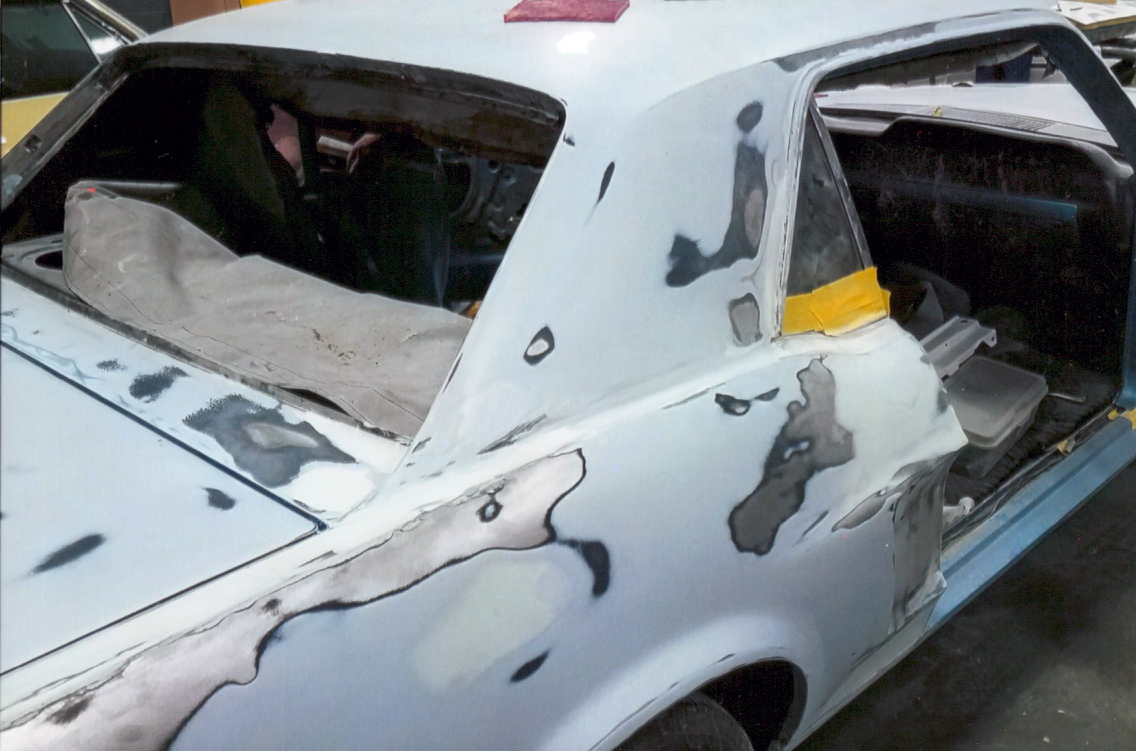 "I said, 'Yeah, but they'll laugh at me.'" Alderin, 58, said. "He said, 'No, they won't. That ain't the way it is.' So I went over there and took it and then, wham ... I stayed with the course. There's a lot of work involved, but it pays off in the long run.
"I wasn't a real car buff either. The [Richard Petty Education Center] is nice. You've got a paint booth. You've got a lift. You've got all the materials you need. I just enjoy being around the guys. They're talking their car talk and I'm learning. Steve [Smith] is a very good instructor."
Two years later, Alderin is driving around in his restored Mustang — and hooked on RCC's auto body classes.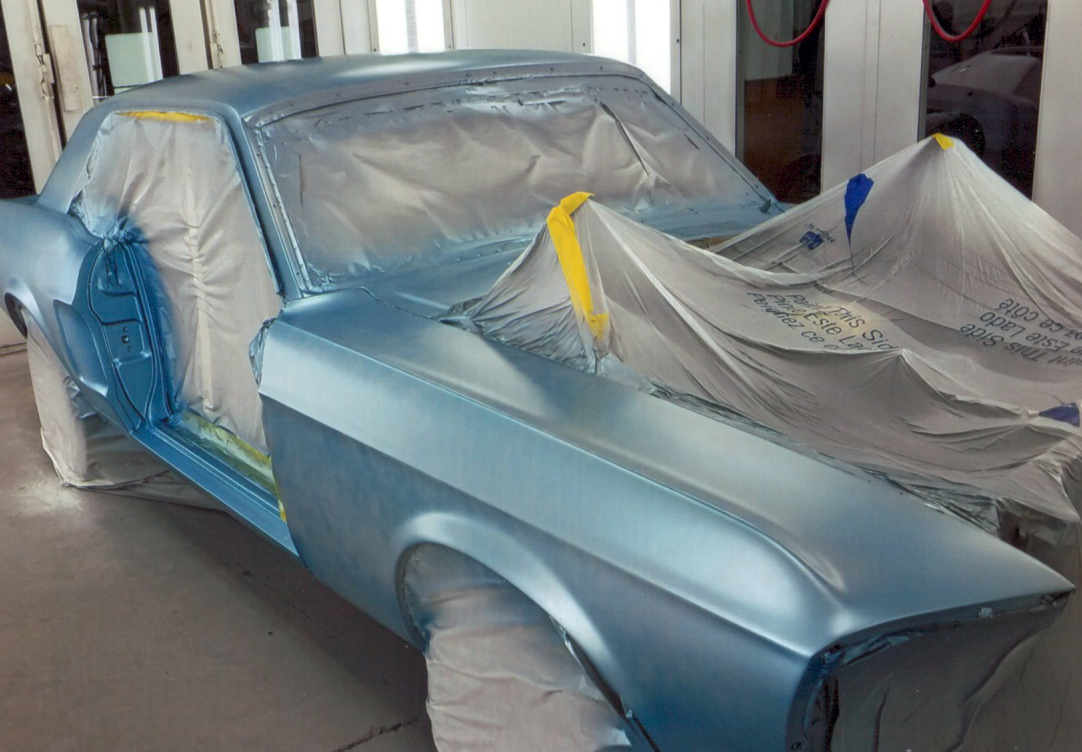 "The first time I drove it, I was really excited," said Alderin, who has been working at Ryder Truck Rental in Greensboro for more than 40 years. "I was on a little mountain top."
The car needed a lot of work thanks to a run-in with a tree by the second owner (Alderin is the third) and age. But, thanks to Smith, who also works at Petty Enterprises, Alderin's rusty dream car became a shiny reality.
"The first thing we did — we had to disassemble it," Alderin said. "This was a rust bucket [pointing to the frame under the hood]. Of course, I put new parts on it while I had the opportunity. When you're messing with paint and body and when you're getting new materials ... they don't line up. I tried to keep whatever I could original. We had a lot of adjustments. Steve had to cut the hood to make it line up just right on the edge.
"I was glad I took the class. You really get going when class starts. We're sanding and grinding. We had to tack weld."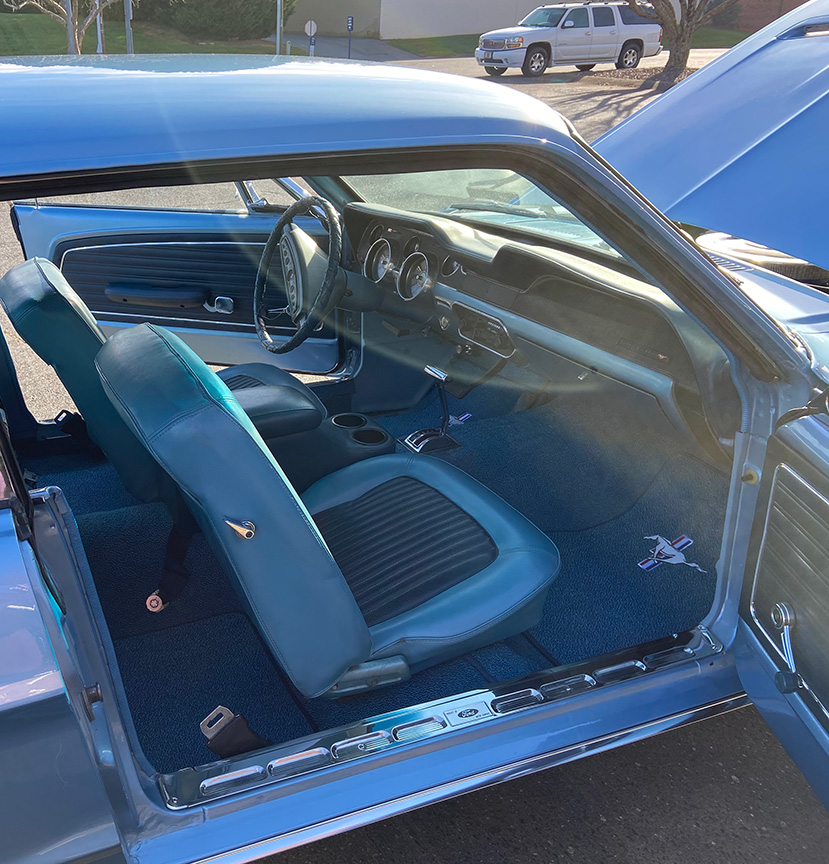 Parts had to be sandblasted and repainted. The firewall and motor had to be steamed. The car needed a lot of new parts: carpeting, speakers, sound deadener, headliner, trunk pad, gas tank and lines, and gas cap. Anti-rust and urethane spray were added to keep the Mustang from returning to its former rust-bucket self. Several things stayed, though — the top, the seats, and the dashboard were in good shape. And some modern amenities were added like a handmade console with a drink holder. Alderin kept the engine basically the same (a 302 cubic-inch V8, which is interchangeable with the 289 someone put in before he owned it). He added Flowmasters headers and dual exhaust to give it more oomph. He wasn't planning on adding a silver C-stripe down each side, but when the Brittany Blue paint went on it, he was convinced.
The result was a $14,000 tab, but Alderin was in a good place financially, and it was time.
"It was either go forward or don't do it at all," he said. "I really contemplated on it before I got going. I said, 'You know, this is going to cost a lot of money. Am I going to bring it back to life or let it go to the graveyard?' That was the choice."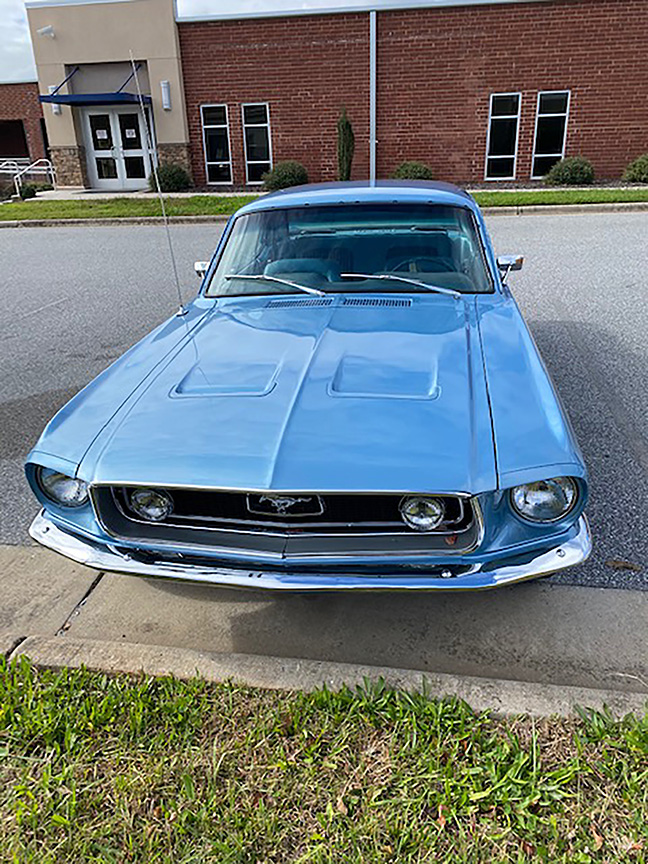 There are still a few things that need to be done — a few touch-ups and, because it is the South, air conditioning.
Once the COVID-19 pandemic starts abating, Alderin said he'd love to do some car shows, putting up a posterboard with the before pictures, showing what he did at RCC. Still, he turns heads when he's on the road, especially in the summer when people roll down their windows and gawk.

"I've already got some family members that have said, 'When you get that thing done, you come over, and take me for a ride," Alderin laughs.

If you're ever near the Petty Center, look for the Brittany Blue Mustang, but not for Alderin's Husky, Lou. He's only allowed in the pickup truck.