RCC Therapeutic Massage program creates opportunities, changes life
ASHEBORO — Gus Hernandez has been in the spa industry for 15 years. That doesn't mean he's stopped learning.

In May 2019, Hernandez was part of Randolph Community College's first graduating class from the Therapeutic Massage program. He said the program not only created opportunities for him, but also changed his life.

"It was a great experience," said Hernandez, who added that becoming a massage therapist was one of his goals as a teenager. "It's a months-long program, so it felt like a long stretch, but the second half, it was, 'We can do this. We got this.' In no time, we were done. It was very difficult because I had a full-time job and evening classes — and there are a lot of things involved in massage therapy."

In fact, the day and night courses, which begin Jan. 11, last four and 10 months, respectively, for a reason.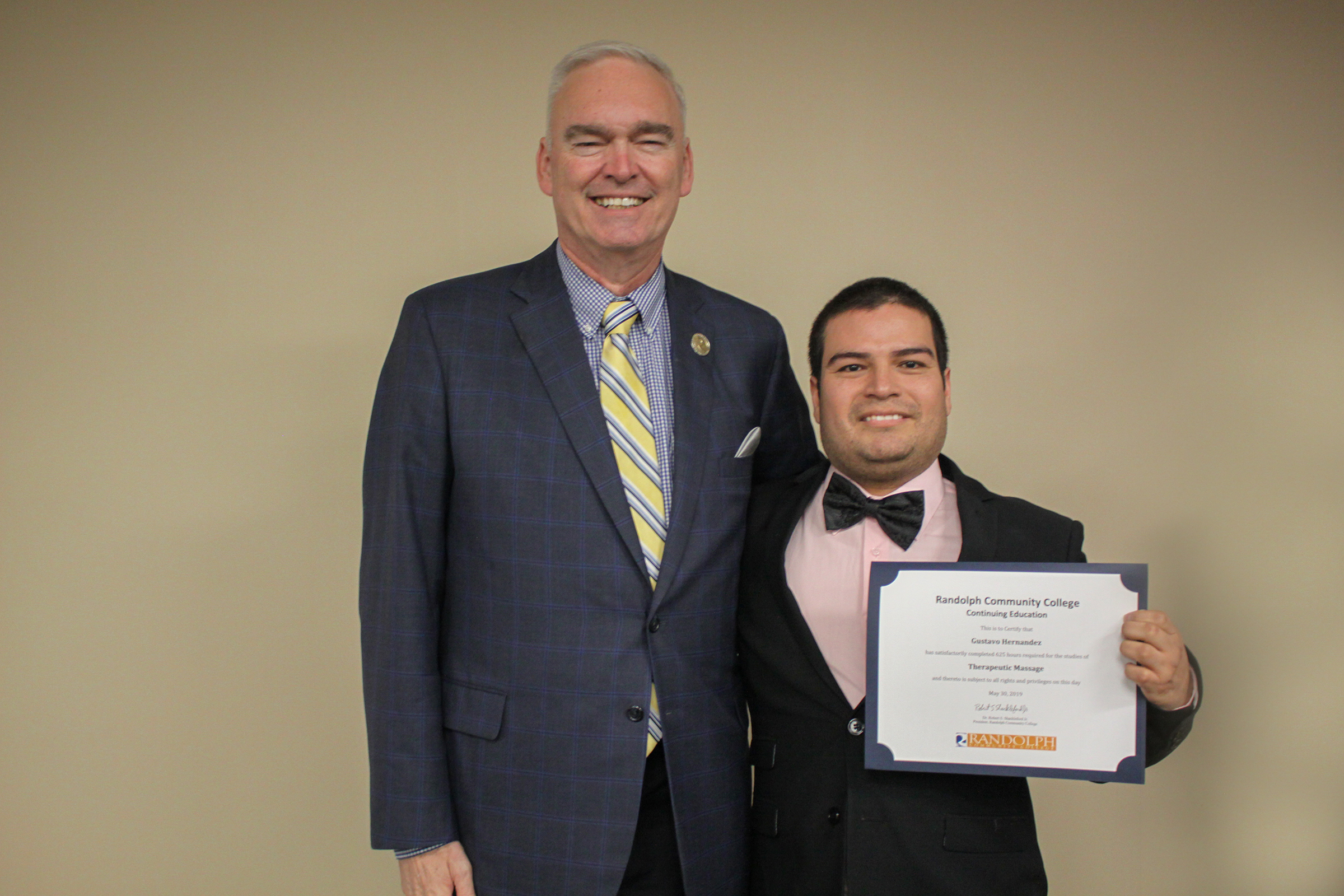 "I learned the importance of muscle movement, and how posture is very important to our bodies," he said. "You learn all the structures of the body. It opened my eyes to a lot of new things.

"One of the main goals they taught us is self-care. If you don't take care of yourself first, you can't take care of other people. It involves a little bit of exercise and learning proper body mechanics. It's life-changing."

Hernandez said his classmates were as young as 21 to folks in their 50s, and the group bonded like a family, still keeping in touch a year later. After the class, Hernandez went through the licensing board, took the test, and earned his license. Now, he has added therapeutic massage to his offerings at Studio 120 in downtown Asheboro.

Not only was age not a factor in his class, but it doesn't matter once the therapist is licensed. Hernandez — who also is a licensed aesthetician and nail technician, and does skincare, facial waxing, and makeup artistry — has practiced his craft on clients whose ages range from a months-old infant to a 102-year-old.

"I was nervous to focus on the infant because they're so delicate," he said. "The infant had a raised hip. I just started patting him slowly and moving the muscle. The mother told me he was responding to it. I was gentle with the 102-year-old client as well — it's not all about deep tissue; it's also about stretching."

The COVID-19 pandemic hasn't stopped Hernandez from working. Once Phase 2 allowed licensed massage therapists to practice, he started up again, adding a face guard for the client, a face shield and mask to his wardrobe, and UV sterilization and an air purifier. When he wasn't permitted to work, he took the time to learn other massage techniques as well — Thai massage, Hot Bamboo massage, and Cranial Sacral Therapy. Hernandez also is working on his Medical Massage certification.

"I graduated from Central Carolina Community College 15 years ago, so it doesn't matter how old you are — you can always get your education," he said. "It's about dedication and perseverance, and just knowing you can get through this with hard work and dedication."

RCC's Therapeutic Massage program prepares students to become licensed massage therapists by providing comprehensive hands-on training with a focus on working in a spa or opening a business. The program prepares students for taking the Massage and Bodywork Licensure Exam (MBLEx).

For information, call 336-328-0268.