RCC's Phi Theta Kappa chapter celebrates completion of 21st year, inducts new members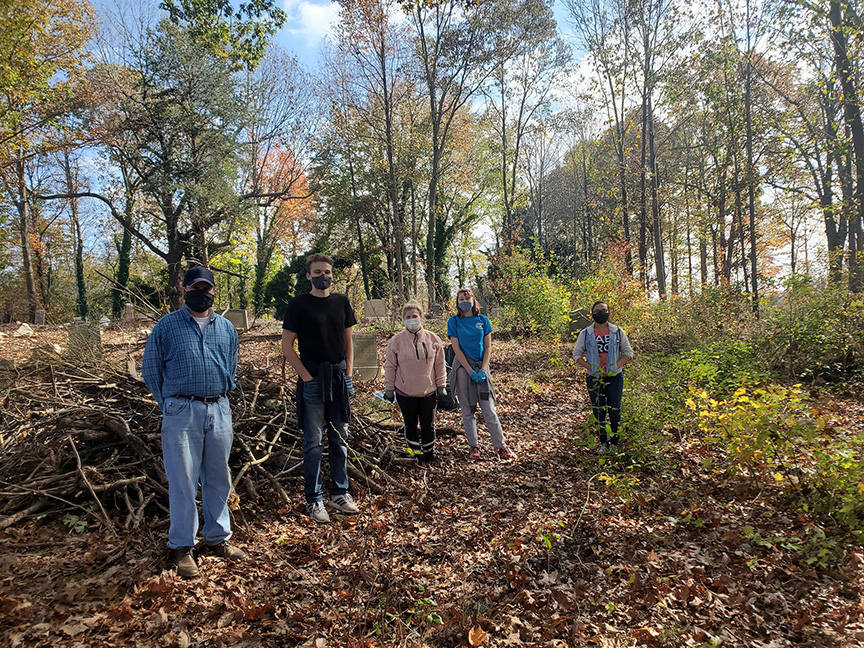 ASHEBORO — 
On Saturday, Nov. 21, Randolph Community College's chapter of Phi Theta Kappa (PTK),
Beta Theta Rho
, inducted 47 new members into its Five Star Chapter. A virtual ceremony was pre-recorded and sent to new members, who were able stop by the campus Nov. 21 to pick up their new membership materials.
The virtual ceremony was led by PTK adviser and RCC English/Communications Instructor, Clark Adams, who welcomed the new inductees. Following Adams' welcome, the Pledge of Allegiance was led by Secretary Ellen Benitez, while Public Relations Officer Caitlin Burks led the invocation for the ceremony.
"For nearly 11 years, I have stood on this stage and looked out at an auditorium filled with 200 students, faculty members, family members, friends, and staff of Randolph Community College; and although this fall is different, we are still here today to honor our students for their success and celebrate the academic achievements of these students who have excelled in their coursework here at Randolph Community College, and I must say that I am very proud to recognize each one of you," said Adams, who has been a PTK adviser since January 2010.
Following Adams' remarks, James Popp, a 2006 RCC graduate, served as the alumni speaker. Popp, a doctoral candidate and Federal Programs Administrator with the Department of Public Instruction in Raleigh, was inducted into PTK while a student at RCC and also served as President of the chapter from 2004-2005. Popp spoke of how influential RCC and PTK were along his academic journey.
"Who you surround yourself with, may very well define who you are as well; and right now, you are surrounded by excellence, which means you are excellent!" he said. "After today, you will be looked upon as someone who others will want to be surrounded by ... . You are the academic leaders of your student body."
Popp then explained his own past obstacles in the workforce, and how a lost job opportunity to lead a program he created due to his lack of a college education, motivated him to pursue a college degree.
"This was the moment I knew that education is the only ticket for my success and my guarantee to never have to live in poverty or give my hard work away again," he said.
The keynote speaker of the virtual ceremony was RCC President Dr. Robert S. Shackleford Jr., who expressed how proud he was of the new inductees. Shackleford shared several stories to illustrate the power of "I can," and how believing in ourselves and our abilities can enable us to accomplish anything we put our minds to. He gave the example of Michael Jordan, who was cut from his high school basketball team, but believed "I can," as well as a young man at church who had a disability, but wanted to be in the choir. He was told that he couldn't, but after the choir director heard him sing, she placed him in the choir and later he began singing solos and recorded a gospel album. He was told he couldn't sing, but "he said, 'Yes, I can.' "
Shackleford quoted U.S. President Abraham Lincoln who once said, "Whether you think you can or you think you can't, you're probably right," and then mentioned those in his own life who told him he was capable and that "he could," such as his former guidance counselor in high school, who helped him to get into college, and a retired professor at UNCG who encouraged him to go back to school and obtain a doctorate degree and said, "Yes, you can."
"Let me be the one to tell you today, that whatever your dreams are, you can," Shackleford said.
PTK President Dashanese Carpio-Ventura led the new inductees in the PTK pledge, explaining the significance of the symbol of Phi Theta Kappa. RCC Vice President for Instructional Services Suzanne Y. Rohrbaugh presided over the induction and announced the names of the inductees.
Despite the challenges of COVID-19 this year, the Beta Theta Rho has still been active in order to meet the requirements to be a Five Star Chapter by working with RCC Career Services staff, RCC curriculum program department heads, and a local Human Resources representative to create a series of five webinars on career related topics. In addition, the chapter partnered with Bob Langston, Sustainability and Conservation Outreach Coordinator at the North Carolina Zoological Park, to clear hiking trails on Purgatory Mountain in Asheboro, and assisted Don Simmons, owner of local restaurant Magnolia 23, to clean the Odd Fellows Cemetery, one of the oldest African-American cemeteries in Asheboro.
Established by junior college presidents and students in Missouri in 1918, Phi Theta Kappa is the only international honor society serving two-year institutions. It recognizes the academic achievement and integrity of students enrolled in curriculum programs. Students who are invited to join Phi Theta Kappa must have completed 12 credit hours and must possess a grade-point average of 3.5 or higher.
RCC's chapter, Beta Theta Rho, was chartered Nov. 1, 1999. The local chapter has maintained a Five Star status for 17 consecutive years. This Five Star status is the highest level that chapters can receive. It recognizes chapters that have completed every requirement set by PTK and for chapters that go above and beyond to make sure their projects and service to the college and community are the very best they can be. Beta Theta Rho inducted 122 new members this year.
Students (identified by hometowns) who were inducted May 1 include the following:
Archdale: Emma Jordan Harrell
Asheboro: Micah Ann Barton, Ellen Yasmin Benitez, Brenna Morgan Bestmann, Brittany Nichole Brown, Kristen Delaney Cheek, Chasity Dawn Craven, Ashley Nicole Greene, Justin James Greene, Aaron Abdiel Hernandez, Daryl Austin Hill, Samuel Shelton Huff, Tommy T. Huynh, Margaret Jane Kern, Jarrett M. Kidd, Preston Wade King, Laura Elise LeGlue, Howard H. Lemonds, Melany Lopez-Degollado, Macy Leigh McBride, Anarely Rodriguez Moreno, Jesse Martin New, Lora Hanes Pierce, Caeleylaine Savannah Price, Hunter Scott Stanley, Melissa Mae Strickland, Jackson Christopher Troutman, Elizabeth Nicole Williams, Montana Sky Wright
Bennett: Trevor James Gray
Denton: Caitlin Elizabeth Burks, Amber Annette Matney
Franklinville: Alyson Nicole Kidd
Greensboro: Patricia Nelson Lankford
High Point: Laura McKenzie Harrison, Carlee Dawn Macaluso, Jacob Tyler Stevens
Liberty: Zaria Christine Russell
Pleasant Garden: William Branson Coltrane
Ramseur: Savannah Elizabeth Briggs, Aaron Cade Flinchum, April Jillian Hayworth, Jacqueline M. Peltier, Marlene Reyes Rangel, Yaheli Reyes Rangel, Lauren Danielle Stanley
Randleman: Caroline Ashley Bohlen, Caroline Ellissa Davis, Esmeralda Cardiel Dominguez, Samara Lily Lockamy, Magan Leigh Marsh
Robbins: Meghan Ann Bannick, Maria Fernanda Najera Vazquez
Seagrove: Nathaly Chacon Bustos, Marannda Grayce Lynch, Dakota Skye McPherson, Juliana Dare Owen
Sophia: Martha Gabriels Aviles-Cabrera, Venus Brown Carrero, Julie Mae Childers, Natalie Rylin Hildreth, Courtni Carmel Jackson, Katelyn McKenna Radcliffe, Kenton Glynn Williams
Star: Rachel Faith Boyette, Payton Elizabeth Keating
Thomasville: Aiden Trey Baker, Emma Codutty, Dayana Guadalupe Esparza-Villa
Trinity: Andrew Coleman Capobianco, Rachel Noelle McCormick, Pamela S. Todd
Troy: Hailey Rebecca Gravely, Ashton Blaine Maness
Winston-Salem: Morgan Elizabeth Crisler
Students (identified by hometowns) who were inducted Nov. 21 include the following:
Archdale: Leslie Diane Aleman, Noah Deese Jones
Asheboro: Guadalupe Aguilar Sosa, Aaron Ray Atwell, Abigail Faith Barker, Michael Robert Barillas, Dakota Ray Boggs, Megan Leah Davis, Jennifer Ann Fields, Grayson Conley Greenwood, Lucas Erik Henley, Phillip Clay Hill, Christian Belem Jaimes, Gabriel Matthew Johnson, Ferdinand Ray Kelley, Elizabeth Lynn Kroeger, Abbey Nicole Lewis, Kaylee Ann Maness, Alyssa Katlynn Serrano, Savannah Bryte Smith, Brandon Lee Williams, Kiersten Nicole Yow
Bennett: Misty Powers Murray
Denton: Haley Sfeir
Greensboro: Emily Marie Bennett, Abigail Joy Mallory
Liberty: Shane Christopher McDuffee, Tia Qi Meredith, Jacob Hunter Smith
Pleasant Garden: Michaela Ann Adams
Ramseur: Danielle Dawn Cruey, Vanessa Martinez
Randleman: Jennifer Mae Burrow, Kenneth Lewis Diehl, Daniel Sherwood Faucette, Zaiah Ellena Parson, Emily Juanita Ramirez, Efrian Luis Rosario
Sophia: Isabel Morgan Cribbs, Kaylee Marie Hartmann, Camryn Alexa Kearns, Skyleigh Kassidy-Webb Smith
Star: Silvia Cervantes-Gaona
Trinity: Sandra Castillo, Abigail Elizabeth Goss, Emily Grace Hagans, Patricia Jackson Tilley