Public Safety
Make A Difference In Your Community
At RCC, we have a strong commitment to providing the training needed by emergency services personnel who work hard everyday to make a difference in our community. In our Public Safety programs, you will learn everything you need to satisfy regulatory requirements and improve your ability to function in the field.
Our dedicated staff has substantial field experience and is responsible for assuring that our offerings are timely and pertinent to the needs of agencies and employees. Check out our programs and let us know how we can help you make a difference.
Additional Information
We are approved by the N.C. Criminal Justice Commission and the N.C. Sheriff's Standards to deliver initial certification for police and detention officers, in-service training for law officers, sheriff's deputies, detention officers, and telecommunicators.
RCC is accredited by the N.C. Fire and Rescue Commission to deliver certification testing in the following areas: firefighter, emergency vehicle driving, fire and line safety educator, hazardous materials, driver operator, technical rescue, pumps, and aerial instructor. 
RCC is credentialed by the N.C. Office of EMS as an advanced education institution, with approval to conduct initial and continuing education training for Emergency Responder, EMT, EMT-Intermediate, Paramedic, and Emergency Medical Dispatch, and is in process of becoming accredited by the Committee on Accreditation of Educational Programs for the Emergency Medical Services Professions (CoAEMSP) for our advanced life skills (paramedic) program.
Search statewide, by school, by course using the Public Safety Calendar Search.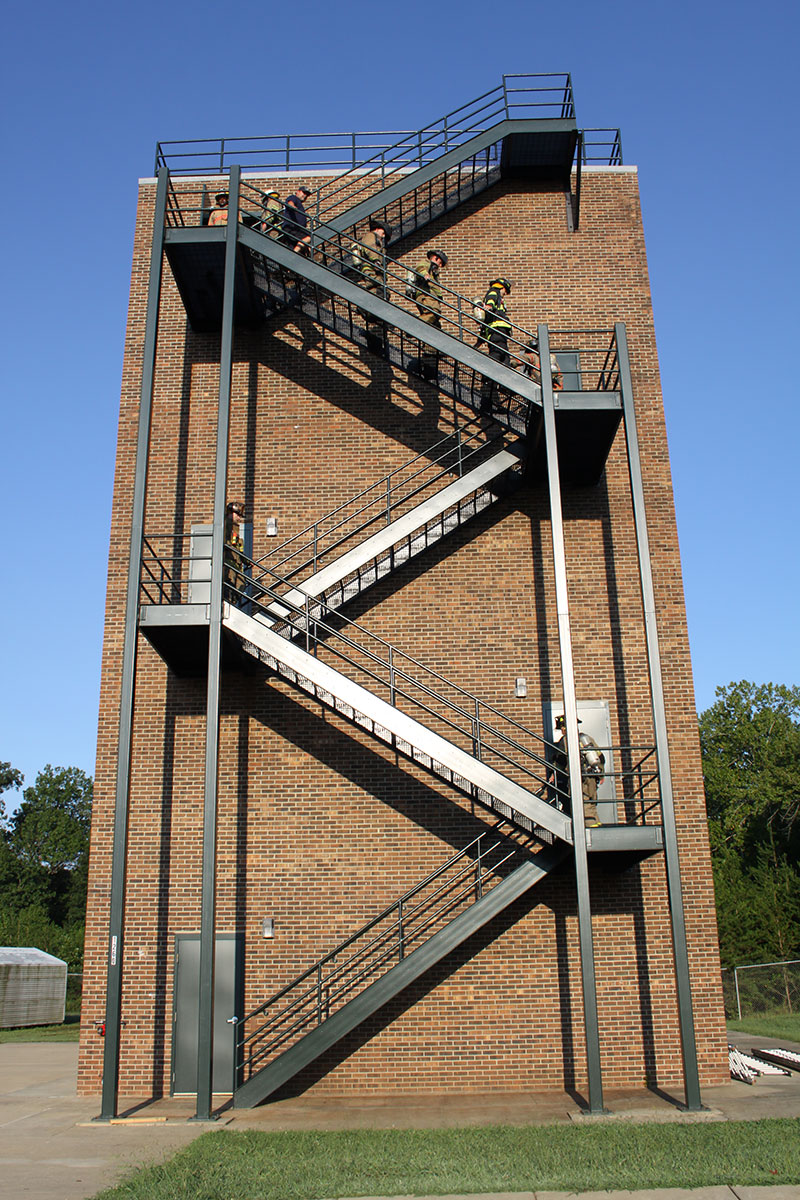 The Emergency Services Training Center is located at 895 Training Center Drive, Randleman, on the east side of Asheboro. This is the training facility for the Basic Law Enforcement Training certificate program and the RCC Firefighter Academy. The ESTC is also used for Continuing Education programs for fire, rescue, law enforcement (CJC), emergency services, and concealed carry handgun courses.
The 60-acre facility maintains modern equipment and props for each respective emergency service, including three firing ranges, an emergency vehicle driving course, a five-story drill tower, a live burn building, a tactical building, an LP Gas facility with six props, a USAR course, and an underground confined space/trench area. There are six classrooms with current computer technology, including SMART Boards.
The criminal justice section uses standardized police equipment for law enforcement/CJC programs. The fire and rescue section also utilizes modern fire and rescue equipment, including a fire engine.
Directions from Asheboro
Take Highway 64 East from Asheboro. Turn left onto East Presnell Street and make an immediate right onto Henley Country Road. Go about 1.3 miles. At the stop sign, take a right onto Old Cedar Falls Road. Go another 1.3 miles and the ESTC will be on the left.