Randolph Community College and Western Carolina University forge pathway to four-year degrees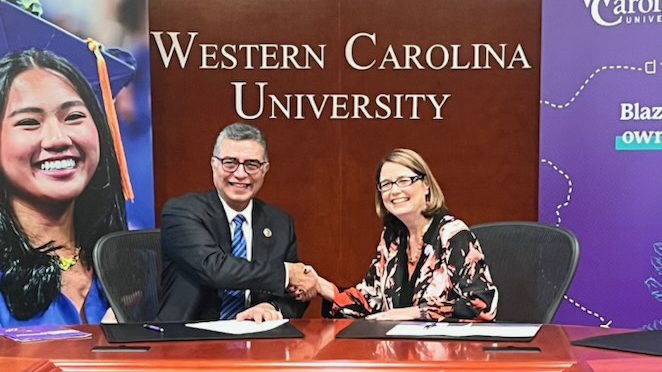 On Thursday, Nov. 9, Randolph Community College (RCC) and Western Carolina University (WCU) formalized an agreement to ease the transition for RCC graduates seeking admission to WCU. The memorandum, signed by WCU Chancellor Kelli R. Brown and RCC President/CEO Dr. Shah Ardalan, outlines specific criteria for guaranteed admission.
This agreement ensures a straightforward and assured pathway for RCC students to pursue their four-year degrees at Western Carolina University. Brown highlighted the significance of this collaboration in facilitating a smooth transition for transfer students.
"Western Carolina University is proud to partner with Randolph Community College in streamlining the pathway for transfer students to further their education," Brown said. "It is crucial for students to have a clear route if they choose to move from a two-year to a four-year institution. As a community college graduate myself, I understand the importance of programs like this and the opportunity for accessible, high-quality education it provides students."
Ardalan, accompanied by RCC Vice President for Instructional Services, Suzanne Rohrbaugh, expressed his satisfaction with the positive impact that RCC students will have at WCU through this collaboration.
"We are proud of our partnership with Western Carolina University and the launch of the Guaranteed Admissions through the Catamount Connection Program," Ardalan said. "Our shared vision for a seamless educational journey, with an emphasis on articulation and transferability, is the essence of academic collaboration. It reflects the values and goals that both institutions hold dear. I am hopeful for what lies ahead, and together, we aim to make a difference in the lives of our students and the communities we serve."
"WCU offers a wide variety of opportunities and has over 100 years of rich history and culture," Ardalan continued. "Their exceptional affordability will be a tremendous benefit to our students. We hope to explore additional partnerships at multiple levels in the future."
Interested students must meet the following conditions to participate:
Be a currently enrolled student at RCC in a degree-seeking capacity.
Submit a WCU application for admission and records by WCU deadlines.
Submit the application fee or waiver and fulfill all commitment action steps.
Maintain good standing at RCC and other institutions attended.
Demonstrate good citizenship and conduct.
Maintain a minimum cumulative GPA of 2.50 at RCC and a minimum GPA of 2.20 in their most recent term.
Earn an associate degree from RCC in a college transfer program or in an applied program for which an articulation agreement exists.
Enroll at WCU within one academic year (within the next two regular terms [fall/spring semesters] of completion of the associate degree).
Randolph Community College (RCC), under the leadership of President/CEO Shah Ardalan, is committed to providing relevant career training and educational opportunities. Affordable degrees and short-term certificate programs start throughout the year, both in person and online. For more information, call 336-633-0200 or visit www.randolph.edu and expect to engage with the most competent and compassionate team of faculty and staff.