Battle joins RCC Board of Trustees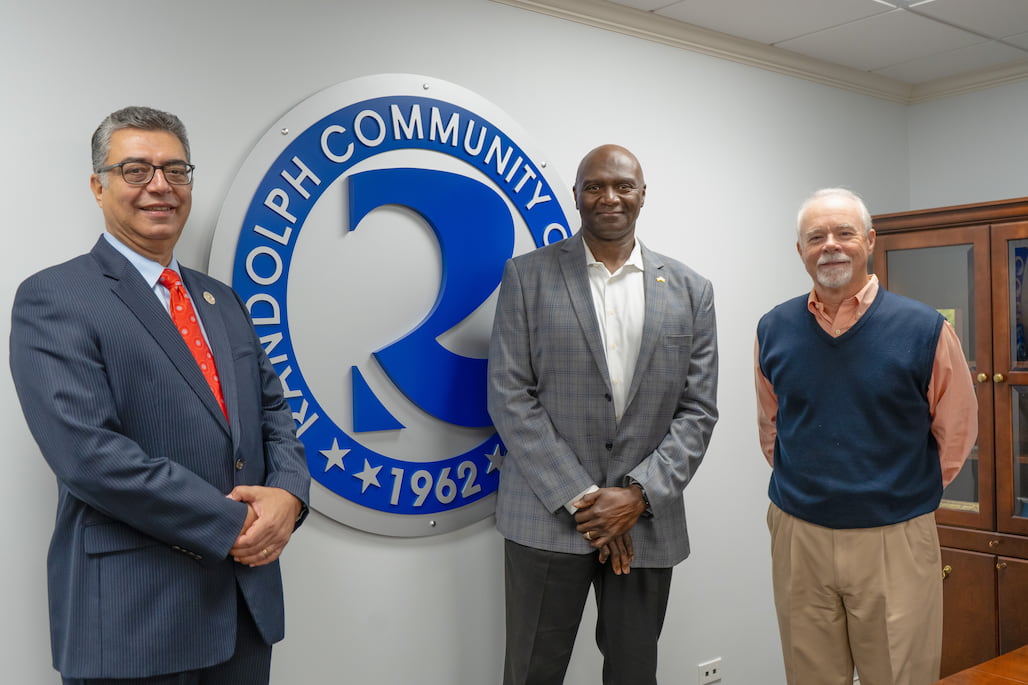 Alvin Battle was sworn in as the newest member of the Randolph Community College Board of Trustees at the Board's meeting Thursday, Nov. 16, in the Martha Luck Comer Conference Center on the Asheboro Campus. Battle replaced Larry Reid, who passed away in September.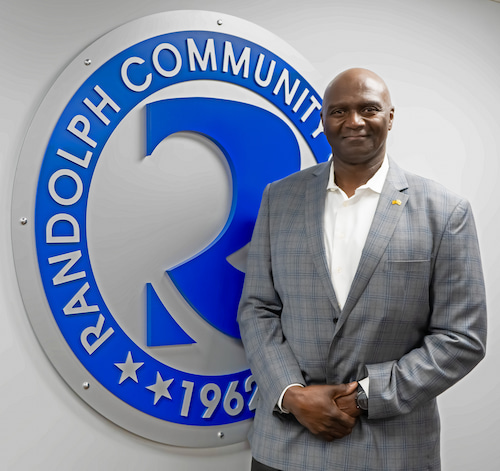 "As a citizen of Randolph County, I am very proud to become a member of the Board of Trustees for Randolph Community College," Battle said. "RCC offers a wide variety of educational opportunities across many disciplines. I am excited to be a part of the RCC family. Thank you for allowing me to become your newest trustee."
RCC President/CEO Dr. Shah Ardalan and Board Chair T. Reynolds Lisk Jr. echoed Battle's sentiments.
"We are excited to welcome Alvin Battle to our Board of Trustees," Ardalan said, thanking the Randolph County Commissioners — Chairman Darrell Frye, Vice Chair David Allen, Hope Haywood, Kenny Kidd, and Maxton McDowell — for appointing Battle to the Board. "Alvin brings with him an excellent and unique blend of experience and expertise that will contribute to the growth and success of our institution. We look forward to benefiting from his insights and leadership as we continue to strive for excellence in serving our students and community."
"We are thrilled to have Alvin Battle join the Board of Trustees at Randolph Community College," Lisk added "As a community college graduate, Alvin has had experience with the community college system and has a passion for its mission. He will undoubtedly be a great asset for our board, and we look forward to working with him."
Born in Tarboro and raised in Rocky Mount, Battle graduated from Northern Nash High School in 1980. He received an associate degree in General Education from Merced College (Merced, Calif) and a bachelor's degree in Speech Communications from N.C. State University.
Battle received the California Junior College Basketball Player of the Year award in 1982 and was a member of the 1983 N.C. State national championship team coached by Jim Valvano.
Battle is currently the IT Business Continuity Manager for Atrium Health. Before that, he was a Tactical Systems Field Engineer for Accounting Machine Systems, a Branch Director at SunTrust; a Manager CBO, CBOSYS Technical Team Lead, and IT Manager at First Citizens Bank; and a HCS Applications Developer at UNC Health Care.
Ordained as a minister in 2012, Battle has served as a minister for Chatham and Edgecombe County Youth Detention Centers and Wake County Adult Correctional Center. He is an Alcoholics Anonymous and Divorce Care accountability partner, a member of Destiny Christian Church (Greensboro), an inspirational speaker, and the founder of Cary YMCA 5 a.m. Men's Bible Study.
Since 2018, Battle has been a Board member of Cross and Key prison ministries (formally Disciple Bible Outreach Ministries of NC) and has been a Randolph County Juvenile Crime Prevention Council member and a member of that Council's subcommittee — Monitoring Committee and Risks and Needs Assessment — since 2021. Starting in January, he is the Council's Vice Chair. Battle has been on the City of Archdale Planning Committee (Plan Archdale) since 2022, and on the Archdale-Trinity Board of Directors and the Randolph County GOP Executive Committee starting in January.
Randolph Community College (RCC), under the leadership of President/CEO Dr. Shah Ardalan, is committed to providing relevant career training and educational opportunities. Affordable degrees and short-term certificate programs start throughout the year, both in person and online. For more information, call 336-633-0200 or visit www.randolph.edu and expect to engage with the most competent and compassionate team of faculty and staff.