SECU BTC Scholarships empower five RCC students to excel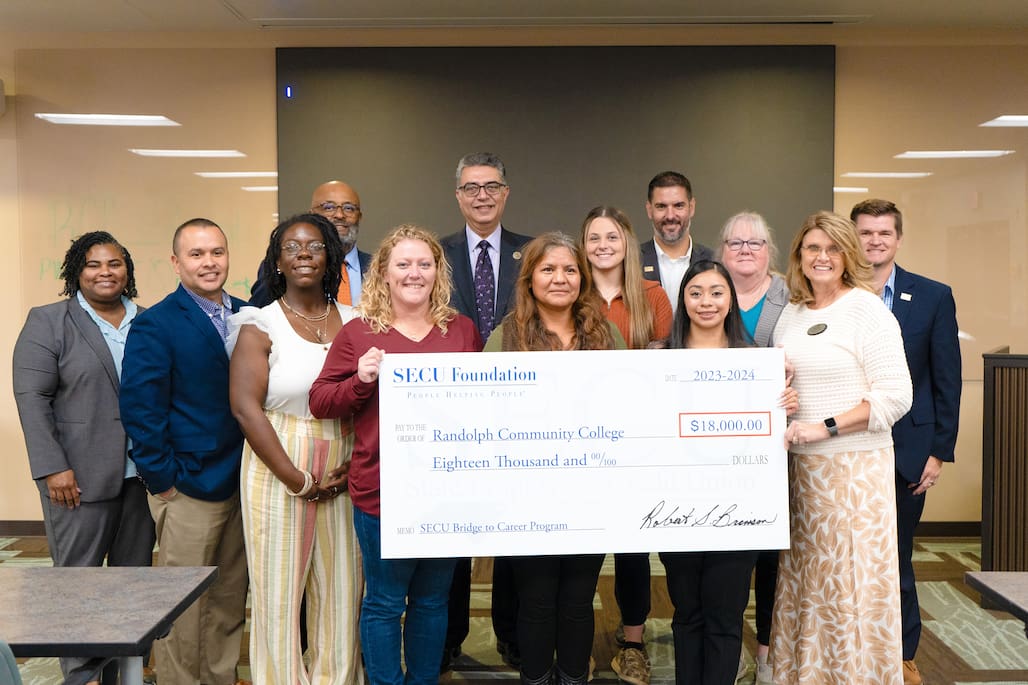 Five Randolph Community College students recently earned $500 Bridge to Career (BTC) Scholarships from the State Employees' Credit Union (SECU) Foundation. Jenna Arnold (EMT), Traci Herring (EMT), Felicitas Lopez (Plumbing), Emiliana Menchu (Veterinary Assisting), and Kathy Small (Medical Coding) were honored at a ceremony Wednesday, Sept. 27, in the JB and Claire Davis Corporate Training Center on the Asheboro Campus with RCC staff and SECU representatives on hand.
"I would like to extend a warm welcome and convey our profound gratitude and appreciation for the invaluable support and contributions provided by the State Employees' Credit Union to both our institution and our students, with a particular emphasis on their career development," RCC President Dr. Shah Ardalan said as he opened the ceremony. "The significance of career-focused initiatives for our students cannot be overstated, and we are committed to furthering this endeavor.
"We eagerly anticipate the expansion of this partnership and hope to engage in collaborative discussions to explore avenues for its enhancement. We aspire to be a steadfast and beneficial partner, reciprocating the invaluable support you have consistently extended to us."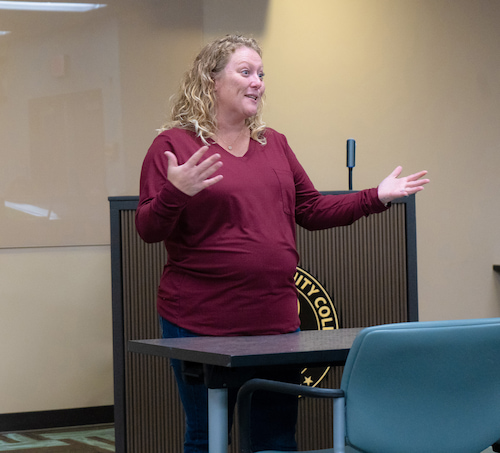 Vice President of Workforce Development and Continuing Education Elbert Lassiter noted that the SECU awards each college $18,000, which means RCC can give 36 Bridge to Career Scholarships.
"This is for adults who are making the decision to go back to school," he said. "It changes and impacts the lives of so many. We've been really strategic in how we use those funds — all of the funds are geared toward anything that leads to a state or national credential. So, when the student finishes, they have a great career."
Elbert then introduced the student speaker, Traci Herring, a mother of four who returned to RCC after 20 years to re-certify as an EMT after letting her certification lapse and who will enroll in the College's Paramedic program in January. Herring started her first EMT class at 18, sitting for the state exam while eight months pregnant, worked for Randolph County EMS for 10 years, then 911 for two, and then "the real world." She re-discovered her true passion one night on her way home from her son's wrestling match by attending to a pedestrian who had been hit by a car.
"After it was over, my adrenaline was really high, and my husband looked at me and said, 'Why don't you go back to school?' " Herring said.
She called Coordinator/Instructor of Emergency Medical Services David Barr, who happened to be Herring's Field Training Officer when she first started out, and he said the College had a class starting soon. Herring's biggest worry was how to pay for it, so she applied for the SECU scholarship and was accepted.
"I would not have had this opportunity without the State Employees' Credit Union, and I was not going to let that go to waste," she said. "I was gifted this opportunity. I let my EMS [certification] go a year before. Twenty years later, I'm sitting in a class getting my EMS again. I got the highest grade and test score in the class at 38 with four kids. I'm super proud of myself. It's never too late to get that degree. And this girl is going to do it."
Before introducing the SECU staff in attendance, Vice President Marcelo Pariz said he loves hearing stories like Traci's, especially what the BTC Scholarship Program does for first responders.
 "Most of us hear that story you just told, and we're running the other way," Pariz said. "It takes people like Traci to run toward those in need. The Credit Union supports those pillars in our community to assist them in doing their jobs and facilitating their ability to financially get that certification and training because we could not do what they do. We really appreciate the partnership with RCC."
Spencer Henderson, Vice President/City Executive of the Randleman Branch; Tunisha Gaylord, Vice President/City Officer of the High Point Branch, and Regina Hunt, who is on the Asheboro Advisory Board and presented the check to RCC with Pariz.
RCC Dean of Workforce Development and Continuing Education Dr. Isaí Robledo closed the ceremony by having the scholarship winners introduce themselves and their field of study.
"The beauty of today is we're able to celebrate our students, the power of education, and importance of partnerships to support the students," he said. "Being able to pause and hear the students' stories really helps center us and the work we do. These scholarships were an investment in you because we believe in you and what you can do for our community."
Randolph Community College (RCC), under the leadership of President Shah Ardalan, is committed to providing relevant career training and educational opportunities. Affordable degrees and short-term certificate programs start throughout the year, both in person and online. For more information, call 336-633-0200 or visit www.randolph.edu and expect to engage with the most competent and compassionate team of faculty and staff.