RCC hosts local high schoolers for Manufacturing Day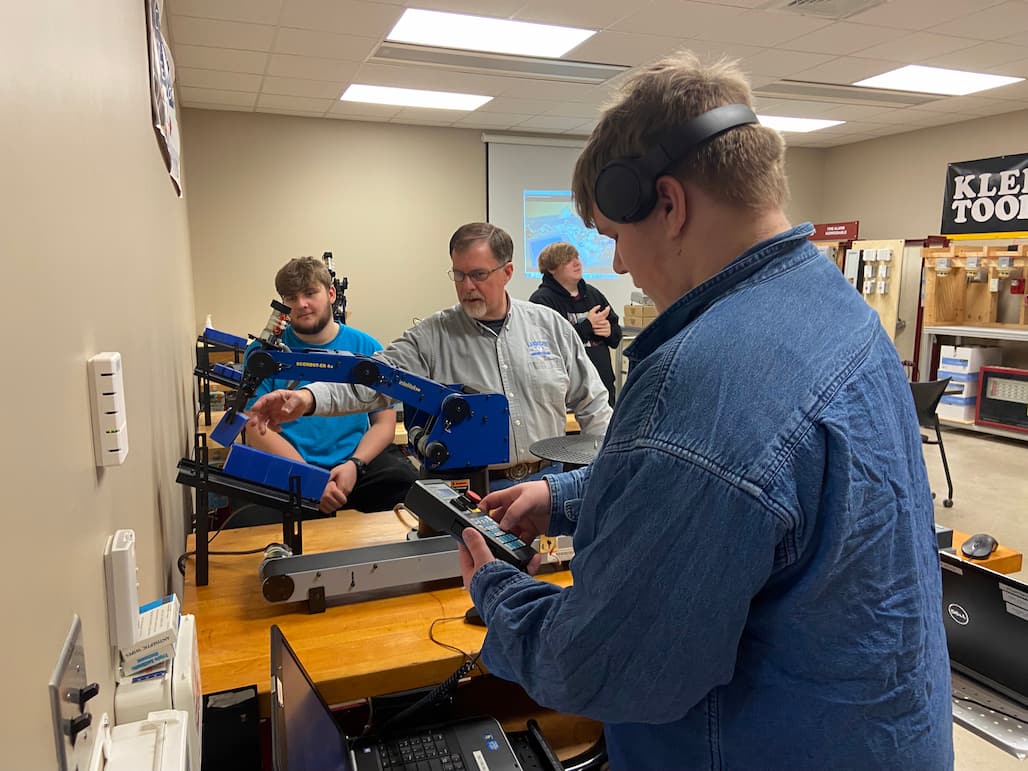 Randolph Community College hosted 225 local high school students for Manufacturing Day on Friday, Feb. 3.
Students from Asheboro High School, Eastern Randolph High School, Providence Grove High School, Randleman High School, Southwestern Randolph High School, Trinity High School, Uwharrie Charter Academy, Uwharrie Ridge 6-12, and Wheatmore High School participated in a mock assembly line and enjoyed hands-on activities and demonstrations in the Gene Haas Computer-Integrated Machining Institute (CIM), Electrical Systems, Computer-Integrated Machining, Automation Engineering, and Welding areas. The students also learned about the Apprenticeship Randolph and College and Career Promise (CCP) programs.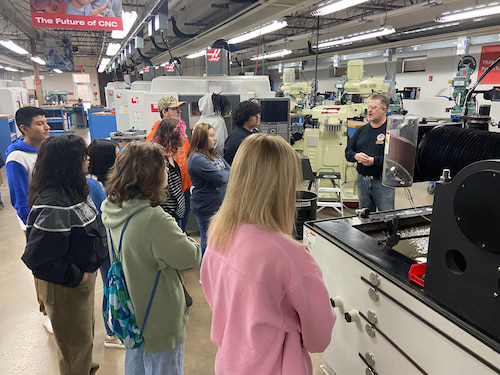 The students toured several local manufacturing companies, including Atalys, Elastic Therapy Inc., Mohawk Industries Inc., Post Consumer Brands, PEMMCO Manufacturing, Technimark, and Timken.
Two students who attended the event, Randleman sophomore Aliya Easter and Trinity junior Yariell Figueroa, were both exploring their options, and both happened to be looking into becoming airplane mechanics.
"I think it would be a good start," Easter said. "I've always been interested in airplanes. I've wanted to go into the Air Force since fourth grade."
Being blind in one eye means Easter cannot fly an airplane, but she certainly can fix them.
"I've learned about new opportunities today," she said. "I'll definitely be able to come and take classes here."
Figueroa, whose uncle was a pilot, also was bitten by the airplane bug as a youngster.
"I've always been interested in mechanical stuff, especially airplanes," he said. "I thought it would be a good idea to see what else I can do for my career development. Now's the time for me to get my classes done. If I don't become an airplane mechanic, I'll become a technician for fiber-optic or coax cable and work for my dad's company."
Manufacturing Day is held for eighth graders in the fall and 10th graders in the spring with the goal of educating students on careers, pay, and opportunities in area industries and opportunities with Career-Technical Education classes at RCC.
"As Randolph County becomes even more diverse in industries and career opportunities, we feel that it is important for students to know what's available to them locally," RCC Director of Apprenticeships and Pathways Stacey Miller said. "RCC instructors work with local company leaders to get feedback on today's workforce needs. We want to provide career pathways for mechanically minded students who enjoy working with their hands, problem-solving, and critical thinking — all important attributes for success in our advanced manufacturing areas."