SECU presents scholarships to RCC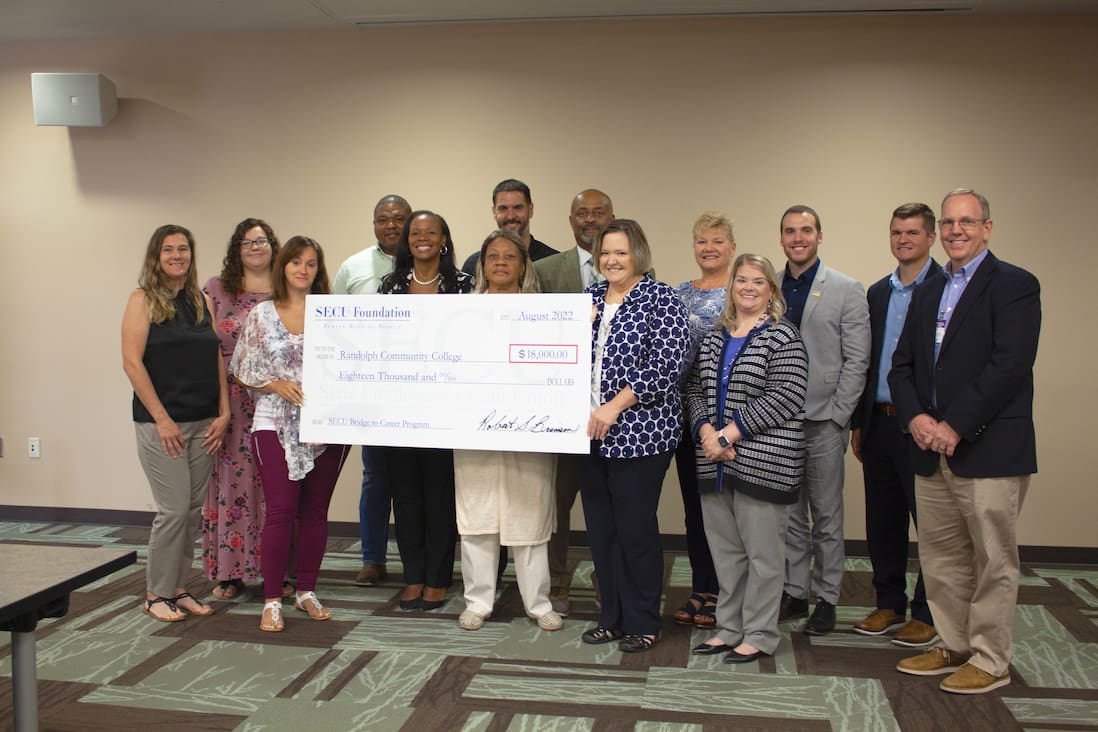 Randolph Community College students and staff, and representatives from the State Employees' Credit Union (SECU) gathered Thursday, Aug. 25, in the JB & Claire Davis Corporate Training Center on the Asheboro Campus as the SECU presented the College with $18,000 in Bridge to Career Scholarships.
Acting President Elbert Lassiter opened the ceremony.
"This gives us an opportunity to say, 'Thank you,' to the state credit union," he said. "Through the years, the credit union has been a provider of scholarships for our students. Normally when we have scholarships, it's first-come, first-served, but we put a lot of time and effort into thinking, 'What is the best use for this money?' And we thought about the credit union — you're there for your customers' financial needs. So, we decided to designate these scholarships to areas that do a public service — law enforcement, EMT, medical coding — people who leave that program and serve people within our community. We're so thankful for the commitment that you've made."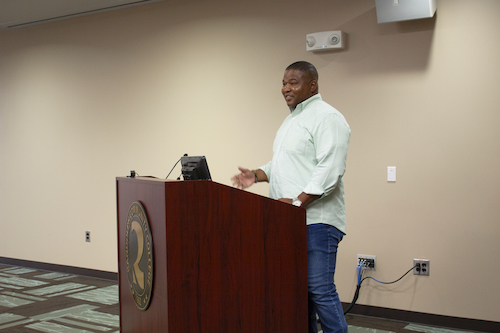 Lassiter then introduced the guest speaker, Justin Collins, a recipient of one of the BTC Scholarships and Class Leader of RCC's 89th Basic Law Enforcement Training class.
"I greatly appreciate the opportunity given and awarded to me — the scholarship to fulfill my dream of being a deputy," he said. "I'm employed here in Randolph County with the Randolph County Sheriff's Office, and I've been assigned to the drug division. It's been rewarding. It's been eye-opening, too. I couldn't have done it without the scholarship. I appreciate it."
SECU Vice President Marcelo Pariz then introduced the members of the SECU who attended —Dana Nance, Asheboro Advisory Board Member; Kendra Adams, Senior Vice President; Spencer Henderson, Vice President/City Executive; Isaac Snyder, Investment Advisor; Cherie Bunting, Specialty Member Advisor; and Debbie Maness, Assistant Branch Manager. Nance then spoke before presenting the check.
"Since this program was established, it's been great to watch it grow and succeed," she said. "Scholarships are currently offered to all 58 community colleges in North Carolina, and we're pleased to see the impact on higher education across the state. The Bridge to Career Program has become an essential piece of our foundation, filling the gap with support for individuals seeking a job in a trade industry or enhancing their education with new skills to advance their career. This directly aligns with MyFutureNC's goal to ensure that two million North Carolinians have a post-secondary degree or credential by 2030."
RCC Dean of Workforce Development and Continuing Education Randy Gunter closed the ceremony.
"We certainly appreciate your support of our students," he said, addressing the SECU employees. "You are truly breaking down barriers and making things smoother for the students. To the students, we look forward to working with you in your classes, and we wish you so much luck in your studies. If there's anything that we can ever do here at the College, please don't hesitate to reach out to us."
Students receiving scholarships (under area of study) were:
Basic Law Enforcement: Justin Collins, Christian Councilman.
EMT Basic: Aaron Passmore.
Health & Wellness Coach: Kengela Fryar.
Medical Coding: Anna Blackwell, Deanna Blake, Angela Brown, Tanisha Graves, Gwen Hager, Kelly Jennings.
Medical Terminology: Orletta Fasion, Tammy Hayes, Dorthea Leach, Brittany Sykes.
MIG Welding: Lucas Hamrick, My'keyrio Parker.
Pharmacy Technician: Aniyah Bethea-Cochrane, Heather Spinks.
Therapeutic Massage: Jessica Kearns, Meagan Lamb.
Veterinary Assistant 1: Pamela Hedgecock, Kaitlyn Morgan, Brianna Peterson, Elizabeth Turner.