RCC's Miller visits White House as part of Apprenticeship Ambassador Initiative launch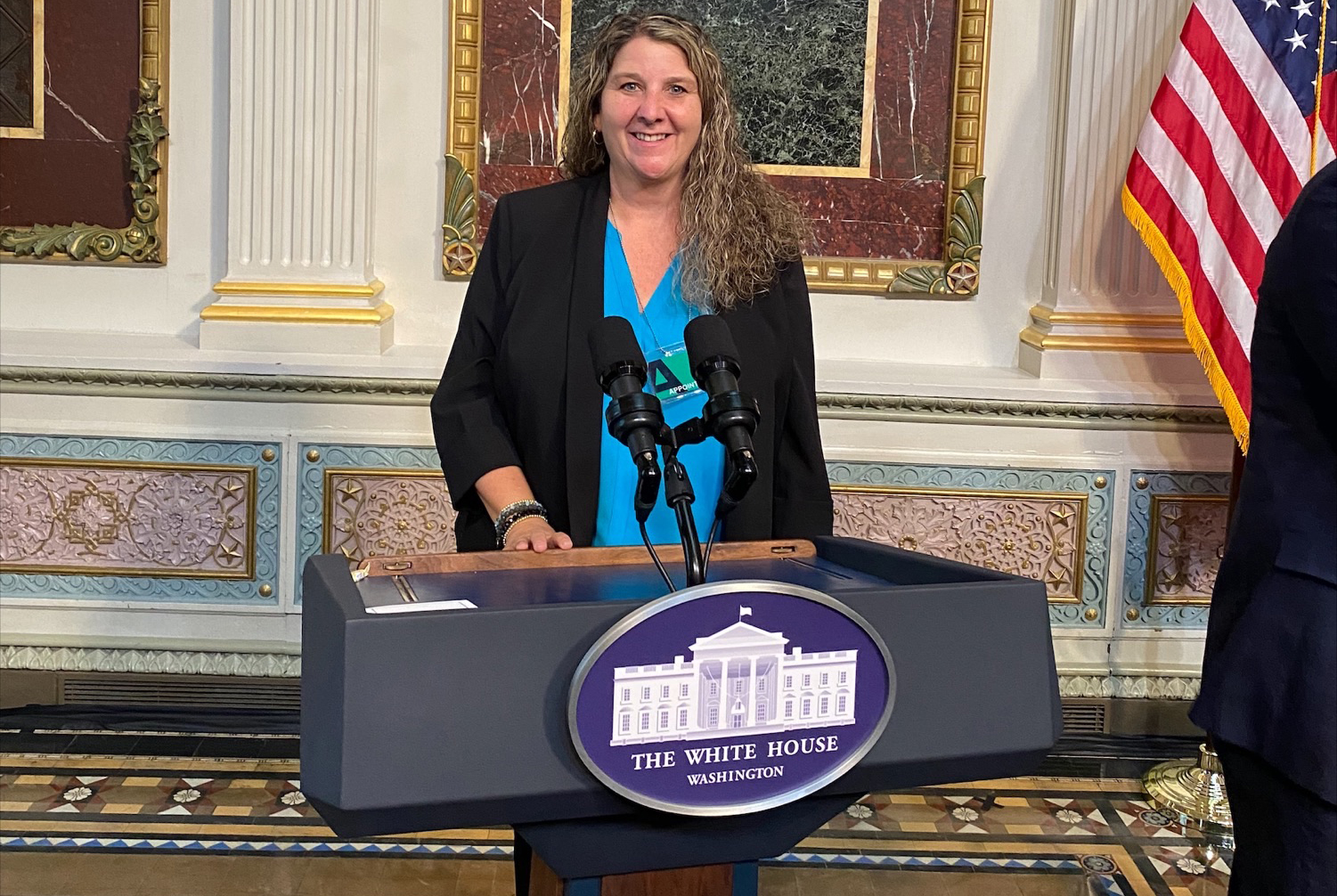 It's not every day you get an invitation to the White House, but Randolph Community College Director of Apprenticeships and Pathways Stacey Miller received this in her inbox: "The White House cordially invites you to attend an event to highlight your role in the Biden-Harris Administration's work to expand, diversify, strengthen, and modernize Registered Apprenticeship across the country through the Apprenticeship Ambassador Initiative."
Miller couldn't say, "No," especially since Apprenticeship Randolph was named an Apprenticeship Ambassador — one of 205 in the country. So, she hopped in her car Wednesday, Aug. 31, and headed for D.C. The next afternoon, Miller and her fellow Ambassadors headed for the White House where First Lady Dr. Jill Biden spoke.
"Community colleges have always been about jobs, about meeting students where they are, and really giving the students the skills that they need to build their careers and support their families," Biden said. "And they are committed to helping students no matter their income or background. Community colleges have really been a leader when it comes to creating innovative learning opportunities like apprenticeships, and there is so much potential for them to do even more in this area. Registered Apprenticeships provide clear pathways to jobs that pay good wages, they allow students to earn while they learn, and they ensure businesses have skilled employees in industries that are struggling to find the right workers.
"Apprenticeships and community colleges are the most powerful engines of prosperity Apprenticeships can change lives. They strengthen our workforce and our economy."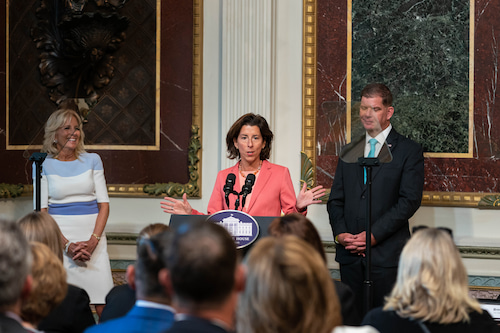 Secretary of Labor Marty Walsh and Secretary of Commerce Gina Raimondo then hosted a discussion with leaders of the Initiative — a national network of more than 200 employers and industry organizations, labor organizations, educators, workforce intermediaries, and community-based organizations committed to strengthening and diversifying Registered Apprenticeship. The Apprenticeship Ambassadors have existing Registered Apprenticeship programs in over 40 in-demand industries and have committed to expand and diversify these programs over the next year by collectively:
Developing 460 new Registered Apprenticeship programs across their 40 industries,
Hiring over 10,000 new apprentices,
Holding 5,000 outreach, promotional, and training events to help other business, labor, and educational leaders launch similar programs.
The economic benefits of the Initiative for both workers and employers are long-lasting. About 93 percent of workers who complete Registered Apprenticeships gain employment and earn an annual average starting wage of $77,000. Registered Apprenticeships also help employers attract, train, and retain a skilled and diverse workforce and reap a $1,47 return for every dollar spent on Registered Apprenticeships. The Department of Labor is also taking additional steps to expand Registered Apprenticeship to serve at least 1 million apprentices annually within the next five years.
Apprenticeship Randolph recently celebrated its second graduating class, seeing 12 students receive their Associate of Applied Science in Manufacturing Technology, a Certificate in Manufacturing Technology, a State Apprenticeship Certificate, and a National Journey Worker Credential. The program also signed 17 new apprentices.
"This has been an amazing experience," Miller said. "From networking with other Apprenticeship Ambassadors, to hearing First Lady Dr. Jill Biden speak on the importance of apprenticeships and community college education, I could not have asked for a better trip. This is definitely a highlight of my career. I'm so proud of the work of our Apprenticeship Randolph graduates, apprentices, companies, schools, community, and state partners. I look forward to growing apprenticeships throughout Randolph County and giving students an opportunity to be our future workforce leaders through mentored, on-the-job training and class work at RCC — all at no cost to the apprentice."
To learn more about Apprenticeship Randolph, email apprenticeships@randolph.edu.