RCC Digital Literacy program changing lives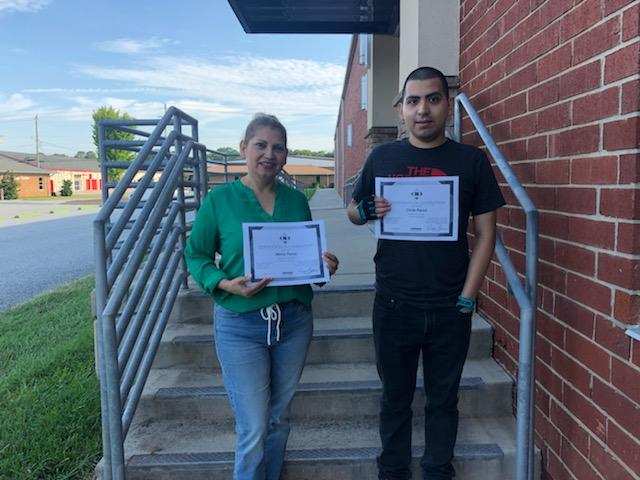 In an ever-increasing paperless world, knowing your way around a computer can not only help boost your job prospects, but also help you navigate shopping and paying bills. This spring, Randolph Community College's College and Career Readiness (CCR) department launched a Digital Literacy program. Since its inception, its students have earned 201 certificates using the NorthStar program and 42 students have earned their nationally recognized NorthStar certification.
When Felicitas Lopez entered the classroom on the first day, she said, "I am so bad at computers, I don't even turn [them] on."
Lopez, who came to America for a better life for her daughter and her, has worked in factories for many years, but wanted to gain computer skills so she could advance her career. She also wanted to be able to pay bills and shop online. Now that Lopez has her certification, she can do all those things and more.
Maria Montes-Gaspan wanted to learn computer basics so she could apply for jobs online, do simple computer searches, and use email. By the end of the course, Montes-Gaspan was like a second instructor in the class, helping her classmates and even coming to class early to help the instructor start up the computers and log into programs.
Mirina Perez, who has experience in phlebotomy and nursing assisting, wanted to become proficient in computers so she could re-enter the medical field. Thanks to the class, Perez has not only created a professional resumé, but also applied for online jobs.
Perez's son, Christopher, attends RCC's Adult Basic-Life Skills program and was excited for the opportunity to learn more about computers. Through the class, he learned how to create presentations in PowerPoint and how to present data in Microsoft Excel, helping him toward his goal of becoming a businessman.
The class not only had a profound effect on the students, but also their teacher.
"As we began this class in January with the very basics of computers, I could see how much my students appreciated the class," CCR Digital Literacy Navigator Magan Barnes said. "Watching them become excited about what they were learning and going home and putting it to practice right away was very rewarding for me as their instructor. To hear them come back the next day and talk about what they were able to do — it's the simple things we do every day that we don't realize not everyone has the privilege of knowing how to do like check email, online banking, and online shopping. My students were so appreciative of the opportunity to learn these skills.
"The most amazing day was the last day of the final class when we applied for jobs online using the resumés we had constructed in class. As they left that day, [the students] all hugged me and thanked me for opening doors for them that they had never opened. This ranks at the top of my list of rewarding experiences as an educator in my 16-year career in education."
Lead Instructor for CCR Emma Lambirth said the class will have a domino effect as the students take what they've learned out into the community.
"I am so incredibly proud of these students," she said. "They have grown more confident through this class. The technology they learned will not only benefit them, but also the rest of their family. They can be the teachers of their families and spread their knowledge."
For information, call 336-633-0106 or email mcbarnes@randolph.edu.