RCC's Phi Theta Kappa chapter inducts new members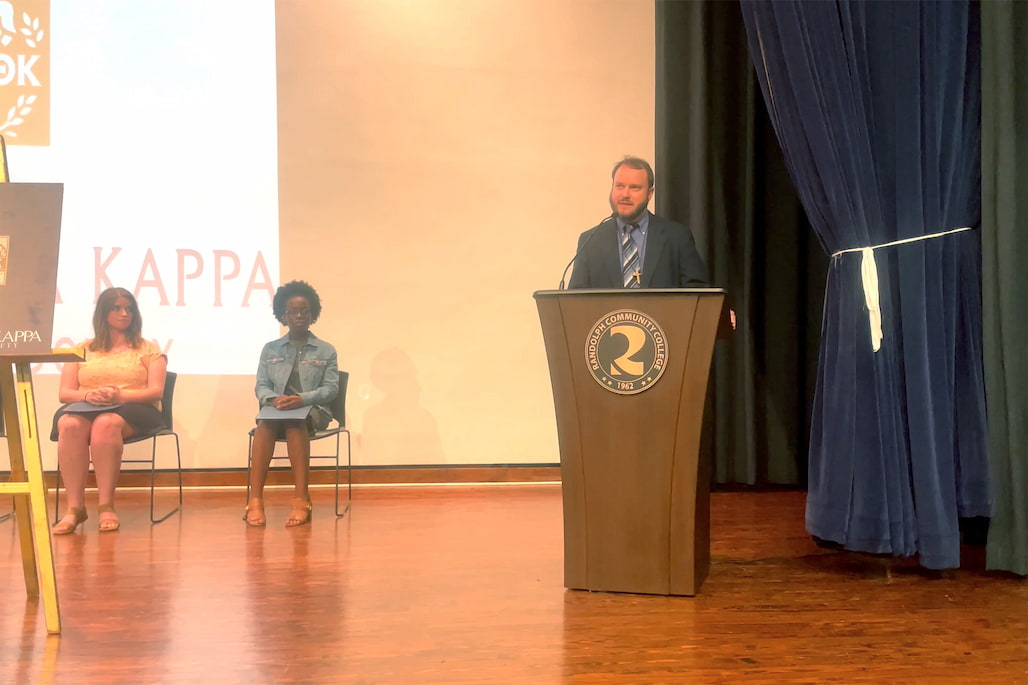 On May 25, Beta Theta Rho, Randolph Community College's chapter of the Phi Theta Kappa Honor Society, inducted new members into its Five Star chapter, and moved into its 23rd year. A ceremony was pre-recorded and sent to new members due to COVID-19.

The virtual ceremony was led by Phi Theta Kappa (PTK) advisor and RCC English/Communication Instructor Clark Adams, who welcomed the new inductees. Following Adams's welcome, the Pledge of Allegiance was led by PTK Vice President Aliza Abdul, while Public Relations Officer Carrie Johnson led the invocation for the ceremony.

Adams, who has been a PTK advisor since January 2010, recognized the new inductees.

"We are celebrating the accomplishments of our new Phi Theta Kappa members as they have excelled in their academics here at Randolph Community College," he said. "We are very thankful for their efforts that they have made in making their academics a top priority."

Johnson referenced the new inductees in her invocation.

"We give thanks for these students who are shining examples for their families and whose very participation in this ceremony serves as a source of hope, encouragement, and inspiration for those who will follow in their footsteps," she said. "May their induction into Phi Theta Kappa motivate and challenge them to continue to strive for excellence in all that they do."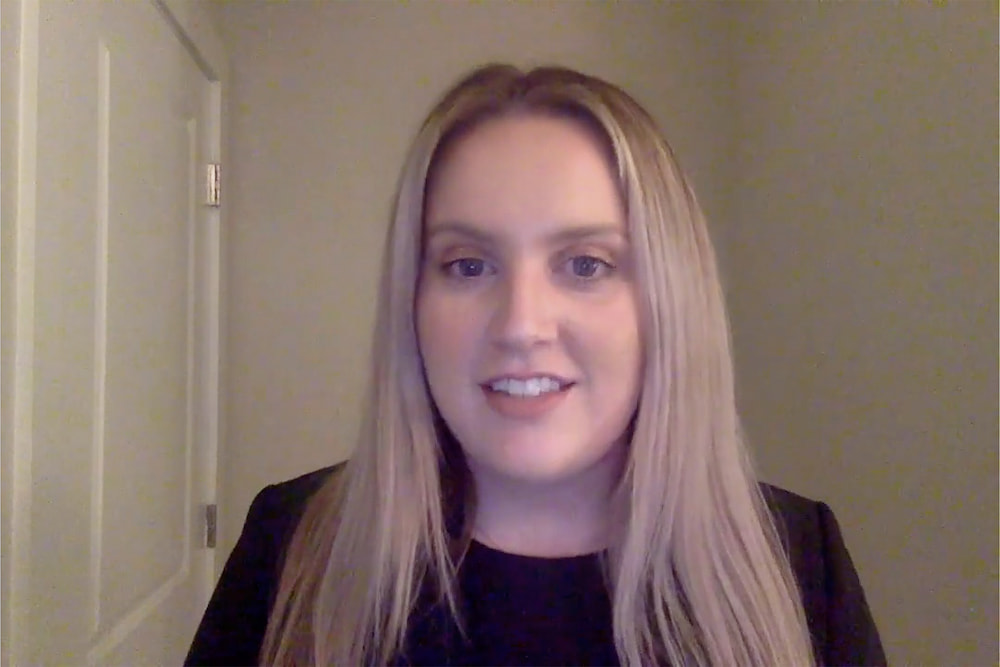 Following the invocation, Adams shared information about PTK and explained to the new inductees that "I want you to know that I am proud of what you have accomplished here at RCC thus far. You're making an effort to complete your education and follow your dreams. This is a difficult task in normal times, but the past two years have made it more difficult and more uncertain. Therefore, I commend each of you for staying focused and going the distance despite these circumstances. Phi Theta Kappa is still honoring and recognizing our students for their success at Randolph Community College.

"You possess characteristics of leaders, characteristics of scholars, and characteristics that make you Phi Theta Kappa members."

Adams then explained the history, mission, and purpose of PTK, a 104-year-old international academic honors society for two-year colleges that is recognized as the official honors society for two-year colleges by the American Association of Community Colleges. Adams also recognized the efforts of chapter officers, chapter advisors, faculty, and administrators who helped to make the induction ceremony possible and who support the mission and work of the honor society. Other chapter advisors in addition to Adams are Ellen Adams (Instructor, Mathematics), Gabby Nall (Instructor, Spanish), and Dolores Vargas-Benavides (Instructor, Spanish).

Following Adams's remarks, Allison Layton, a 2016 RCC graduate and PTK member, served as the alumni speaker. Layton, a graduate of the Randolph Early College High School (RECHS) program at RCC, completed her Associate in Arts, Associate in Science, and high school diploma in the spring of 2016. She graduated from High Point University in 2018 with a Bachelor of Arts in Criminal Justice-Pre Law and completed her Juris Doctorate from Campbell University in 2020. She is currently an Associate Attorney at Sam's Law Firm in High Point.

Layton's message focused on the idea of "starting before you're ready." She discussed growing up in Franklinville and attending RECHS. She referred to her mother's encouragement in her educational journey as a motivator and explained that her dreams to pursue a law career took a substantial amount of dedication and sacrifice.

"Start today. Start before you are ready," she said. "Randolph Community College is creating opportunities and changing lives. I stand by that statement with every fiber of my being. I questioned if I would ever become a lawyer with a community college degree on my transcript. I questioned if I would be able to transfer into a university without having those first two years to grow with my peers. I could not have been more wrong."

Layton went on to share advice with how new members could make the most of their time as students at RCC by taking advantage of the time that faculty provide to help students and to become active and involved on campus.

"Randolph Community College is the springboard to the rest of your lives, not the end of the road …," she said. "While RCC was one piece of my puzzle, it was arguably the most important one, and it is undoubtedly the one I am most thankful for."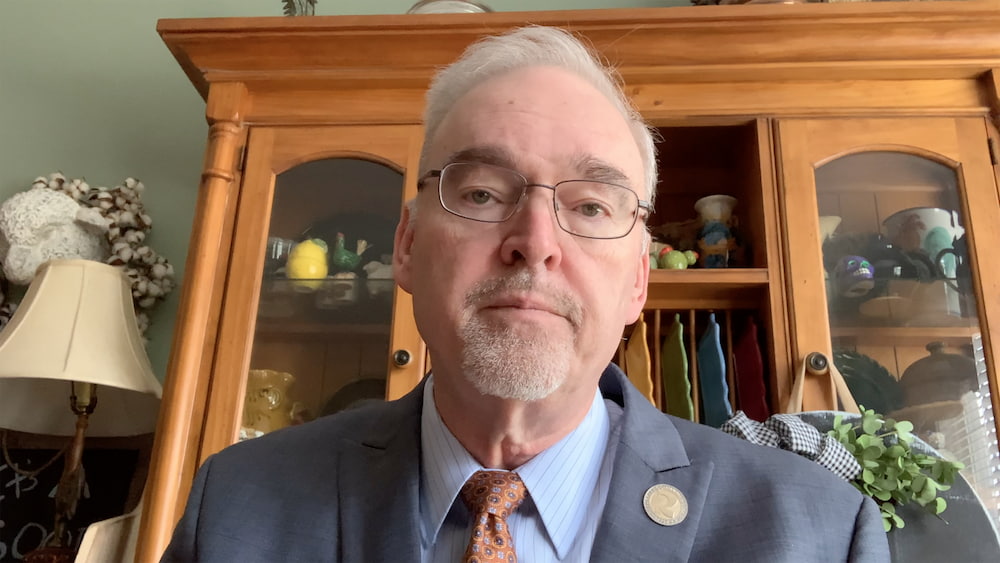 The keynote speaker of the virtual ceremony was RCC President Dr. Robert S. Shackleford Jr., who has served as President for 15 years. Adams introduced Shackleford, referencing his upcoming retirement and personally thanking him for his support of PTK over the past 15 years and for serving as keynote speaker at nearly every induction ceremony during that period.

Shackleford congratulated the new inductees on being selected for induction into PTK.

"Dream big!" Shackleford said, noting the encouraging words his mother told him growing up — that he could be anything he wanted to be in life if he got his education and worked hard. "What would you dare to dream if you knew that failure was impossible? That's how high you ought to be dreaming."

Shackleford then encouraged the inductees to work hard and shared a personal story of trying out for the varsity basketball team in high school as a freshman and being cut from the team.  He was inspired by a book written by Bill Bradley. Shackleford spent hours and hours practicing in order to get better at basketball and when he returned as a sophomore to try out, he made the team and went on to be team captain and receive a college basketball scholarship.

The last point Shackleford emphasized was to pay it back and give back to others as others have given before.

"The reason I come to work at RCC is because I want to give the gift my mother gave to me, and I want to give it to students now," he said. "It changed my life, and it can change your life. If you believe you can be anything you want to be, get your education and work, you can live your very best life. That's my way of paying my mother back."

Adams then presented the new inductees for membership and recommended them for acceptance into the honor society. PTK President Praise Ayodabo explained the purpose of Phi Theta Kappa, led the new inductees in the PTK pledge, and explained the significance of the PTK symbol.

RCC Vice President for Instructional Services Suzanne Rohrbaugh presided over the induction and announced the names of the inductees.

Despite the challenges of COVID this year, the chapter has still been active in order to meet the requirements to be a Five Star chapter and received the following awards at the PTK Carolinas Region Convention, held March 4-6 at Forsyth Technical Community College in Winston-Salem.
Five Star Chapter (19th straight year): Only 14 of 58 community colleges in N.C. received this for 2021,
Distinguished Chapter Honorable Mention,
Outstanding Participation in Carolinas Region Service Program: Carolinas Plastic Pollution Initiative,
Outstanding Participation in Carolinas Region Honors in Action Program,
Distinguished Honors in Action Project Honorable Mention,
Distinguished Chapter Officer Team Honorable Mention.
Students (identified by hometowns) who were inducted May 25 include:
Archdale: Katie Elizabeth Allen, Lisa Ean, Emily Jane Farlow, Noor Hussain, Michaela Renae Stubbs, Rachael Hannah Trotter.
Asheboro: Scott A. Belus, Nathan Walker Burris, Kassandra Ciriza Monreal, Jeremy Lee Johnson, Lauren Leigh Jordan, Ricardo Leon Salinas, Cooper Clay Phillips, Hope Makenna Rouse, Mario Antonio Salinas, Erick Ayala Solis, Ethan McCain Swing, Kimberly Dawn Teal, Sara Ruth Zapata Ramirez.
Denton: Kathleen Elizabeth Martin, Sonia Perez-Gobellan, Courtney Elizabeth Smith.
Franklinville: Carrie Grace Johnson.
Greensboro: Sherri Lynn Joyner, Susan Alexandra Lagneau.
High Point: Aliza Abdul.
Lexington: Bryson Elwood Hicks, Ashley Stacy Lapoint.
Liberty: Priscilla Bautista Chahuiz, Owen Nathan Canedy, Heidi Elizabeth Hammond.
Ramseur: Brett Anderson Leonard, Kayla Amber Stout.
Randleman: Amber Anne Busk, Justin Thomas Busk, Trisha Wohlford Dennis, Tory Alexis Dixon, Shayla Marie Fitzgibbon, Shannon Mixon, William Smith Shackleford, Ashley Danielle Simmons, Michael Xavier Underwood.
Robbins: Allison Haley Kostick.
Sophia: Jaiden Ruth Williams.
Staley: Cheryl Lynn Bowman.
Thomasville: Praise Opeoluwa Ayodabo.
Trinity: Austin Michael Johnson, Calie Jade Justus, Danielle Letitia Neel.
Winston-Salem: Taylor Lindsey Freeman.