Cheers and tears: RCC holds first in-person graduation since 2019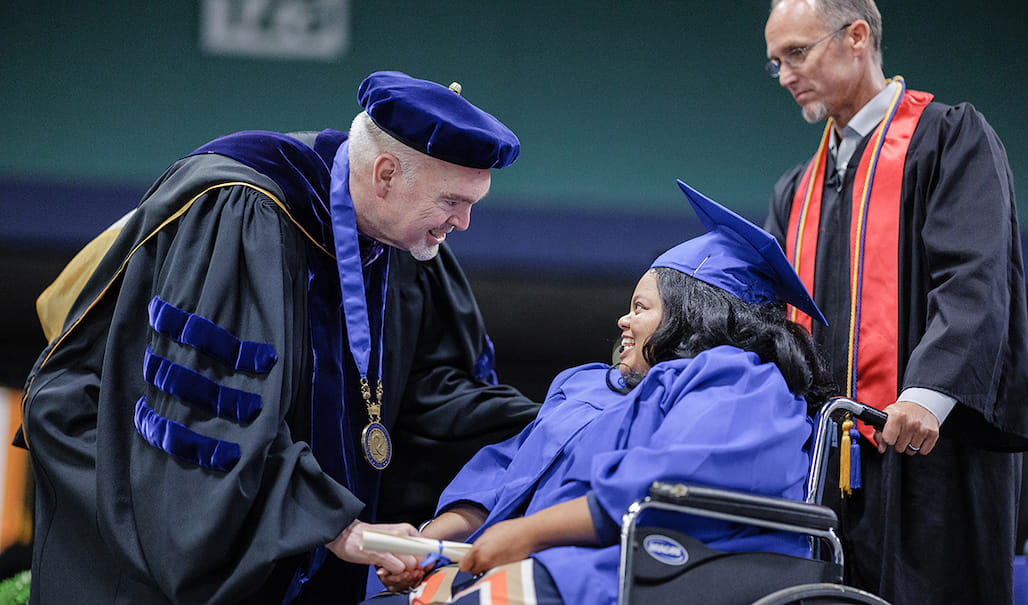 College honors Class of 2022, retiring President
Randolph Community College President Dr. Robert S. Shackleford Jr. made his way down the ramp and into the crowd for one last photo Wednesday evening as the College held its first in-person graduation since 2019. The moment was bittersweet. While RCC lauded its Class of 2022, which achieved the milestone despite a global pandemic, it also honored its retiring President of 15 years.

"I'm sure you know that you each mean so much to him," said Vice President of Student Services Chad Williams, who closed the ceremony at the Special Events Center of the Greensboro Coliseum Complex. "In fact, if you've ever heard him speak, you've heard him share that you are why we do what we do. I have never met someone with stronger passions for students than Dr. Shackleford. So, to honor one of the greatest student leaders I have ever known, and a man who truly appreciates those special moments with students, we would like to capture this moment of celebration with a photograph."

Bill McBrayer, Vice Chair of the North Carolina Community College System State Board, was the guest speaker, and described the circuitous route he took to earning his college degree, sprinkling the speech with "nuggets" of wisdom for the graduates.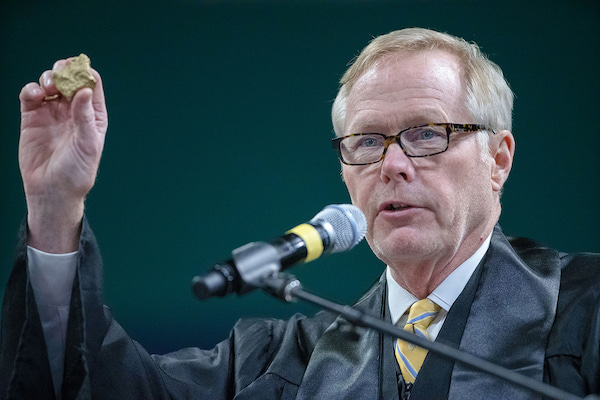 "I'd really like to thank Dr. Shackleford for inviting me," he said. "It's an honor for me to give this final commencement address for Bob Shackleford. He's been a great friend and a great servant at the community colleges. He has been a great servant leader for this institution and our entire system.

"I encourage each of you to try to procure a job that gives you meaning and purpose in life. Nugget number 10: Life is too short to be miserable."

Shackleford opened the ceremony with a welcome, thanking the Graduation Committee; introducing the College's Board of Trustees, Senior Leadership Team, faculty, and staff, and recognizing special awards and honors earned by the graduates.

"It is my great honor to welcome each of you to this very special time of celebration," he said. "Smiles are abundant. Isn't it wonderful to be here together for this celebration in-person tonight? Our pride in our students and our celebration of their reaching this milestone in their lives is overflowing tonight.

"Our mission at Randolph Community College is: Creating Opportunities. Changing Lives. At RCC, this is not just a catch phrase. Our purpose is for you to use these credentials and go on to have a great life and a great career. What does your diploma mean tonight? It means that you have learned how to multitask. You've learned not to just give answers, but to solve problems. You've learned to work hard and give the extra effort to complete an assignment. You've learned to work with a team. You've learned to deal with adversity and failure and pick yourself up and keep going. You've learned to follow directions and be coachable. You've learned to keep going with dedication when it's tempting to give up and quit. Go live your best life. Go live your dream. The best is yet to be. Congratulations, graduates."

RCC Student Government President Gabriell McArthur gave the opening remarks, starting with thanking the staff at the College and her family for helping her reach the graduation milestone.

"To all the students here today: Well done. You made it," she said. "I know that this journey has not been easy for you, and I want you to know that I'm proud of you. Everyone here is so proud of you. When you leave here today, whether you decide to go off to a university, to start a new career or even a new business, I want you to know that you can do it. Have faith in yourselves. You have all worked very hard to be able to walk across the stage today and you deserve to be honored for your dedication."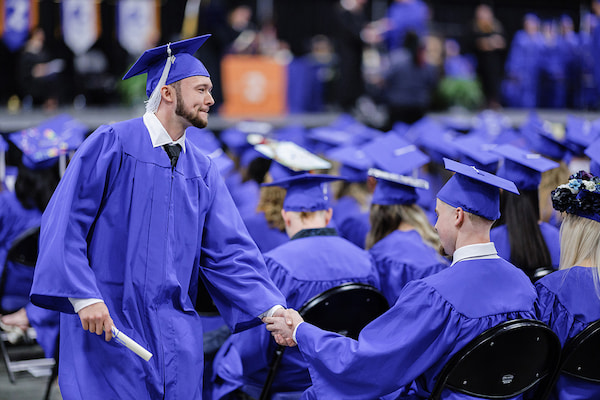 After Presidential Scholar Kassandra Ciriza Monreal delivered the invocation, Shackleford introduced McBrayer, and RCC Vice President for Instructional Services Suzanne Rohrbaugh followed McBrayer with the presentation of candidates for graduation.

"This is my favorite day of the year," she said. "I love what I do. I love the students that we serve. I love the faculty I walk alongside of every day. Tonight is extra special because we're able to celebrate the incredible success of all the new graduates. We can go down the list and talk about all the obstacles and the challenges — I probably should use the word 'COVID' every other word. So, if nothing else is on that resumé, you should say that you are extremely flexible. You all have demonstrated the perseverance and the determination to get here tonight. Thank you for allowing us to be a part of your educational journey, and we wish you the best."

The graduates then crossed the stage one-by-one to receive their degrees, diplomas, and certificates. Board Chair F. Mac Sherrill announced the awarding of all three, and Williams closed the ceremony.

"Your being here tonight required much of you and those who supported you along this journey," he said. "I encourage you to take a moment right now to look around with those sitting next to you, think about all your family and friends here with you tonight as well as all of those watching online. Capture this moment. As you go your separate ways, you will forever have a special bond as RCC graduates. Congratulations. You did it. We are so proud of you."