Shackleford awarded Order of the Long Leaf Pine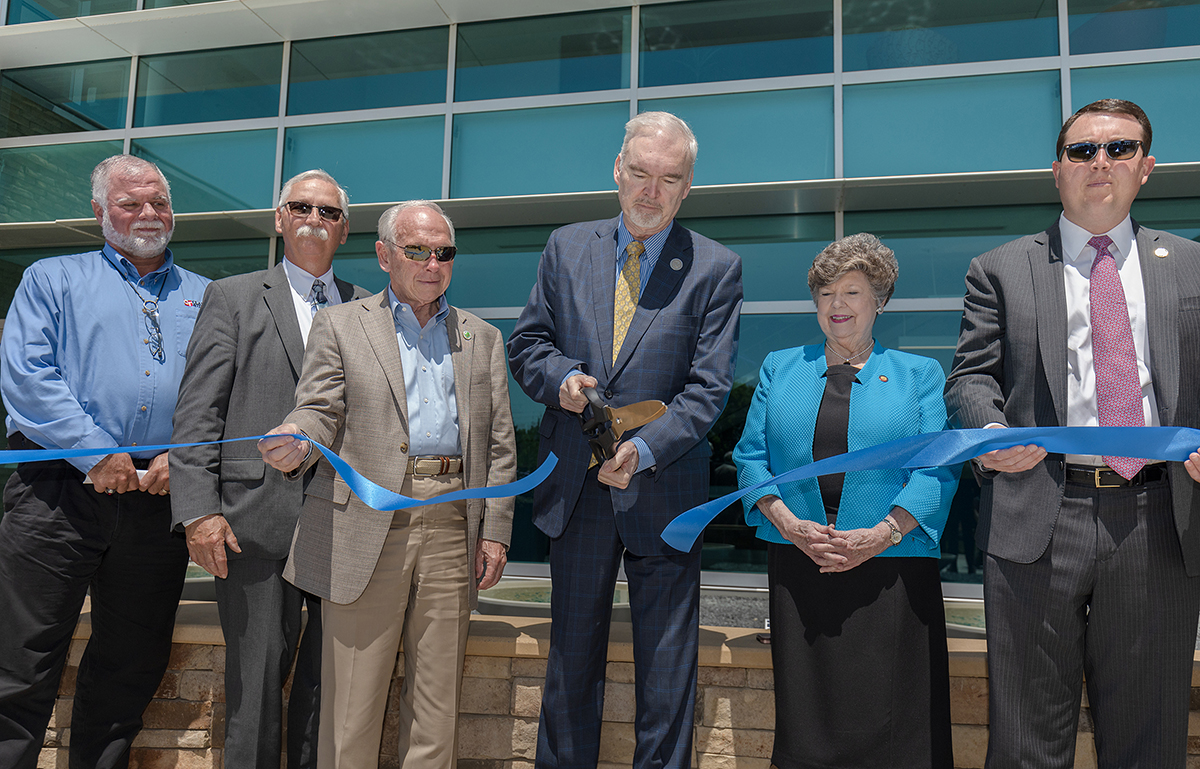 College hosts ribbon cutting, retirement celebration
Randolph Community College President Dr. Robert S. Shackleford Jr. was awarded the prestigious Order of the Long Leaf Pine on Wednesday, April 27, as the College not only honored its president, but also hosted a long-awaited ribbon cutting for the Dr. Robert S. Shackleford Allied Health Center as part of a celebration of the President's upcoming retirement. Members of the Board of Trustees and the Foundation Board, faculty, staff, students, state legislators, and members of the Randolph County community were on hand for the festivities, which were held on the front lawn and in the lobby of the Center.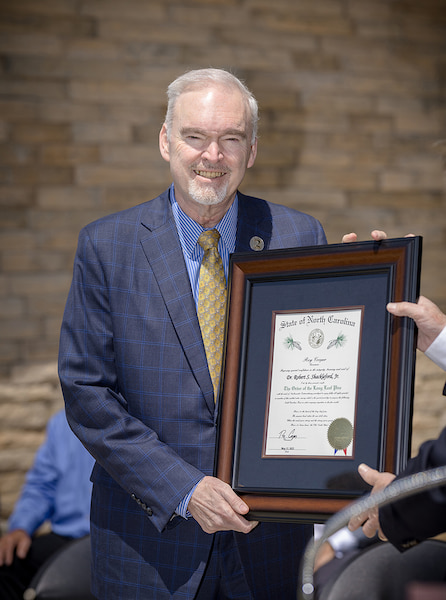 "One of the biggest surprises of my life was when I was told we were having a meeting out on the plaza in front of the [Ann Hoover] Welcome Center and we were going to announce our new Foundation goals for the year," Shackleford said as he opened the ribbon-cutting ceremony. "I walked out there prepared to make some remarks about the Foundation goal and [Board of Trustees Chair Mac Sherrill] gets up and starts talking about the Allied Health Center. When he announced they were going to name it the Robert Shackleford Jr. Allied Health Center, that was such a shock. This whole thing has been a dream."

Shackleford then introduced Sherrill, who surprised Shackleford again — this time with the Order of the Long Leaf Pine certificate.

"This is such a great day of celebration," Sherrill said. "We're finally celebrating the opening of this beautiful new building. We're celebrating the great career of our president and friend, Dr. Robert Shackleford. So, it only seems fitting that we add one more reason to celebrate. It is a great honor that, on behalf of the Governor, I present you the Long Leaf Pine award to Dr. Robert Shackleford for all his years of service to Randolph Community College, the citizens of Randolph County, and the state of North Carolina."

Randolph County Board of Commissioners Chair Darrell Frye then spoke, first noting the other commissioners in attendance and congratulating Shackleford before telling those in attendance how hard Shackleford worked to approve the quarter-cent sales tax that led to several projects on the RCC campus, including the Center.

"His legacy will live on here long after any of us," Frye said. "Not because his name is on the building, but because of what happens inside of this building. The teachers that work here are going to produce people that come out and save lives and change lives. When you take the work ethic of the Randolph County people and you couple that with the teaching that comes out of this campus, you've got a workforce that's second to none."

Shackleford introduced North Carolina Community College System President Thomas Stith III, who thanked Shackleford for what he has done for both RCC, the state, and RCC students.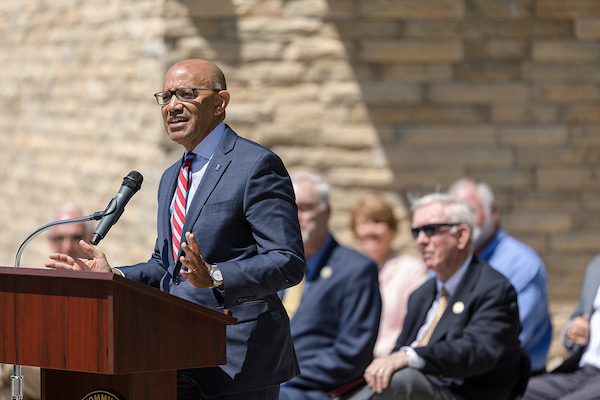 "When you speak about leadership and talk about individuals who have brought their community together — both their local community leaders and their legislative delegation, no one stands above," he said. "Today's ribbon cutting doesn't happen by chance. It happens because you have the type of leader who is able to bring a community together around a vision. … Dr. Shackleford, you have touched lives, you have changed lives, and you have saved lives. Your legacy will continue, not only with your name on the wall, but on the individuals who are standing here today."

The legislators in attendance then took turns at the podium after being introduced by Shackleford — Senator Dave Craven, Representative Pat Hurley, Representative Allen McNeill, Sam Shumate on behalf of Congressman Ted Budd, and Stephanie Blair on behalf of Congressman Thom Tillis.

"We're here today for workforce development," Craven said. "That's what this building's about. This is what our community colleges do across the state. Any company that you talk to now is short on labor. It's facilities like this that train our medical professionals to be future leaders in this area, our region, and our great state."

"This building should be a shining example for everybody in North Carolina," Hurley said. "They spent our money wisely. Dr. Shackleford went out as a one-man advocate for this tax because he didn't want the taxes to go up for the people. As legislators, we have got to be sure that we appropriate the money for the instructors, the teachers, the students, everything that goes on at RCC —it is a bridge to success."

McNeill reminisced about playing in the woods where the Center now stands as a child.

"The last 15 years have eclipsed the other 45 years," he said. "You have done a wonderful job. You took a good community college and made it great."

Shumate read prepared remarks from Budd: "While representing Randolph County in Congress, I've had the opportunity to speak with many local employers, small business owners, and constituents throughout the community. I have been consistently impressed with the chorus of praise they share about the high quality and affordable education provided by Randolph Community College. Your efforts have not only helped grow RCC but have also expanded the educational opportunities available to both students and local employers. Your contributions to higher education and the entire Piedmont region have touched countless individuals and will be remembered for decades to come."

Blair remembered visiting the College and being most impressed by Shackleford's relationship with students.

"Every time we'd pass a student, Dr. Shackleford knew who they were," she said. "And if you're linked up with him on LinkedIn, I'm sure you see how much he is a champion of the students here and helping them grow and succeed and be a part of this community."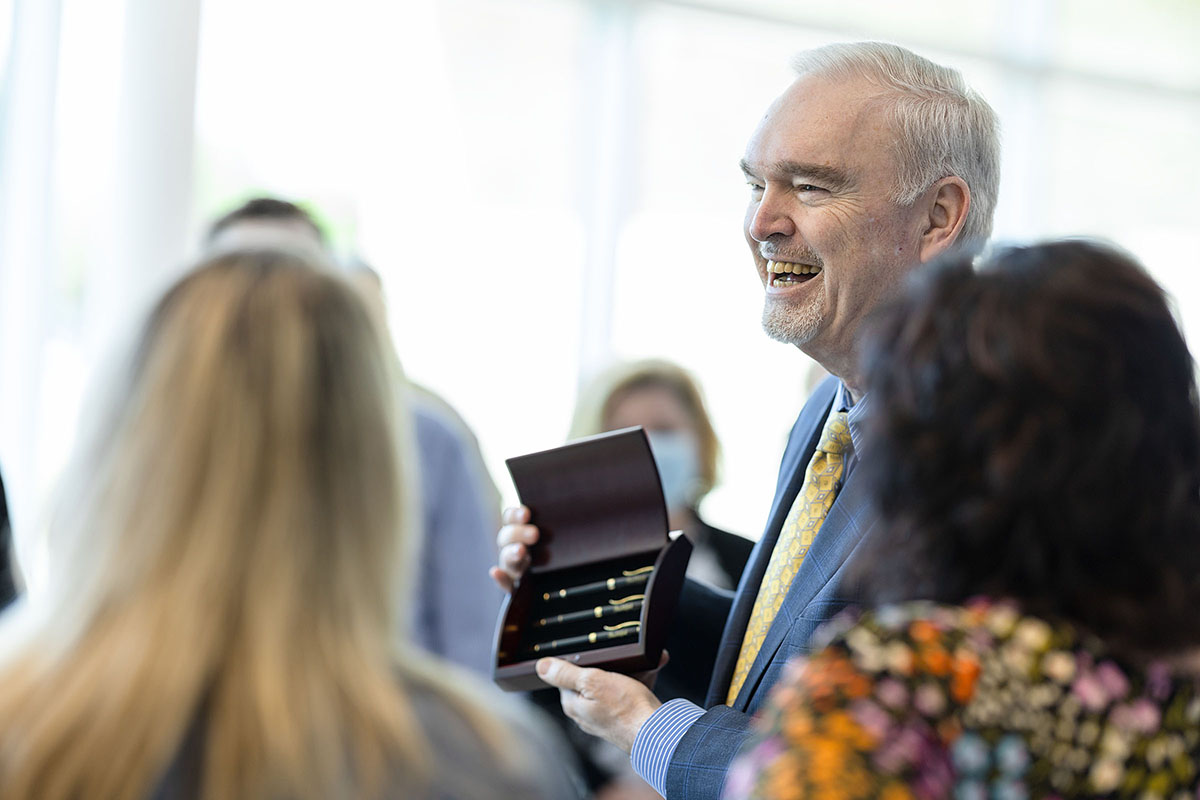 RCC Vice President for Administrative Services Daffie Garris then spoke about how the Allied Health Center came to be — from Shackleford's idea in 2014 to the groundbreaking in 2018, and its completion during a rainy season, record snowfall, and a global pandemic.

"It truly takes an army for a project like this," she said. "We kept the goals of creating a building that reflects our college's commitment to student success. That's truly what we thought about all the time as we were building this building. It's more than fitting that this building is named after Dr. Robert S. Shackleford Jr."

The Center houses the College's Associate Degree Nursing, Radiography, Medical Assisting, and Emergency Medical Services programs. The 45,000-square-foot, two-story, L-shaped building increased the space available for the health care programs by 86 percent. Funds came from Randolph County's quarter-cent sales tax designated for RCC capital construction ($9.4 million) and state community college bond funds ($5 million). The Center includes a simulated health care community, allowing EMS workers to pick up a patient in a true apartment setting and transport the patient to a simulated hospital. The facility includes radiography labs, exam rooms, a surgical room, an ICU room, a maternity room, waiting areas, and patient conference rooms, along with video-capture capabilities so instructors can observe students and play back that video to debrief students after a simulation. It also is the College's second LEED building as it features a green roof, solar skylights, electric car chargers, water reduction features, and exterior learning spaces.

The Center boasts a two-story feature wall — a digital screen created by marketing agency Union that changes depending on the time of day and combines medical themes with RCC visuals. The wall won Union the 2020 Charlotte American Advertising Gold in the Out-Of-Home & Ambient Media category. It also was featured in a case study by Solutions Inc., which helped integrate all the audio-visual systems in the Center.

Shannon Riddell, Charlotte Office President for Little Architects, and Tom Haggard, Director of Operations for Clancy and Theys Construction, told those in attendance of their involvement in the building of the Center.

"One thing I remember walking away from that first meeting was, 'What an amazing person to lead the charge for the future of this great college and for this entire region,' " Riddell said. "The opportunity to enhance students' lives is really what became the center point of gravity for this project. Today we are celebrating what we know is going to be a catalyst for the healthcare community to rally around with the very best and brightest minds that are coming out of these programs. But if it weren't for this man and for all of you supporting this gentleman, we wouldn't be here."

"We're extremely proud of this project," Haggard added. "We had such a wonderful team. We were able to roll up our sleeves, put our heads together, and solve problems to deliver this beautiful building."

RCC Vice President for Instructional Services Suzanne Rohrbaugh discussed the inside of the building, noting the latest technology, the group study rooms, and the simulated hospital community.

"Our students have a tremendous advantage," she said. "They're using equipment just like they're going to use in their workplaces. This provides them a safe environment to make a mistake and to learn from that. Little did we know how crucial this building became to us in fulfilling the mission of what we set out to do in 2020.

"You will never find a president more committed to the mission of the North Carolina Community College System than Dr. Shackleford. It is about creating opportunities and about changing lives. That means something to him. He doesn't take that lightly. You won't find anybody that's more willing to serve this county, this community, the region, and the state. And that's really evident today as we celebrate this building."

Shackleford then officially cut the ribbon on the Center.

Before the ceremony, and later in the evening, the Center hosted three floating meet and greets for Shackleford, who announced his retirement, effective July 1, earlier this year after serving at the post since 2007.

Founded in 1963, the Order of the Long Leaf Pine is the highest honor bestowed by the Governor. It is reserved for those who have shown exemplary service to the State of North Carolina and their communities that is above and beyond the call of duty and made a significant impact and strengthened the state. As an Order of the Long Leaf Pine honoree, Shackleford is now included on a roster maintained by the Order of the Long Leaf Pine Society, joining notable recipients such as Maya Angelou, Dale Earnhardt, Billy Graham, Andy Griffith, Michael Jordan, Coretta Scott King, Richard Petty, Bob Timberlake, Dean Smith, and Charles Kuralt.
Photo credits: Perfecta Visuals