Radiography students look to open doors for others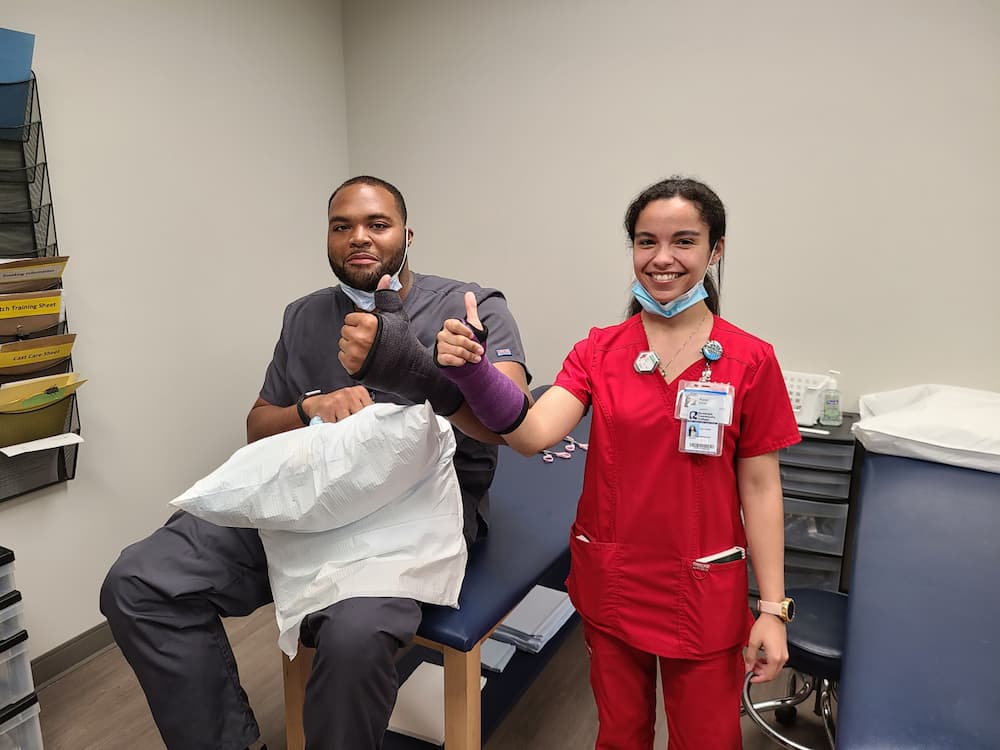 Von Harmon Jr., Santiago Avila Ponce, and Apryl Smith may have disparate backgrounds, but they are all a part of Randolph Community College's
Radiography
program and are hoping to help change the face of those working in medical fields.
Harmon moved to North Carolina from New York five years ago. Encouraged by his mom, who is a respiratory administrator, he looked to find a career in healthcare after he stopped playing high school sports. Harmon chose RCC's Radiography department after working in the operating room and witnessing the radiologic technologist use the C-Arm — fluoroscopic imaging equipment named for its C-shaped arm — on a patient. Harmon also had a friend already enrolled at RCC, who told him it was a great program. He hasn't regretted the decision.
"I'm most proud of graduating," he said. "I'm excited for opportunities for growth. The most important way you can grow as a professional is to find ways to improve your skills and applicable knowledge. You can do this by taking on new responsibilities and experiences."
As Harmon looked at the face of healthcare, he said that fostering an environment that is inclusive from the get-go would help educators and employers create more diverse learning and workspaces, especially by encouraging students and staff to learn more about each other's cultural backgrounds and interests outside of the classroom or office. He also suggested standardizing interview questions to reduce any personal biases.
"One thing I would change about the healthcare workforce is unconscious bias — make students and/or employees informed of these biases by requiring unconscious-bias training and providing staff with tools to prevent bias," he said. "Companies should also include diverse employees as decision-makers in the recruitment process."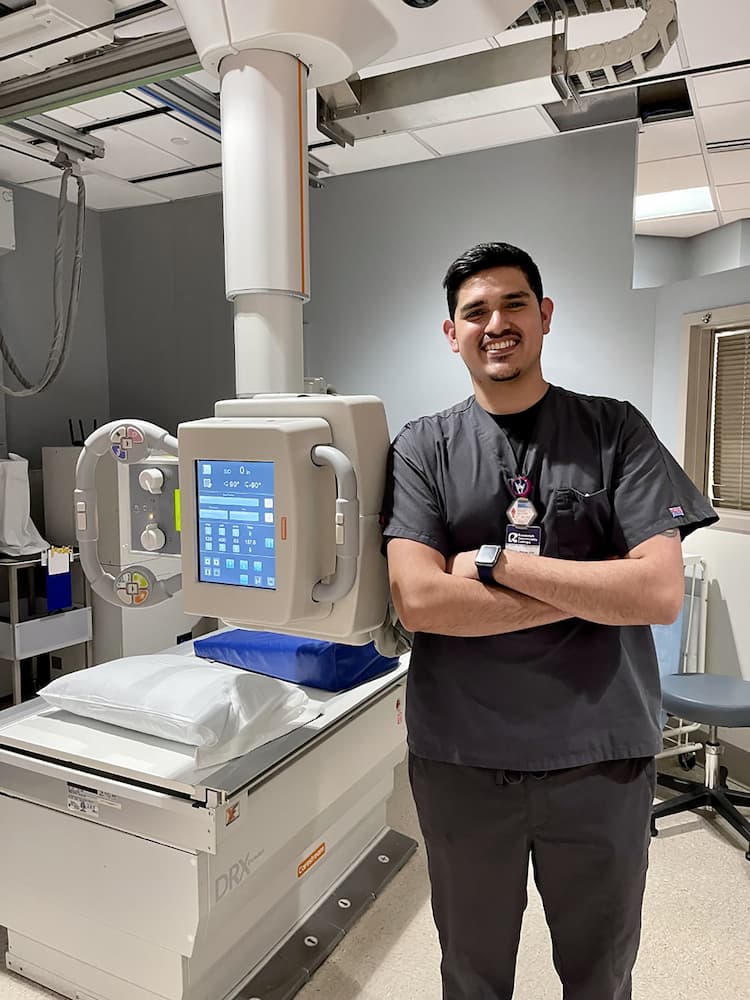 A 2017 RCC graduate, Ponce was born in a small town in Mexico, moving to the United States when he was 2-years-old and becoming a naturalized citizen in 2014. Ponce was inspired to pursue a career in medicine after seeing his father suffer from lower back pain due to injuries he sustained from farming. Of all the career possibilities, radiography sparked his interest the most.
"I do not know what it is, but I love seeing the human anatomy in a radiograph or under a fluoroscopy setting," said Ponce, who was RCC's Academic Excellence Award winner in 2016. "In middle school and high school, I was always intrigued whenever the science teacher would cover anything related to human anatomy, especially if the material would include X-ray images. Now that I am in the profession of diagnostic imaging, I can certainly say that I love what I do, and I know that I am helping someone."
Now that Ponce is working in his chosen field, he has learned that being bilingual helps him translate for patients who "feel voiceless."
"My ability to communicate with another Spanish speaker has been a tremendous asset to help a patient in need — even if it is in slang terminology," he said.
While Ponce said he is excited about all the opportunities his Radiography degree has afforded him, he knows healthcare has a long way to go when it comes to diversity and inclusivity.
"Everyone has something to say, but sometimes not given the opportunity to be heard or acknowledged," he said. "Including others in a mannerism that promotes meaningful conversations, critical thinking, and problem-solving in daily operations.
"One aspect of the medical field that I would like to see change is the idea and practice of the following quote: 'We've always done it that way.' This type of practice may lead to laziness, ignorance, and risks the safety of not only the patients, but others, too. Having an open mind is crucial, but having one way of doing something may not always be the right way to do so."
Smith's journey to a Radiography degree at RCC hasn't been easy, but being a new mom has made her work even harder.
"Everyone in my family worked in the medical field at some point, and I guess I wanted to follow in everyone else's footsteps," she said. "Plus, I always knew that I wanted to do something that would help people I just did not know what that was at the time."
It took three tries, but the determined Smith started the program in August 2020 — just two months after giving birth to her daughter. She has no regrets.
"I have loved every moment of this program," she said. "My classmates wonder how I do this with such a young child, and my answer is she is my motivation to keep pushing through. This has not been an easy two years by any means, but if I can do it anyone can. What excites me the most about the future is starting my new job at [Atrium Health Wake Forest Baptist] in the interventional radiography department — knowing that I will grow in my skills and take on new roles and responsibilities."
Smith said she would like to see more equal opportunity in healthcare.
"All employees need to be seen and valued," she said. "Educators and employers can create a more diverse environment by ensuring students or employees feel like they belong and striving to cultivate a workplace in which everyone feels welcomed and empowered to bring their whole selves to the workplace."
Students interested in applying to RCC's Radiography program must attend a mandatory Information Session or complete the online Radiography Information Session process to apply for fall 2022. The next session is Wednesday, April 6, at 5 p.m. in room 103 of the Dr. Robert S. Shackleford Jr. Allied Health Center. The deadline to apply is June 1.
For more information, contact Elaine Sill at ewsill@randolph.edu or 336-633-0222 or click
here
.