RCC President Shackleford announces retirement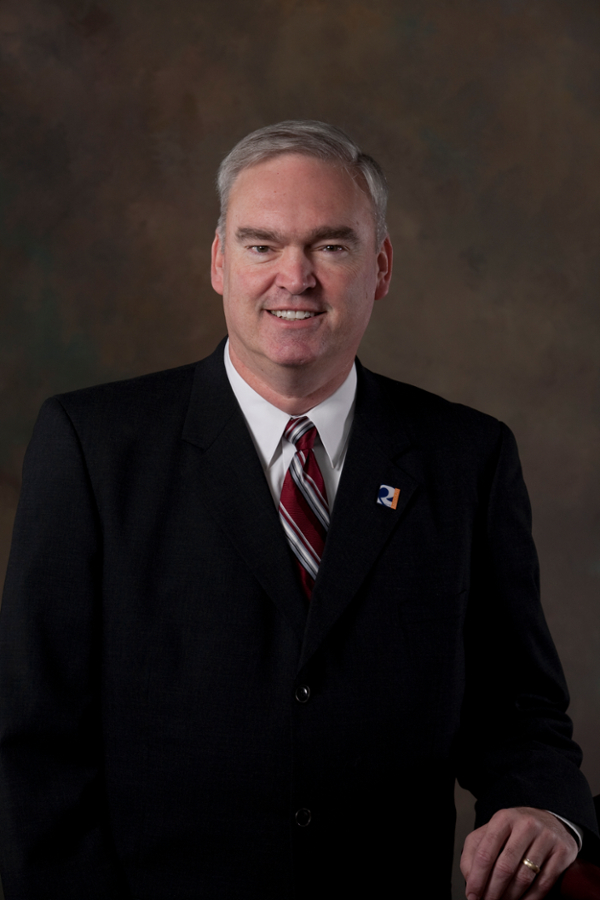 Shackleford to retire July 1, spend more time with his family
Randolph Community College President Dr. Robert S. Shackleford announced his retirement Thursday, Jan. 20, reading a letter during the Board of Trustees meeting that was later emailed to faculty and staff. Shackleford said, while there will never be a perfect time in his mind to retire, it's time for him to spend more time with his family. His retirement is effective July 1.

"These 15 years you have granted me the opportunity to serve as President of RCC have been the experience of a lifetime and far exceeds anything I ever dreamed would be possible through all the years I grew up in poverty, moved around constantly, and struggled to keep up in my ever-changing schools," he said. "When my mother promised me I could be anything in the world I wanted to be if I got my education and worked hard, I never imagined this.

"This is a unique college with an unmatchable culture, the most supportive and encouraging Trustees to be found anywhere, an amazingly talented Senior Leadership Team, a superb Executive Assistant and Special Assistant to the President, great community and business and industry support, the very best legislative and commissioner partners, great school systems and superintendents to partner with, the very best students that could ever be assembled at one college, and an RCC family that has made me incredibly proud to be a part of every day. I am so proud of what we have accomplished together … . Thank you so much for who you are, individually and collectively, all the great support you have given me every day, and your unwavering commitment to RCC and our students and community."


"These 15 years you have granted me the opportunity to serve as President of RCC have been the experience of a lifetime and far exceeds anything I ever dreamed would be possible."
— RCC President
Dr. Robert S. Shackleford Jr.
Board members then expressed their heartfelt thanks to Shackleford, including Chair Mac Sherrill.

"You have been a blessing to our college and we can't thank you enough for all that you've done," he said. "We'll miss you. You're retiring at the top of your game."

Shackleford assumed leadership of RCC on Jan. 1, 2007, and was officially inaugurated as the fourth president of the College on March 8 of the same year.

Shackleford formerly served as Dean of Student Services at RCC from 2000-2003 before taking the Vice President of Student Services position at Rockingham Community College. He first joined Randolph Community College in 1998 as the program head for the Early Childhood Associate curriculum and eventually became chair of the Human Services department. He also taught early childhood education, human development, family studies, sociology, human relations, and leadership development at the University of North Carolina at Greensboro, High Point University, and Gardner-Webb University.

Shackleford earned an associate degree in secondary education from Bluefield College in Bluefield, Va., and a bachelor's degree in physical education from the School of the Ozarks in Point Lookout, Mo. He completed his master's degree in child development and family studies and a doctorate in human development and family studies at the University of North Carolina at Greensboro. He also holds a Master of Divinity from Southeastern Baptist Theological Seminary in Wake Forest.

A member of the U.S. Army Reserves from 1985-1992, Shackleford served as battalion chaplain and assistant division chaplain. He served as a chaplain in the North Carolina Air National Guard from 1992 until his retirement in January 2008. From 1997 until his retirement, he was the Wing Chaplain (senior supervisory chaplain) for the 145th Airlift Wing.

Since returning to RCC, he served as 2013 chair for the board of directors of the Randolph County Economic Development Corporation, 2011-2012 chair for the Randolph County United Way campaign, 2010-2011 president of the Randolph Rotary Club, and 2015-2016 president of the North Carolina Association of Community College Presidents. He is a member of the Randolph Health Board of Directors and corporate membership board, the Randolph County School System advisory council, and the government committee of the Asheboro Randolph Chamber of Commerce.

In 2011, Shackleford received the Citizen of the Year award from The Asheboro/Randolph Chamber of Commerce. This recognition is the Chamber's top award annually for service to the community. In 2013, he was named President of the Year by the North Carolina State Board of Community Colleges, and in 2019, he received the Lifetime Achievement award from the Archdale Trinity Chamber of Commerce. Shackleford was selected as one of the Triad Business Journal's C-Suite Award winners in 2021.

Shackleford is a frequent speaker at local civic clubs, schools, and churches, and a regular presenter at professional workshops and conferences. He speaks twice a year to the Student Leadership Institute, a statewide training program for student leaders from community colleges throughout the state.

Shackleford and his wife, Teresa, live in Randleman with their son, Will. He also has two grown children, Kristi and Kori, and one granddaughter, Brianna.