RCC honors faculty, staff during annual Spring Convocation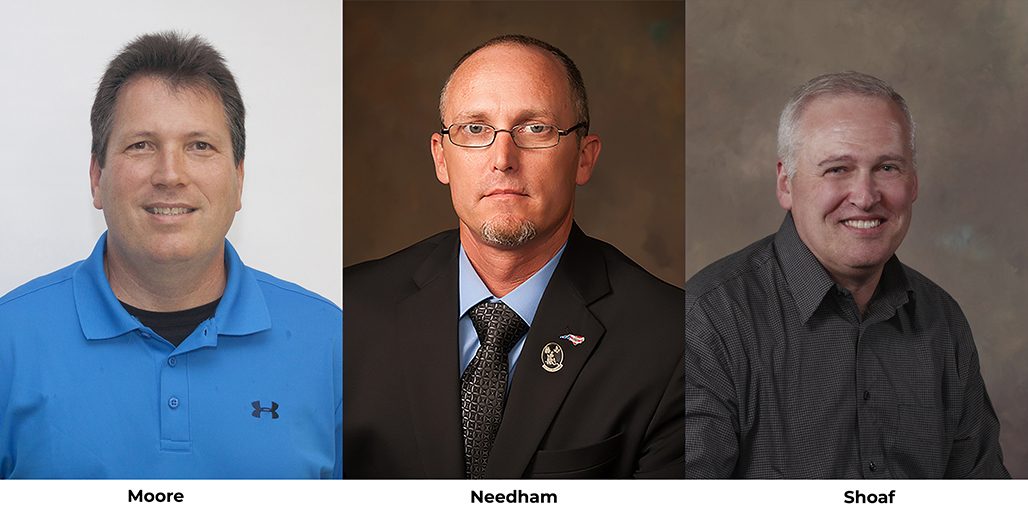 More than 180 board, faculty, and staff members joined Randolph Community College President Dr. Robert S. Shackleford Jr. on Zoom for the College's annual Spring Convocation on Friday, Jan. 7. RCC honored Wesley Moore as its 2021 Excellence in Teaching award winner, Matthew Needham as the 2021 Staff Person of the Year, and Donald Shoaf as the Adjunct Faculty of the Year award winner.

Moore, RCC's Industrial Programs Department Head, has been with the College fulltime for almost five years. In that time, he has brought much-needed stability to Industrial Programs, which includes Industrial Systems Technology and Electrical Systems Technology, making changes to the program layouts, classrooms, instructional content, and equipment to improve the educational experience for students. Moore has spent countless hours — often outside of his scheduled hours — building learning environments with the most up-to-date equipment and technology to prepare students for employment. He creates fun and engaging projects demonstrating his belief that students learn best in a hands-on environment, and is very conscientious in ensuring that students work on equipment, robots, projects, etc., that they will see when they transition into industry.

In 2019, Moore and his wife were involved in a serious car accident. The two have, for the most part, recovered, but the event was life-changing.

"It made me rethink a lot of things — what really is important," he said. "I come to work with even more energy."

As RCC's Director of Safety and Emergency Preparedness, Needham, who has been with the College since 2009, may be the busiest person on the College's campus. If he isn't managing a tornado, a lockdown, a lockout, or a fire drill for RCC and Randolph Early College High School, he's overseeing RCC's Safety Committee or steering the College's COVID response.

"We are duty-bond to create an environment that is free of known hazards," Needham said of his job. "I make the best decision I can with the information I have on hand. I always try to err on the side of safety."

Student mental health has become a pressing concern for not only RCC, but also for institutions statewide. Needham first broached the idea of having a mental health first aid team, and RCC's CARES team grew out of that.

A Radiography Instructor, Shoaf has dedicated himself to the medical imaging profession for over 30 years serving in both the clinical and educational capacities. He dedicates hours on end to preparing course materials that break down information so that students on all levels can understand.

"Donald Shoaf is such a wonderful instructor and has a huge heart. He goes above and beyond to help all of us. He's very mindful of each student and their unique needs," one student said in a recommendation for the award. "He makes sure he teaches multiple ways to be sure everyone understands. He is very deserving of an award for his dedication to teaching and for going that extra mile making sure each and every student of his is successful."

To open the Spring Convocation, Shackleford welcomed the attendees before introducing Board of Trustees Chair Mac Sherrill, who referred to RCC recently being ranked one of the top community colleges in the U.S. by Niche and the best in the state.

"On behalf of the Board of Trustees, I want to welcome you to the new year," Sherrill said. "Thank you for all you do, and for being one of the best in the nation."

Shackleford then recognized faculty and staff members' years of service, starting with five years and finishing with 25.

RCC Foundation Board member and Advisors Financial Center's Neal Griffin III presented gifts to the faculty and staff with 20 and 25 years of service, saying "Your impact on the economy and the community goes under-recognized."

Moore, Needham, and Shoaf were introduced with photos from their Fun Mob events, and then Shackleford presented the list of faculty and staff members who had taken part in the President's Educational Leadership Academy (PELA) this fall. The College vice presidents then introduced new hires in their departments.

Shackleford gave the convocation's closing remarks, reminding those in attendance of the recent announcement that the College is offering Spring Semester courses through an alternative delivery, where possible and practical, until Jan. 31.

"This is a challenging time, but we're going to make this work because we're RCC," he said.

He then put up two photos depicting strangers helping each other.

"They represent a spirit that is still alive in places," Shackleford said. "It reminded me of the spirit of RCC. That's what sets us apart from other colleges. We're not just an educational institution or an organization or a business or a team — we are a family."
Employee Service Records
David Shields, Facilities Technician.
Cathy Aikens, Assistant to the Vice President for Student Services; Stephen Baltes, Information Technology Instructor; Tracie Hayes, Accounting and Business Administration Department Head; Dr. Robert S. Shackleford Jr., President; Curby Simerson, Information Technology Department Head; Kathy Thornburg, Registrar for Workforce Development & Continuing Education; Neil Weatherly, Criminal Justice Technology Department Head.
Angela Cox, Early Childhood Education Department Head; Tina Dixon, Associate Dean, Health Sciences; Kevin Eames, Photography Programs Department Head; Daffie Garris, Vice President for Administrative Services; Cindi Goodwin, Director of Facilities Operations; Joey Trogdon, Director of Financial Aid & Veterans Affairs; Kevin Walker, Assistant to the Vice President for Administrative Services; Chad Williams, Vice President for Student Services.
Erin Arsenault, Photographic Technology Instructor; Melanie Avelino, Director of Human Resources; James Boomgarden, Geology Instructor; Tracy Burnette, Healthcare Administration and Office Programs Department Head; Jay Capers, Photographic Technology Instructor; Heather Clouston, Executive Assistant to the President & Board of Trustees; Kandi Hughes, Admissions Specialist; Tiffany Ingram, Assistant Director for Financial Aid and Veterans Affairs; Neal Johnson, Computer-Integrated Machining Instructor; Hillary Pritchard, Director of Admissions, Records, and Registration (Registrar); Jim Russell -Owen, Curriculum Specialist; Dr. Gregory Vance, English Instructor; Kia Vang, Medical Assisting Department Head.
Ellen Adams, Mathematics Instructor; Caley Anderson, Sociology Instructor; Janice Craven, Accounts Payable/Part-Time Payroll Specialist; Kaci Davenport, Administrative Assistant for Curriculum Programs; Tatiana Dawkins, Coordinator of Assessments/Chief HSE Examiner; Abraham Encinas, Coordinator/Instructor of English for Speakers of Other Languages (ESOL); Michael Ford, Welding Department Head; Nathan Hilton, Distance Education Technical Specialist; Kim Kimrey, Nursing Department Head; Carrie Ritter, Mathematics Instructor; Suzanne Rohrbaugh, Vice President for Instructional Services; Pam Wiggins, Lead Success Coach; Jordan Williamson, Director of College and Career Readiness.