First in their class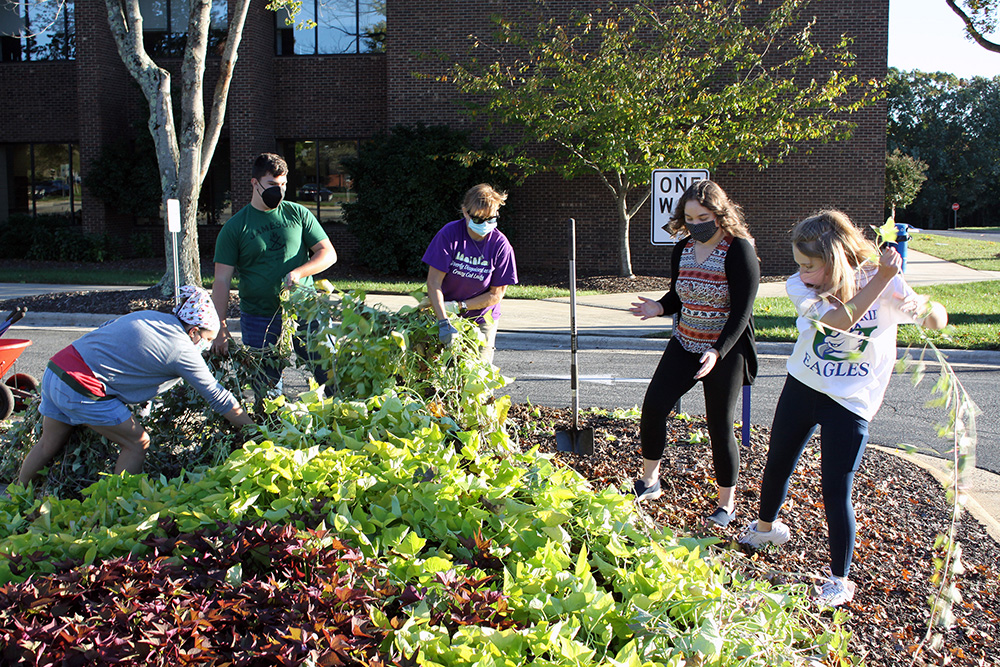 RCC's first Zoological Horticulture class not afraid of a little dirt — or a massive potato
On a chilly, windy October evening on the Randolph Community College Asheboro Campus, four students and an instructor pulled up decorative potato vines from a flowerbed by the parking horseshoe. The group discovered dark red, pumpkin-sized potatoes that look like something out of an alien movie. Instructor Michaelia Comer told her students you could eat the mutant potatoes, but they wouldn't taste as good as the ones that come out of your garden — or from the produce section at the grocery store.

The five are pioneers — the first Zoological Horticulture certificate program at the College, which started the 2021 Fall Semester and includes 10 hours per week of Work-Based Learning at the North Carolina Zoo during the spring and summer semesters. Students start with three classes in the fall semester — biology, "Intro to Horticulture," and "Horticultural Practices." In the spring, there are two classes — "Plant Materials I" and "Animal Exhibits" — along with work-based learning at the zoo. The certificate finishes in the summer with "Interiorscapes" and more work-based learning.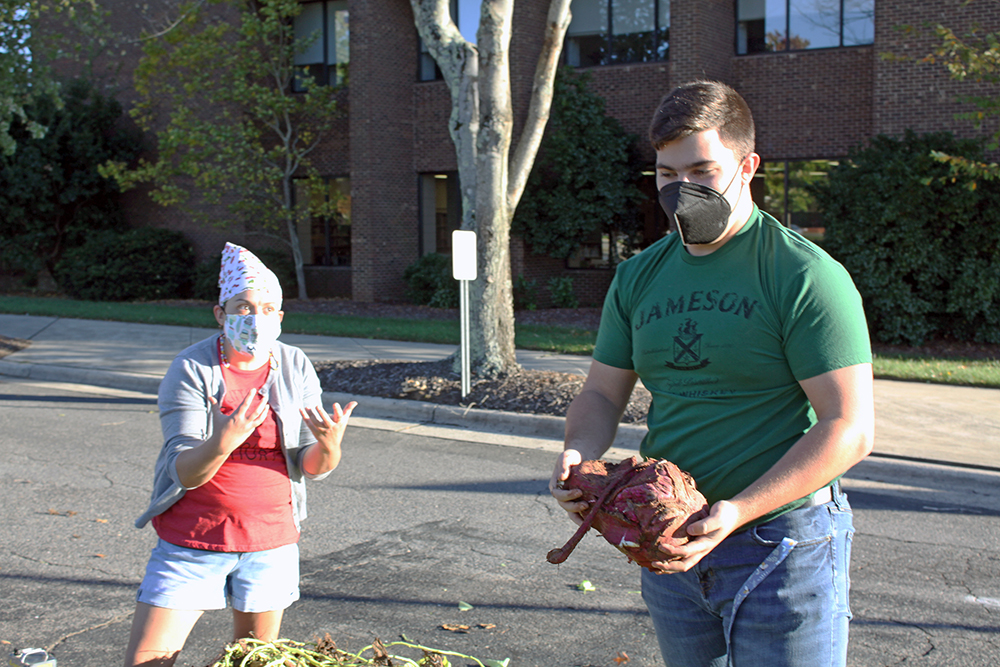 Comer, who worked at the Zoo for 12 years, said she was first bitten by the horticulture bug in Future Farmers of America.

"I just kind of adopted all things green," she said. "I'm obsessed. My house has quite a collection. You know those T-shirts that say, 'It's not hoarding if it's plants?' "

Comer's stint at the Zoo covered all areas, but mostly North America where she dealt with mainly native plants, perennials, and meadows. That included working on the ocelot and honeybee habitats, and maintaining the KidZone.

"I'm really excited to be [at RCC] and we have a wonderful group — the students are great," she said. "And they're excited."

Zoological Horticulture can be not only a mouthful to pronounce, but also baffling to anyone unfamiliar with either term — or both.

"You're making sure the animal is living in, not exactly its exact habitat, but something reminiscent of it or that looks like it," Comer said. "The immersion-type exhibits, the most natural, are where the animals feel more at home. It's also a lot about bringing enrichment not just to the animals, but to the visitors as well.

"Zoo horticulture also focuses a lot on conservation and protecting things that may not be around forever — and helping educate people about those things."

One of those learners, Teresa East, quit her job as a Certified Public Accountant after a friend told her about RCC's program. East and her husband live on 10 acres in Thomasville where they garden, and raise chickens and (soon) honeybees.

"It's just in my nature," she said. "I love it. I was a chemistry major before I became a CPA, but horticulture is in my blood. And I love all the young kids."

Chance Billings, who graduated from Trinity High School in June, said he got interested in agriculture in middle school and took classes at THS.

"I went head-first into it and got hooked on it," he said. "I knew early on I wanted to do something with agriculture."

Billings looked into hydrology and, perhaps, working at a state park, but a local degree wasn't available. So, when he heard about RCC's horticulture program, he enrolled.

"I was an intern for my horticulture teacher when I was in high school," he said, noting THS has nine different greenhouses and the FFA an annual plant sale. "I've always enjoyed working in greenhouses, so I thought, 'Why not make a living out of that?'

"It's better to have smaller classes; it makes things easier to communicate. What I like about this class is we're actually practicing what we're going to be doing. The instructor is really great. She helps us out so much."

Randolph Early College junior Vivian Hosterman, who got her first try at operating a tiller during the potato pull, said she is still figuring out her future career, but she found horticulture appealing.

"I love nature and I love trees," she said. "I'm definitely looking at plants with different eyes now because we're talking about different diseases. I don't look at plants to look at them; I kind of analyze them at times. I've learned a lot and it's a lot of hands-on stuff. It's fun."

Rebecca Maness, a junior at Uwharrie Charter School, was inspired to sign up for RCC's horticulture program by working with her grandma in the flower garden.

"I can learn more about flowers that I didn't know and how to do stuff I didn't know how to do before," she said. "Also, I live on a farm. I'm the only person taking this out of my whole school. Just because it seemed fun. People think working with dirt is nasty, but, honestly, it's pretty fun and it's a stress relief."

Once the five finished removing the potato vines and produce and tilling the flowerbed soil, they planted flowers (in RCC colors, of course), which they grew in the greenhouse.