NCCCS President Stith visits RCC's Asheboro Campus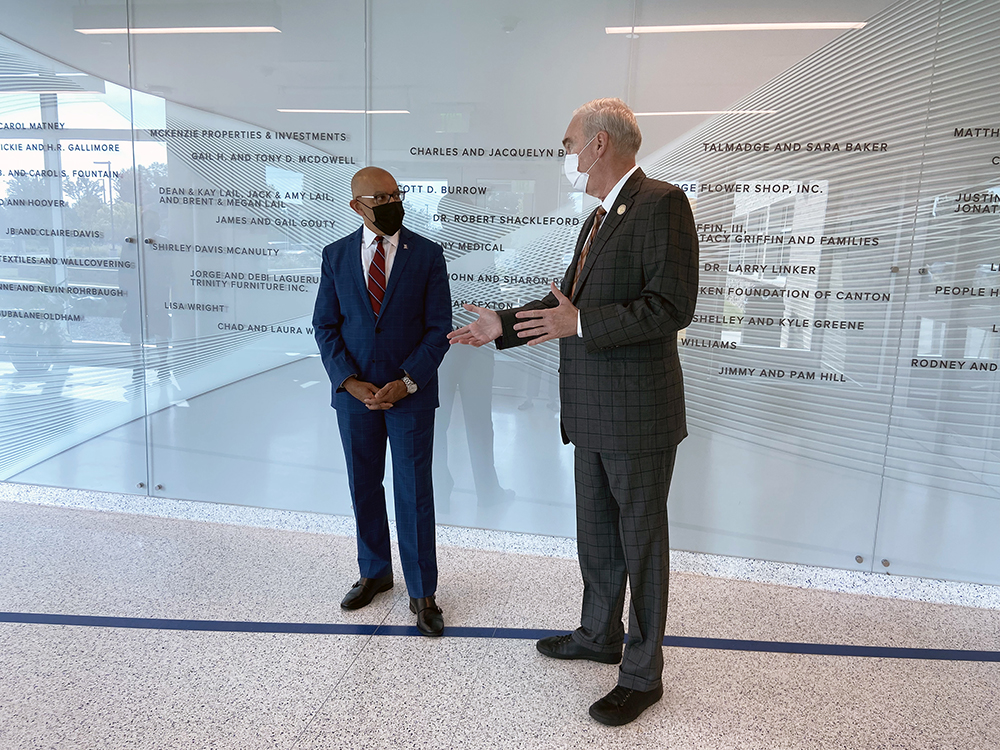 North Carolina Community College System
President Thomas Stith III toured Randolph Community College's Asheboro Campus on Thursday, Sept. 30. Stith, in his first year at the NCCCS helm, has now visited 31 of the state's 58 community colleges. RCC President Dr. Robert S. Shackleford Jr. joined Stith as they visited the new Dr. Robert S. Shackleford Jr. Allied Health Center, the Continuing Education and Industrial Center, and the Photography Imaging Center.
"We have 58 great community colleges throughout the state of North Carolina," Stith said after touring the Allied Health Center, which houses the College's Associate Degree Nursing, Radiography, Medical Assisting, and Emergency Medical Services programs. "We just saw state-of-the-art healthcare facilities, and I'm just so impressed with the programs that are offered here and the leadership of Dr. Shackleford. They're preparing the next generation of nurses and healthcare technicians.
"We are the job engine of the state, so we are on the frontlines for economic recovery and growth into the future. Education equals opportunity and when you come to a community college, you have the opportunity to pursue careers here and go out and get a well-paying job or to start your own small business. The opportunities that are available after attending a community college are unlimited."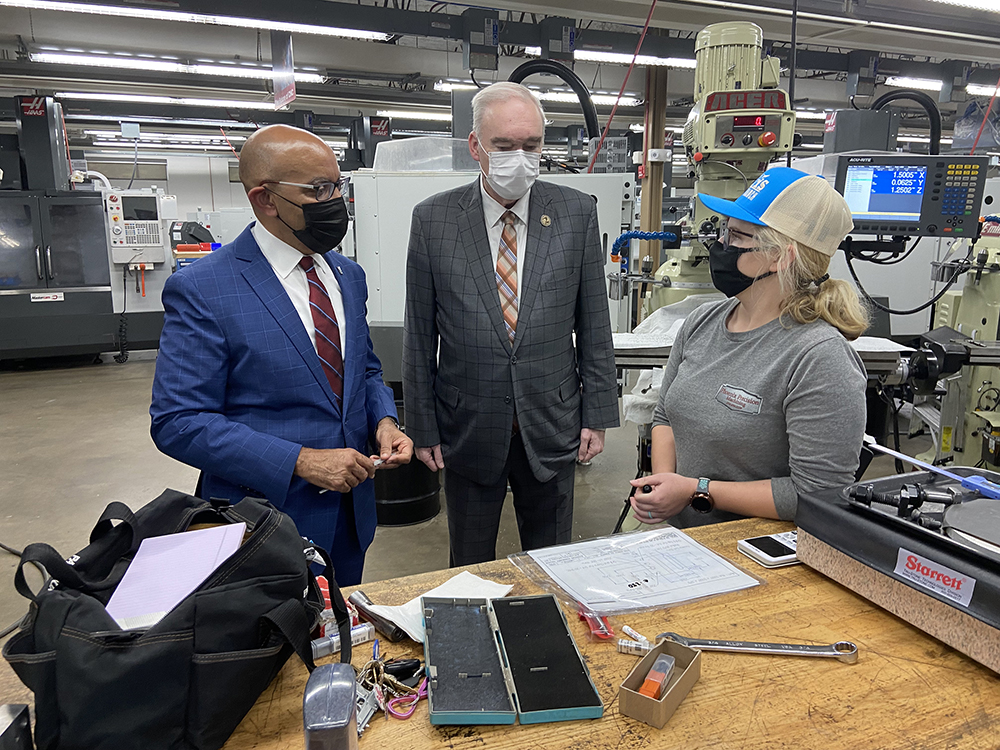 Along the way, Shackleford and Stith stopped to speak with faculty and students in nursing, machining, and photographic technology, including a group of apprentices enrolled in the Apprenticeship Randolph program.
"These students are committed, not only to their own personal education, but also to then going out into North Carolina and serving," Stith said. "We find that after three years, 77 percent of our graduates, whether earning a diploma or certificate or associate degree, stay in North Carolina. So, we invest in them and then they, in turn, invest in the state of North Carolina."
The presidents also stopped in the JB and Claire Davis Corporate Training Center where members of the North Carolina Association of Community College Business Office Professionals were having a training session.
"The one thing I find as I go across the state that's consistent is the passion and commitment of the people within the community college system," Stith said. "They care about our students. They care about the future of our state. In many cases, they could be in the private sector or in industry, but to be a part of the community college family, that commitment shows as we grow as a state.
"While we are 58 community colleges, it's important to speak with one voice. Clearly, here at Randolph Community College, the successes that are happening — I can share with other colleges. As I work with our policymakers and legislators in Raleigh, it's key for me to be able to give them information from our colleges across the state."
The 10th NCCCS President, Stith holds a bachelor's degree in management and a Master of Business Administration in Marketing from North Carolina Central University, as well as a certificate in nonprofit management from Duke University.
He has served on the boards of the Golden LEAF Foundation, the Kenan Institute of Private Enterprise, the North Carolina Institute of Political Leadership, and the United Way of the Greater Triangle. He is a member of the North Carolina Leadership Forum and a deacon at Union Baptist Church in Durham.
North Carolina's 58 community colleges serve about 700,000 students a year in associate degree programs, university transfer programs, short-term workforce training, high school dual enrollment, career and technical education, and adult basic education.