Randolph Community College opens 59th school year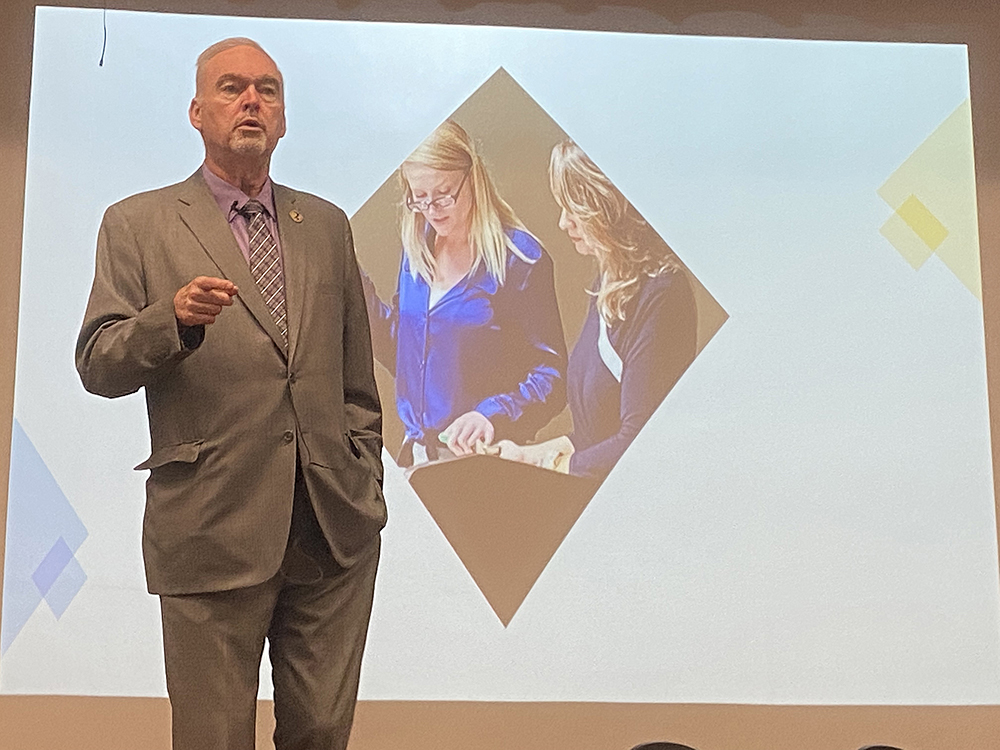 Faculty, staff, and members of the Board of Trustees and the Foundation Board were on hand in person and virtually Friday, Aug. 13, for Randolph Community College's fall convocation in the R. Alton Cox Learning Resources Center Auditorium on the Asheboro Campus. The College opened its 59th year when classes began Monday, Aug. 16.
RCC President Dr. Robert S. Shackleford Jr. opened the convocation, welcoming those in attendance and online via Zoom.
"We're going to keep the campus as safe as possible for our students and our faculty and our staff," he said. "We're going to keep on with classes and education and our mission. We did that last year in the worst of times."
Shackleford then introduced the Trustees in attendance, calling up Vice Chair Reynolds Lisk, who welcomed everyone back to campus.
"Each and every Trustee is truly proud to be a part of this school; we all care deeply for it," he said. "To say this past year was incredibly difficult is an understatement, but you all made it work. We are humbled by what you did. At RCC, 'Creating Opportunities. Changing Lives' is so much more than a slogan. It's what you do. We look forward to another year of more doors being opened and more lives being changed for every student that sets foot on this campus."
After the vice presidents introduced new faculty and staff, Shackleford introduced his Presidential Initiatives for 2021-2023. The initiatives, which began when Shackleford became president of the College in January 2007, fall into five areas identified as RCC's core values: Community, Employees, Quality Education, Radical Hospitality, and Student Success. Shackleford said he was inspired by
MyFutureNC
, an organization working to ensure that, by 2030, two million North Carolinians will have a high-quality credential or postsecondary degree. The organization's findings on Randolph County showed the county is below the state average for preschoolers enrolled in state-accredited childcare, has an unusually small number of high school graduates who go on to college, and is below average for the number of students who return to college after the first year.
"That affects the whole culture and economy of Randolph County," Shackleford said. "We need to do our part as well as be true to our five core values. Of all of the educational institutions — universities, K through 12, and community colleges, we have been given the task of doing the heavy lifting of putting people back to work. MyFutureNC won't happen without the community colleges."
Under Community, the initiative is to "support the development of excellent educators in Randolph County." To do that, RCC plans to build an Early Childhood teacher pipeline through Pfeiffer University's collaborative program, add articulation agreements with other colleges, survey the Early Childhood Advisory Board for insights into partnerships with others in the county, and provide teacher renewal classes along with asking the local school systems what they need.
Under Employees, the initiative is to "enhance the recruitment, retention, and development of the faculty and staff at RCC." To recruit, the College will ensure its hiring process focuses on hiring people who are passionate about the specific mission of the College, and create a standing committee to promote diversity, equity, and inclusion to foster a safe place where all are welcomed in an inclusive learning environment. To retain, RCC will work through the North Carolina Community College System, using legislative priorities to raise faculty and staff salaries, and continue to offer flexible work arrangements that promote a positive work environment. To develop, the College will provide professional development opportunities for faculty and staff, encourage opportunities for leadership development, and train hiring managers in all aspects of supervision.
Under Quality Education, the initiative is to "provide a well-defined, user-friendly student experience that provides career confidence and clear pathways for continuous learning opportunities." To do this, the College will focus on career confidence, collaborate with four-year universities for additional pathways, and fully utilize success and career coaches, counselors, and faculty advisors in assisting students with career guidance and the development of pathways, including adding a Workforce Development Success Coach.
Under Radical Hospitality, the initiative is to "increase the number of high school seniors at RCC by enhancing the enrollment experience through improved access to admission, enrollment, and financial aid information." To do this, RCC will cross-train its staff on the Free Application for Federal Student Aid (FAFSA), applications, and student planning; implement a registration completion initiative with an incentive for completion and offer virtual options, and identify at-risk populations so coaches and liaisons can give extra effort to those groups.
"You can't open a store and put barriers in front of the door," Shackleford said. "We want to clear the barriers to make it an easy process for students. Most of the problems we deal with students are not academic. They wrestle with life — depression, substance abuse, taking care of children or elderly parents. They're carrying a heavy load on their backs. What we can do as a College is to help them."
Under Student Success, the initiative is to "increase the retention of first-year college students" with a scholarship for second-year students and continue to focus on the "whole" student using valuable resources such as wellness coaches and the Student Assistance Program (SAP).
"We form a circle around our core, which are our students, and we all are here for student success," Shackleford said. "We are here to serve our students, and our greatest joy is to see them succeed. That's why we come to work every day. Our culture is built around that. You will look hard to find it anywhere where it is embedded in the culture as much as it is at RCC."
Shackleford then introduced RCC Student Government Association President Gabby McArthur, who told her story — quitting high school in 2015, enrolling in the GED program at RCC in 2019, and starting her associate degree in the college transfer program.
"Since starting here, I have received a tremendous amount of support from the staff and I have a decent-paying job with good benefits," she said. "I would like to thank each and every one of you for everything that you do here. You really are creating opportunities and changing lives."
Shackleford closed the convocation with more inspirational student success stories.
"Our mission is to meet our students exactly where they are and take them as far as you can possibly go," he said. "We can go to people who dropped out and gave them a hand and encourage them to come back. We can go to addicts who were trying their best to get on a better path. We can go to people who've been laid off and did not have any idea that they had to retrain for another job. We can go to the people who have no support at home and have never been encouraged that they can do anything, and we can give them hope. We owe them our very best. We may be the last, best chance many of our students have."