RCC's Phi Theta Kappa chapter moves into 22nd year despite pandemic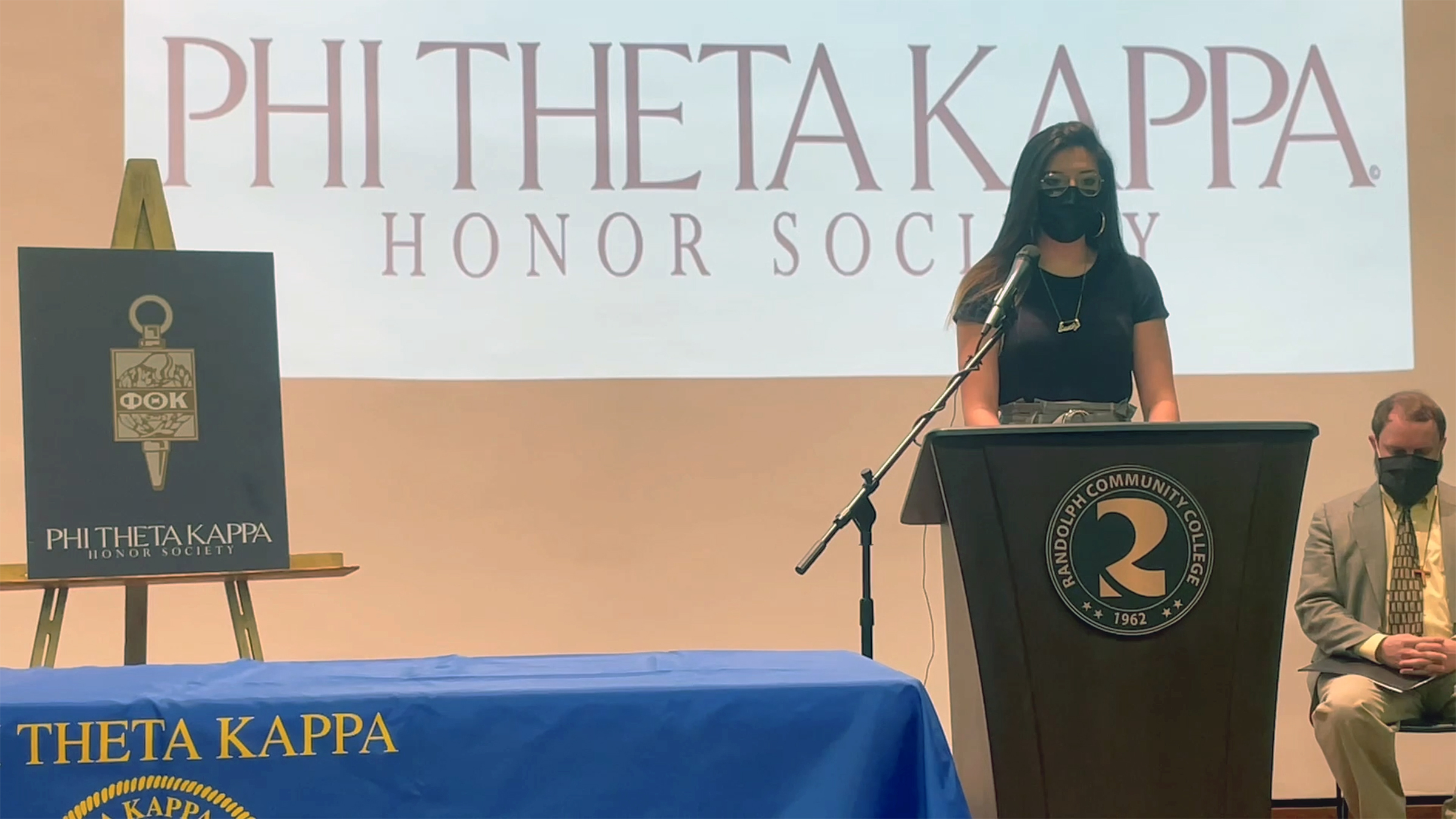 ASHEBORO —
On Saturday, April 24, Randolph Community College's chapter of Phi Theta Kappa (PTK), Beta Theta Rho, inducted 52 new members. A virtual ceremony was pre-recorded and sent to new members of the Five Star chapter. In addition, new members were able stop by the campus to pick up their membership materials.
The virtual ceremony was led by PTK advisor and RCC English/Communication Instructor Clark Adams who welcomed the new inductees.
"We are exceptionally proud of their hard work, of their effort, of their resilience, determination, and persistence and this ceremony today is going to celebrate their academic achievements and honor their many accomplishments as students here at RCC," he said.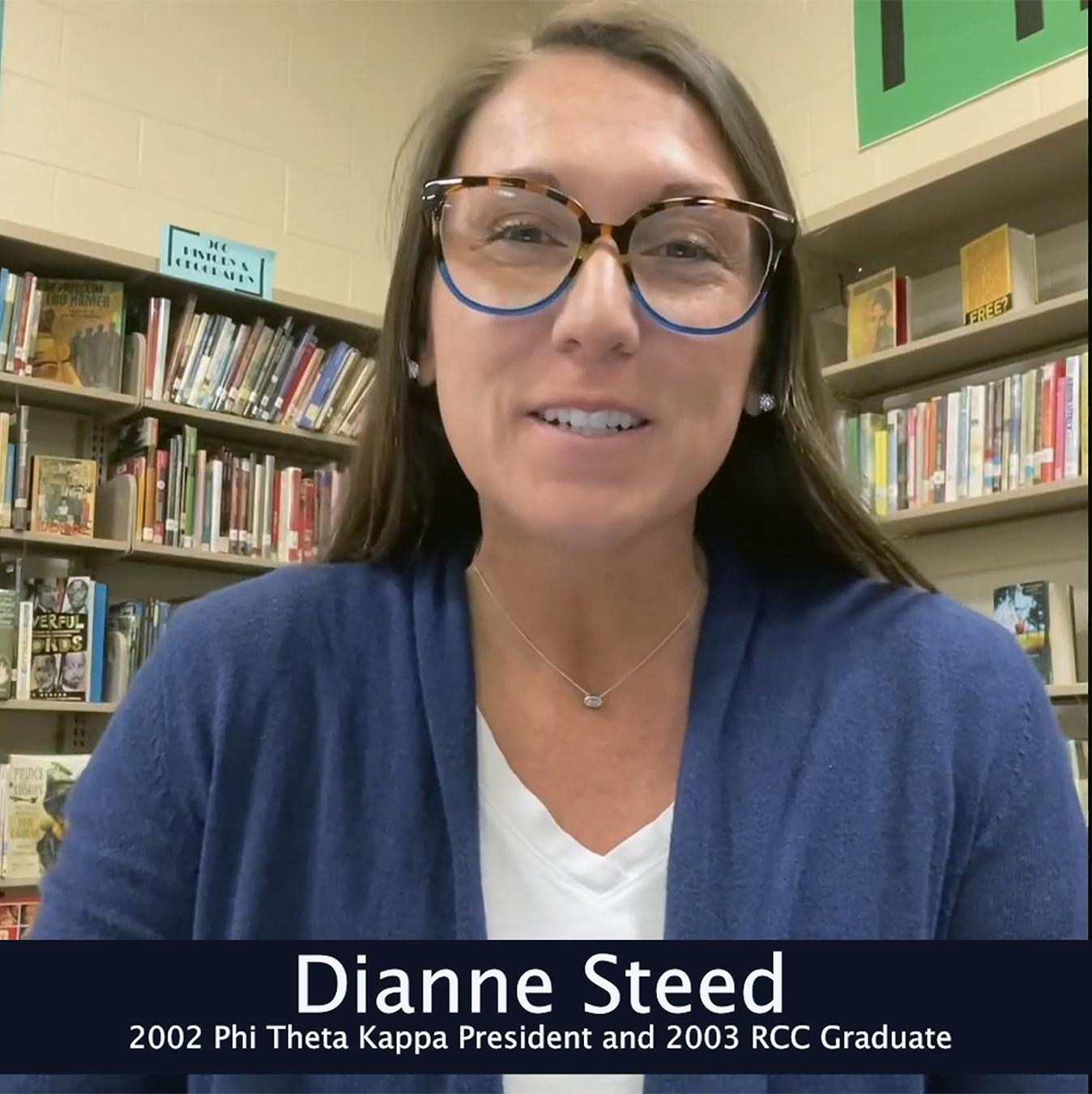 Following Adams's welcome, the Pledge of Allegiance was led by PTK Secretary Tia Meredith, while PTK Vice President Emily Ramirez led the invocation for the ceremony.
"This year has been especially challenging, but they [inductees] showed a fierce determination to achieve greatness," Ramirez said. "We are appreciative of our many faculty members and our administrators who provide their guidance, wisdom, and time. Their service is a gift to the RCC students and it is one that we will cherish always."
Following the invocation, Adams, who has been a Phi Theta Kappa advisor since January 2010, shared information about the organization.
"While this spring may be a bit different, there are some things that have not changed," he said. "We are still inducting students into Phi Theta Kappa. We are still active in our community, and on our campus as well. I just would like to say that we are not going to allow this to stop us from honoring our students for their success and celebrating their academic achievements
"You have chosen to place your academics at the top of your to-do list, not at the bottom."
Adams also recognized the efforts of chapter officers, chapter advisors, faculty, and administrators who helped to make the induction ceremony possible and who support the mission and work of PTK.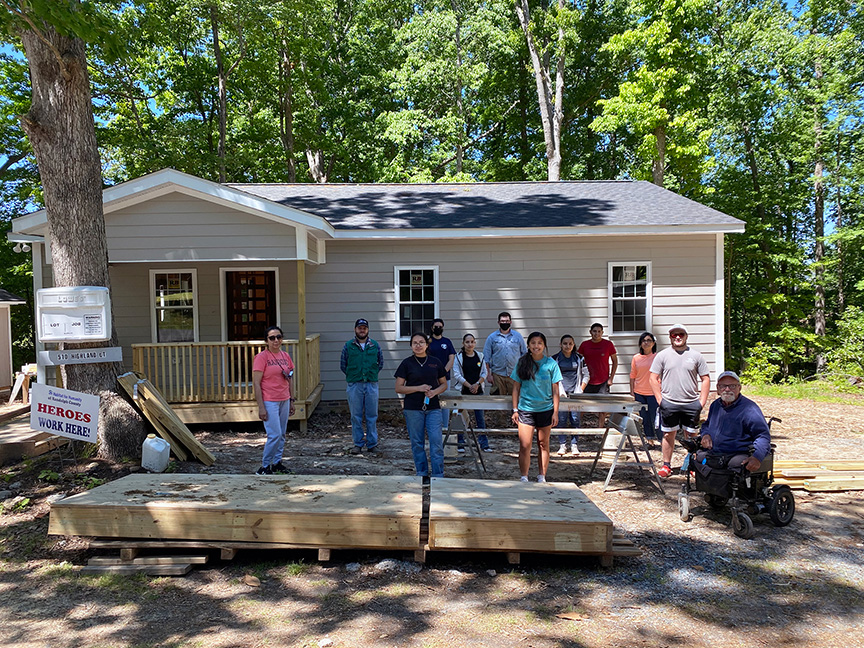 Following Adams's remarks, Dianne Steed, a 2003 RCC graduate of the Early Childhood Education program who was chapter President in 2002-2003, served as the alumni speaker. Reeder graduated from Greensboro College in 2011 with a Bachelor of Arts in Education: Birth-Kindergarten. She worked in the Asheboro City School System for three years before moving to Davidson County Schools where she has spent the past 14 years. Steed is currently a sixth-grade science teacher at South Davidson Middle School in Denton.

Steed described the top-notch education she received at RCC and how beneficial PTK was along her academic journey. She explained how her RCC instructors not only prepared her for her future in education, but also in life. Steed encouraged the students "...to set new standards, to raise the bar, to be trailblazers for the future students of RCC and Phi Theta Kappa. You can be the one to change the trajectory for your entire family."

Steed shared the challenges of being a student, a mother, and a wife while attending RCC.

"Randolph Community College was not a steppingstone for me," she said. "It was the lifeline to a better and brighter future. I left RCC prepared to engage in my community and at a four-year college."

The keynote speaker of the virtual ceremony was RCC President Dr. Robert S. Shackleford Jr., who has served as President for 14 years. He congratulated the new inductees on being selected for induction into Phi Theta Kappa.

"I want to thank you for the hard work that you have put in to earn this great and esteemed title," Shackleford said.

He went on to speak about one of the most important leadership traits: integrity, referenced Dwight Eisenhower and John Maxwell who both wrote about integrity and its importance.

"Integrity is really the heart of leadership," Shackleford said. "Please remember that of all the qualities of leadership, I mean out of vision, and energy, and knowledge, and charisma, and hard work, and resilience, out of all the things that it takes to make a great leader, the heart of leadership is integrity. Nothing will serve you better and carry you further than to be a person of integrity. There is nothing our society needs more than for you to become a person who becomes known for your integrity. Be true to others and be true to yourself. I wish you the best in all that you do."

Adams then presented the new inductees for membership and recommended them for acceptance into PTK. President Grayson Greenwood explained the purpose of PTK, led the new inductees in the PTK pledge, and explained the significance of the symbol of the organization.

RCC Vice President for Instructional Services, Suzanne Y. Rohrbaugh, presided over the induction and announced the names of the inductees.

Despite the challenges of COVID-19 this year, the chapter has still been active in order to meet the requirements to be a Five Star chapter by working with RCC Career Services staff on campus to provide interview attire for graduates. In addition, the chapter has assisted Don Simmons, owner of local restaurant Magnolia 23, to clean the Odd Fellows Cemetery, one of the oldest African-American cemeteries in Asheboro, and volunteered with Habitat for Humanity of Randolph County to work on a home in Asheboro.

In addition, the chapter received the following awards at this year's Phi Theta Kappa Carolinas Regional Convention: Five Star Chapter (18th Consecutive Year); 2021 Carolinas Region Service Project Award: Serving the Carolinas: Theme 2: Natural and Constructed Environments; 2021 Carolinas Region Competitive Edge Award: Ellen Benitez; 2021 Carolinas Region Transfer Edge Awards: Dashanese Carpio-Ventura, Caitlin Burks; Distinguished College Project Award; and Distinguished Chapter Officer Team: Honorable Mention; Distinguished Chapter Award: Honorable Mention.

Established by junior college presidents and students in Missouri in 1918, PTK is the only international honor society serving two-year institutions. It recognizes the academic achievement and integrity of students enrolled in curriculum programs. Students who are invited to join PTK must have completed 12 credit hours and must possess a grade-point average of 3.5 or higher.

Beta Theta Rho, RCC's Chapter, was chartered Nov. 1, 1999. The local chapter has maintained a Five Star status for 18 consecutive years. This Five Star status is the highest level that chapters can receive and recognizes chapters that have completed every requirement set by PTK and for chapters that go above and beyond to make sure their projects and service to the college and community are the very best they can be. In addition to Adams, RCC chapter advisors are Ellen Adams (Mathematics Instructor), Alma Nall (Spanish Instructor), and Dolores Vargas Benavides (Spanish Instructor).
Students (identified by hometowns) who were inducted April 24 include the following:
Archdale: Jenna Lu Caputa, Colby Brooks Locklair, Lauren Leanne Locklair
Asheboro: Ashley Nicole Burke, Sarah Olivia Coble, Sarah Elizabeth Cook, Luna Soledad Corona, Michaela Nichole Hames, Reagan McKenzie Hevner, Emma Marie Hinshaw, Amber Marie Ingold, Kristen Marie Jensen, Lindsay Danielle Keye, Emily Grace Maerz, Rhonda B. Moffitt, Brandon Keith Regan, Meredith Holli Smith, Amaris Nali Vang
Climax: Abigail Elizabeth Maze
Denton: Braydon Anthony Byrd, Allison Danielle Coggins, Matthew Reece Gallimore
High Point: Toan Lam Tran
Liberty: Caleb Lawrence Fogleman
Ramseur: Brooklyn Ilona Hargett, Haley Marie Kearns, Karen Erline Peltier, Viviana Perez Ocampo, Wendy Roman-Hernandez, Miguel Suarez-Illagor
Randleman: Kerry Faith Brown, Hannah Kaitlyn Ercolano, Jareth Ramirez Ortega, Jason Andrew Routh, Cameron Alexander Shirley, George Elizabeth Smith, Mary Faith Staton
Seagrove: Willie Thompson Brewer, Annie Lee McPherson
Siler City: Parker Ryan Kidd
Sophia: Aaron Hildreth Stepp, Shea Eva-Aggie Vance
Staley: Nicholas Tate Lanier
Star: Stephanie Rae Townsend
Stokesdale: Emily Shae Neudeck
Thomasville: Kristen Bailey Jones, Alisha Mahmoud, Khawaja, Jessica Nicole Pittman
Trinity: Shannon Hayes Calderon, Chelsea Danielle Hawks, Mary Jordan Hicks, Kyleigh Brynn Shelton