RCC students, faculty, staff celebrate new U.S. citizens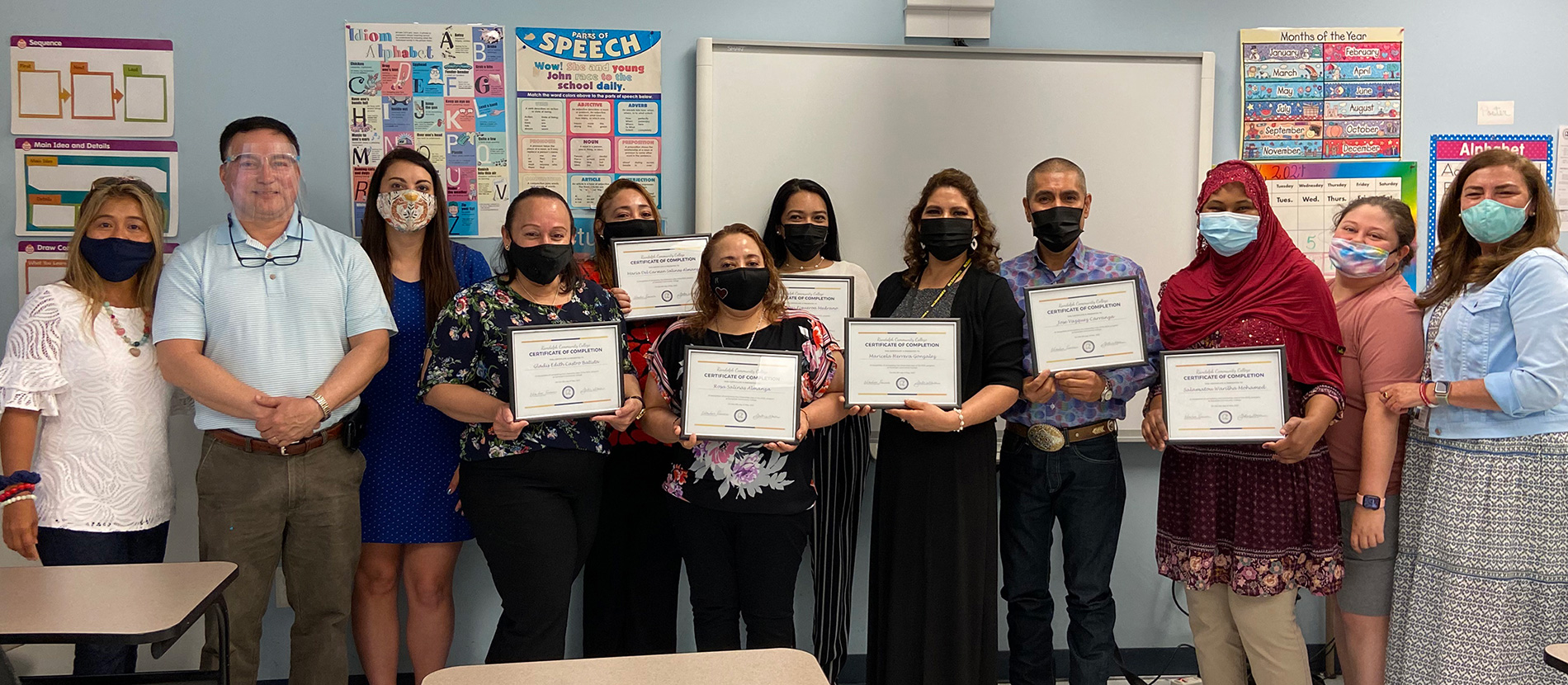 ASHEBORO — 
When someone entered the small classroom at Randolph Community College's Chevy Centre on Saturday, May 8, they saw a table holding a red, white, and blue cake along with patriotic plates, cups, and napkins; they heard "God Bless the U.S.A." playing on the screen; and they were greeted by students dressed to the nines and smiling eyes behind masks. It wasn't a Fourth of July party in May, though it might as well have been. No, this was a celebration for eight students who passed their U.S. Citizenship test after taking the
RCC course
.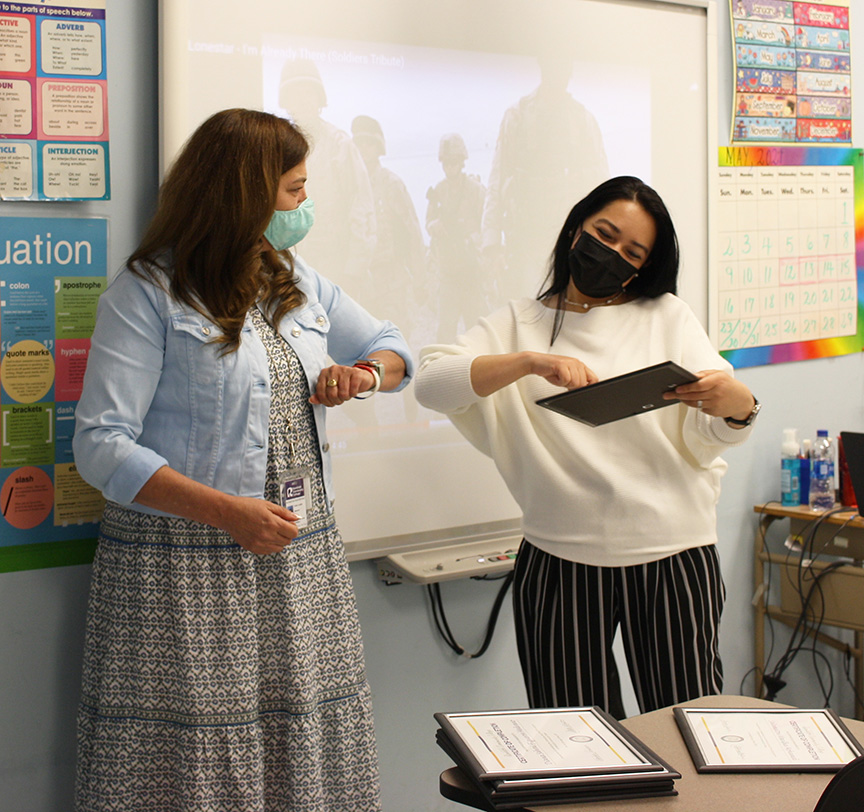 Rosa and Maria Del Carmen Salinas Almanza, Marcela Herrera Gonzalez, Jose Vasquez Carranza, Diana Figueroa Medrano, Gladis Castro Batista, and Salamatou Mohamed received Certificates of Completion. Classmate Helena Lambeth also passed her citizenship test, but was unable to come to the ceremony. Each went up to the front of the class where instructor Lizbel Loechle-Yuzzelli gave them their certificate and received an elbow-bump in return. The only thing missing was family and friends, who weren't present due to COVID-19 protocols.
Coordinator/Instructor of
English for Speakers of Other Languages (ESOL)
Abraham Encinas, who heads the program, opened the ceremony.
"This event is not just special for all of you, but also to me personally, having come from Peru as a student," Encinas said. "My journey started in community college. RCC is a diversity-friendly, inclusive institution that makes this possible, and you're an example of that. All nationalities are welcome in the ESOL program. As a naturalized citizen myself as well as [College and Career Readiness Student In-Take Specialist Dahlia Oldham] and your instructor, Miss Lizbel, we understand very well the hard work, the determination, and the challenges we have to go through when we are preparing for the citizenship exam. Take advantage of your new citizenship and all the rights and promises it holds. So, God bless your families and everybody present, and welcome to your new home, the United States of America!"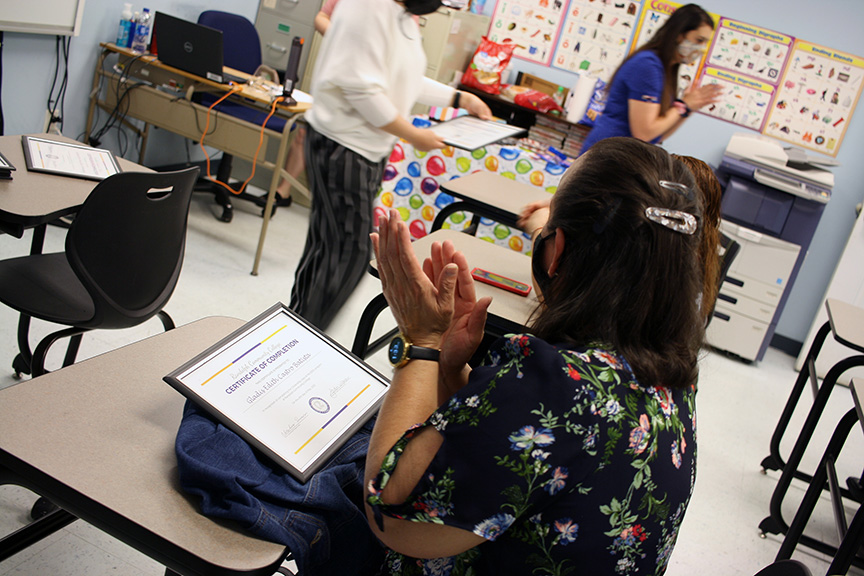 Director of
College and Career Readiness
Jordan Williamson spoke after Encinas.
"I'm so excited for you all, and we're so proud of you," Williamson said. "This is a major milestone in your life. On behalf of everyone at RCC and our staff and all of our instructors, we just want to say a big congratulations. Miss Lizbel is very passionate about her students and that's one of the things that makes her such a great instructor and teacher. We're very grateful for her. ESOL is a whole community — that's what makes it so special. You are a community of learners. So, congratulations, go celebrate, and we hope that we see you continue on at RCC."
Loechle-Yuzzelli, who is originally from Peru and taught elementary school there before coming to the United States, spoke to her students next. She noted that students that have already come through the course and passed were not only from Latin American countries, but also China, Thailand, and Africa. In the ESOL program alone, there are 22 nationalities represented. She remembered one Chinese student in particular who needed help with pronunciation — she knew all the facts but couldn't be understood. The two worked together, and the student passed.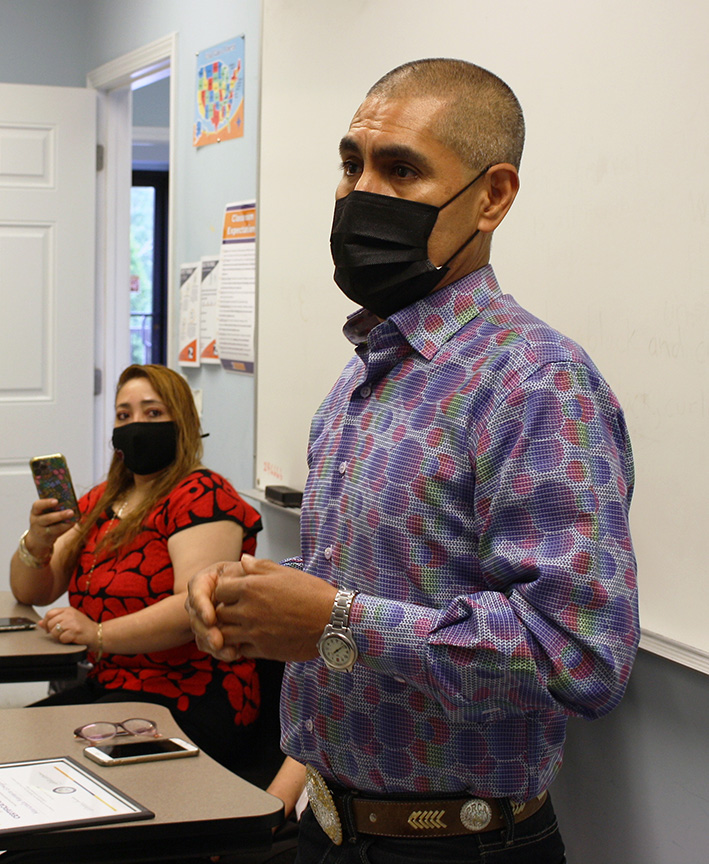 "The only thing I can say about you guys is, I'm so proud," said Loechle-Yuzzelli, who has been teaching in RCC's ESOL program for 15 years. "My heart goes with you from the day that you come to this classroom and wanted to do such a wonderful thing for yourselves. Most of you came scared or afraid, 'I don't know what to do.' In the end, I take you with me. I love you so much. And I love the satisfaction that I feel in my heart and my soul. I will miss you so much, but we will keep in touch like we always do. You know that you can come see me, you know my hours, and we are a text or call away."
The students then received their certificates, each one sharing their stories and thanks.
Figueroa Medrano thanked "Miss Lizbel," calling her "the best coach."
"I am glad to be part of this beautiful class," she said.
"I came because I want to do things right," said Castro Batista, who teaches ESL at the elementary school level. "I was excited, and I came every Saturday. I was practicing and learning new things. When I did all my paperwork, I told my husband and my daughter. So, the three of us, we got the citizenship. (Lizbel) is really good. She's very friendly; she makes you feel like you're at home. I really appreciate all the things you do, not just for me, but for the whole community."
Rosa and Maria Del Carmen Salinas Almanza, who are sisters, and Herrera Gonzalez all thanked Loechle-Yuzzelli in Spanish with Castro Batista interpreting.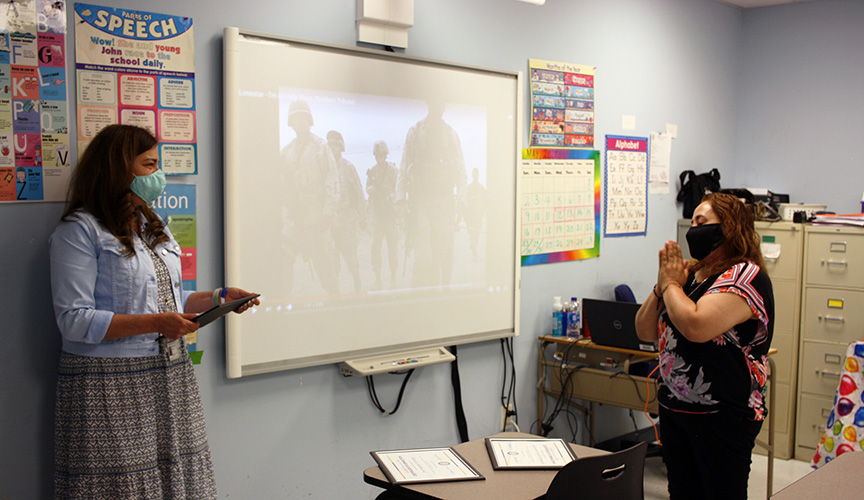 "My English is not too good, but I want to appreciate the teacher because this program works for everybody — we can make it," Vasquez Carranza said. "Tell everybody about it around here. They can come to this class because this class is perfect. I really appreciate the help."

"Miss Lizbel is a very good teacher," said Salamatou Mohamed, who is from West Africa. "Thank you so much."

Oldham, who is originally from the Philippines and became a citizen in 1992, spoke last as she was very moved by the ceremony — and moved by it taking place the day before Mother's Day.

"My son will graduate tomorrow, and he will get his second doctorate for engineering," she said. "Without me doing the right thing, I don't know where my boys would be. Don't stop learning. Reach the highest star when it comes to education because it's yours. Nobody can take that from you.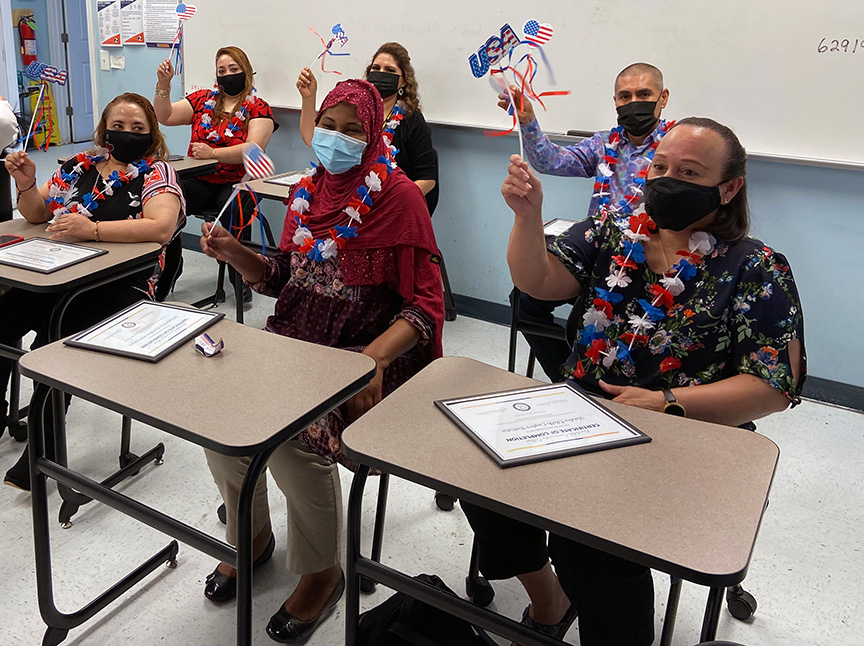 "I grew up poor in the Philippines, but my mama sent six of us to college. She would always say, 'This is the only treasure, the only wealth I can give you guys. Educate your children and your children will educate the next generation.' For my boys, having my GED and learning English, to them, that's the foundation."
Many of the students have a next step that includes RCC's High School Equivalency Diploma or Adult High School Diploma.
"We're motivating the pathway to GED and High School Equivalency," Encinas said. "So, this is not the end of the journey. There is so much more that we can offer if they want to move forward."