RCC honors outstanding faculty and staff members, employee years of service
ASHEBORO — Randolph Community College honored W. Clark Adams as its 2020 Excellence in Teaching award winner and Joey Trogdon as the 2020 Staff Person of the Year during its Spring Convocation held Jan. 10 in the R. Alton Cox Learning Resources Center auditorium on the Asheboro Campus. The College also introduced its first-ever Adjunct Faculty of the Year award winner, Betty Wainwright.
An English/Communication Instructor, Adams began teaching at RCC in August of 2004. He received his Associate in Arts from Davidson Community College, a bachelor's degree in English/Education from the University of North Carolina at Greensboro, and his master's degree in English at UNCG.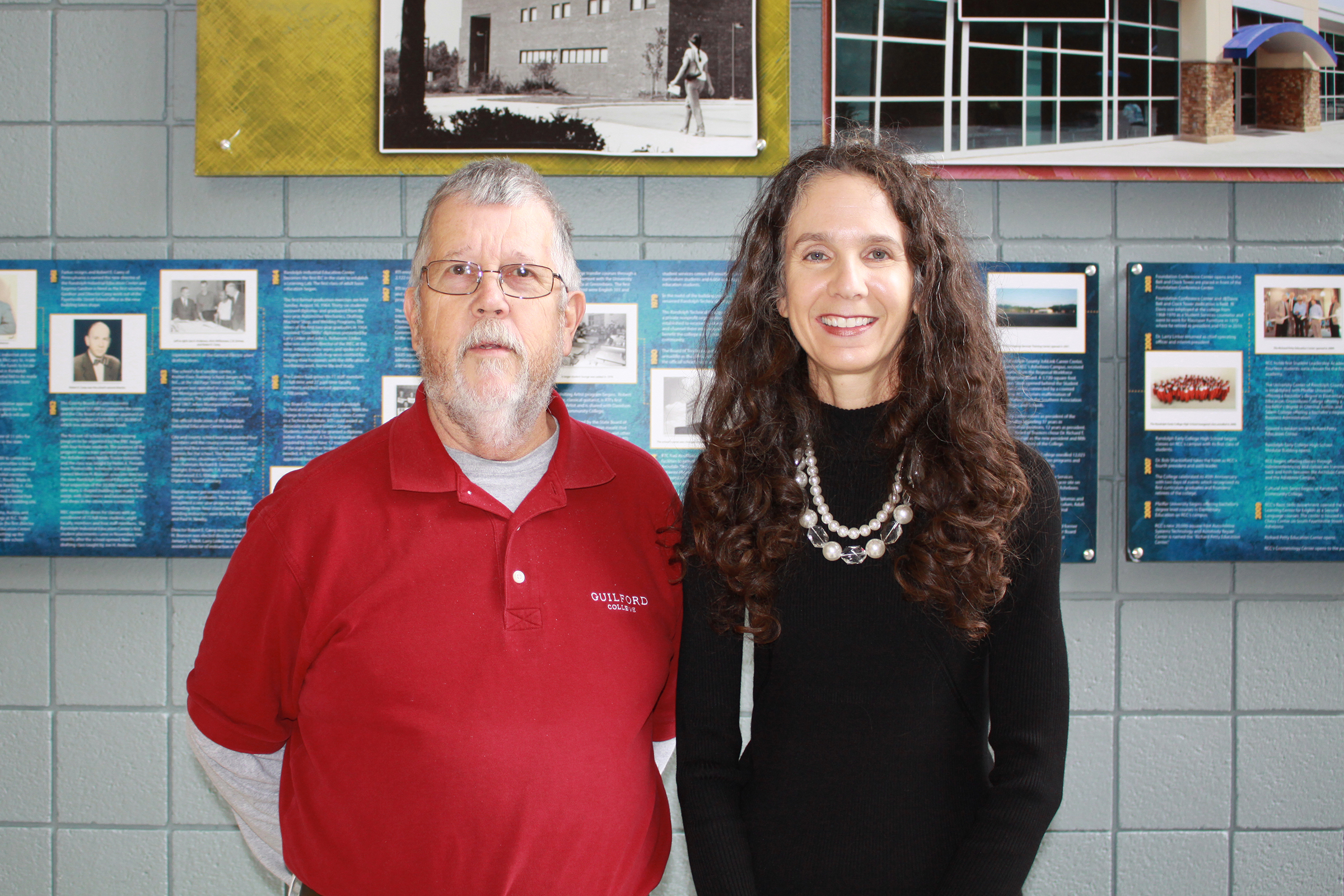 Clark has served as the lead adviser for the RCC chapter of the Phi Theta Kappa Honor Society since 2010, and was an adviser for the Student Leadership Academy from 2012-2019. He created and maintains the Historical Archives for RCC. He also developed and implemented an oral history project of RCC retirees, led efforts to purchase and install two commemorative plaques for original buildings on campus and organized a dedication event, led efforts to name the Administration/Education Boardroom after the founding father of the college, and led the effort to purchase and install the Employee Hall of Fame Board. In 2017, Clark was appointed as coordinator of the North Carolina Community College Retired Presidents Association and serves on the Advisory Committee for this group. He is responsible for keeping up with all retired and former North Carolina Community College presidents and organizing an annual reunion at Wake Technical Community College.
At RCC, Clark has coordinated and coached students for English Speaking Union contests, judged National FFA Organization speech contests, and has mentored and judged several RECHS senior projects, going above and beyond, holding meetings with students during his office hours and on-campus time to ensure they understand the material from class. He goes over their papers and speeches with them, in detail, constantly working with them one-on-one.
Recently, Clark led a workshop called "Interviewing 101" for Apprenticeship Randolph automotive students, as well as sessions on how to succeed in college, for all Randolph Early College High School ninth- and 10th-graders. Clark has students write about topics they're interested in, or that have to do with their chosen career, all the while teaching them about organizing and developing their ideas.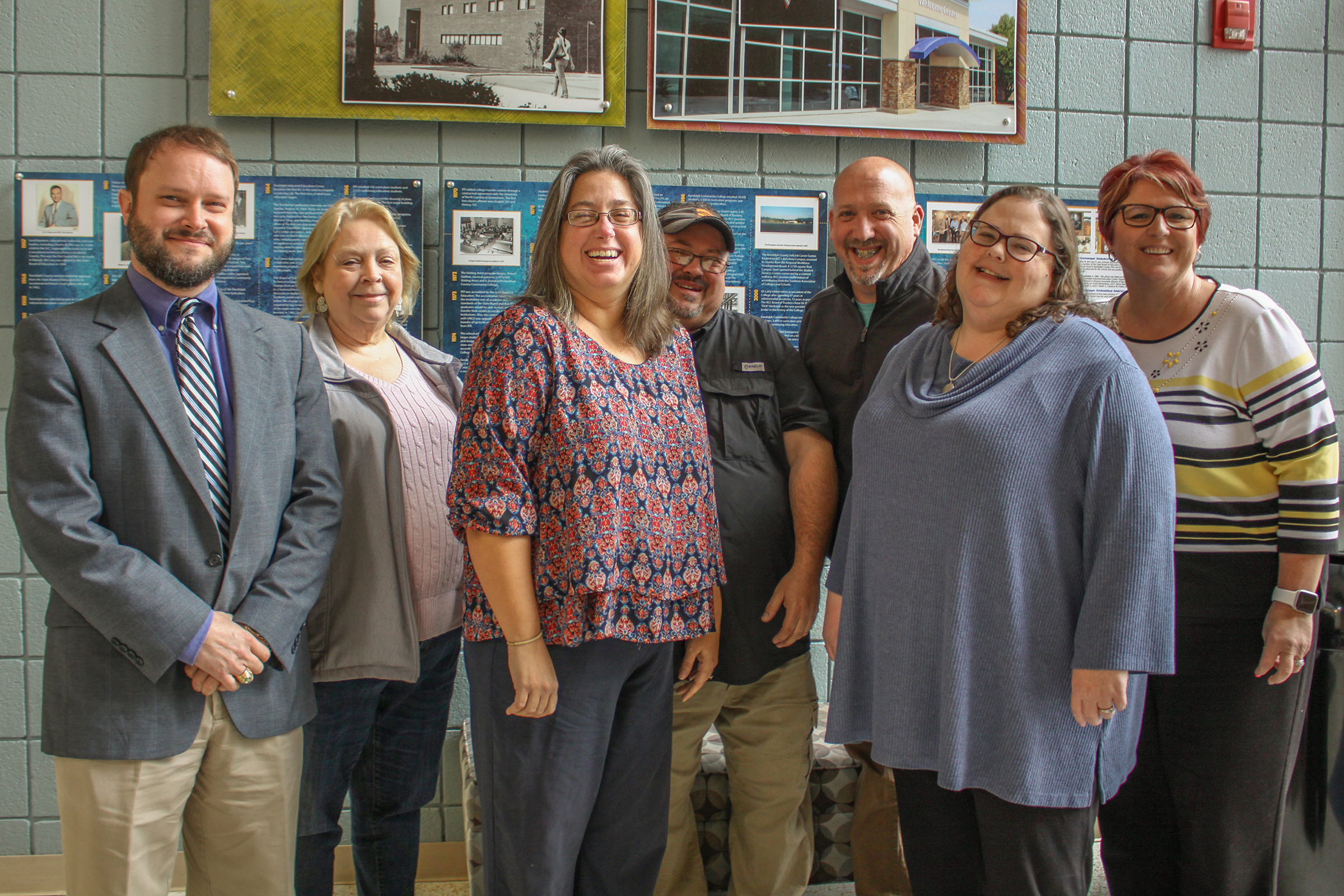 Students who go on to four-year schools regularly send Clark emails thanking him for truly preparing them for a higher education.
Trogdon started at RCC in December of 2006 as the Assistant Director of Financial Aid. He earned his Master of Arts in Community College Administration from Lenoir-Rhyne University, completing the program in two years with a 4.0 grade-point average. He received his bachelor's degree in Computer Information Systems from Mars Hill University.
Now the Director of Financial Aid and Veterans Affairs at RCC, Trogdon was elected by his peers to serve a three-year term for the North Carolina Association of Student Financial Aid Administrators in 2014. While President, he participated in the National Association of Student Financial Aid Association's Leadership and Legislative Expo, traveling to Capitol Hill and meeting with representatives and senior officials to discuss areas of concern regarding the financial aid profession. He also served on the Legislative Relations Committee for the Southern Association of Student Financial Aid Administrators as an Executive Board member. Trogdon was recently asked to be an instructor at the Financial Aid Leadership Academy, hosted by the North Carolina Community College System.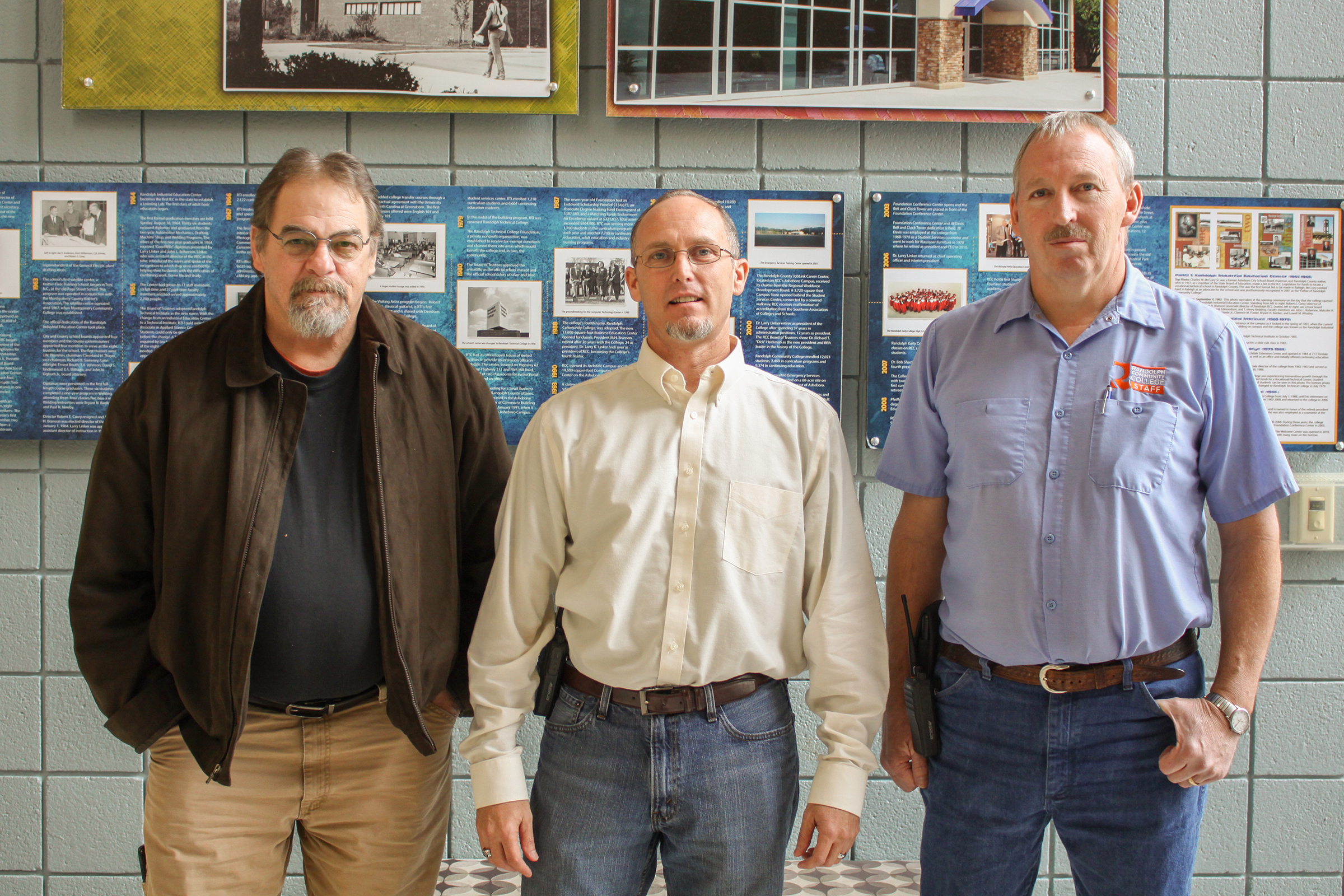 At RCC, Joey is currently working with the Regional Coordinated Area Transportation System (RCATS) to try and create what is called a "deviated route" that will help provide bus transportation to RCC students who lack transportation. His office was the first of all 58 community colleges to send HTML emails to students, specifically appealing to the younger generation, and he recently implemented two-way texting to further his efforts to reach students. Trogdon also implemented a proactive, case-management model that entails his staff being assigned a case load of students based on their last name, allowing students to know their financial aid counselor and contact them at any point with questions or concerns. His team implemented an online scheduling system that gives students the ability to set in-person or phone appointments with his staff at a time that works with their schedule.

Wainwright has been teaching developmental English classes at RCC for more than 10 years. She has been instrumental in the College achieving a Green Dot Status for success in English classes. With more than 40 years of teaching experience, Wainwright also helps at RCC's Writing Center, going the extra mile for her students every day to not only help them succeed in the classroom, but also the real world.

After the RCC Vice Presidents introduced new employees, President Dr. Robert S. Shackleford Jr. gave an address that focused on hope.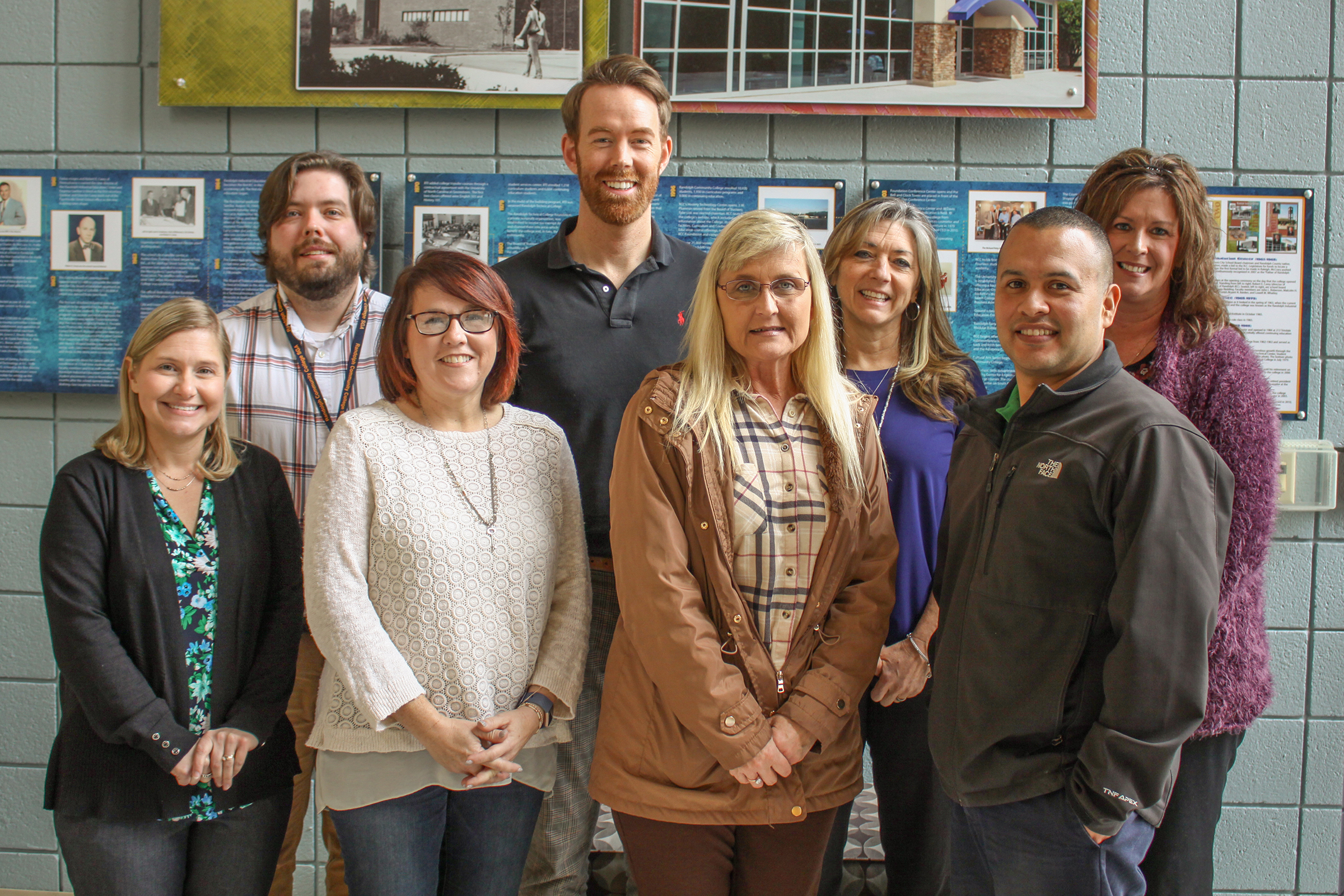 "You could look [at RCC] and say, 'We sell academic classes.' " he said. "What do you do as a college? Well. we're in the education business. ... It's just like going to Walmart, looking around, picking up what you want, going to the cash register, checkout. We sell stuff. We have a smorgasbord of classes and students come, they look around and see what they need, then go checkout. ... I don't think that's what we do. I don't think even sell diplomas and certificates and degrees. I don't even think we sell jobs. We try to prepare students for jobs. I really, truly believe that what we provide that is needed most by the people who come to this campus this coming week, is hope.

"We need to remind our students we're helping. We'll help you move that beam. We're going to help you with all that timber. We're going to help you sink that bolt. We're going to help you build this bridge. ... Let's be in the business every day of finding every opportunity to bestow hope in the heart of every student we have."

RCC Board members Reynolds Lisk, Bob Morrison, Cindy Schroder, and James Gouty, and RCC Foundation Board members Baxter Hammer, Neal Griffin, and Robert Graves attended the convocation.

Employee service records also were recognized during the spring convocation.
20 Years: Dacia Murphy, English Department Head; James Varner, Textbook Specialist.
15 Years: W. Clark Adams, English/Communication Instructor; J. Don Ashley, Automotive Systems Technology Department Head; Donald Boling, Facilities Technician; Amanda Byrd, Business & Applied Technologies Division Chair; Melissa Earliwine, Developmental Mathematics Instructor; Melinda Eudy, Dean of Curriculum Programs; Grey Lane, Arts, Social Sciences, & Public Services Division Chair.
10 Years: Michael Hussey, Felicities Technician; Matthew Needham, Director of Safety and Emergency Preparedness; Steven Roberts, Housekeeping Staff/Floor Maintenance.
5 Years: Josh Brown, Director of Financial Services; Shane Bryson, Recruitment and Student Life Specialist; Pamela Burleson, Distance Education Support Specialist; Christopher Hussey, Purchasing Agent; Janet Ingold, Administrative Assistant for Workforce Development & Continuing Education; Robert Jones, Facilities Services Supervisor; Elbert Lassiter, Vice President for Workforce Development & Continuing Education; Angela Lucas, Administrative Assistant for Emergency Services Training Center; Breanne Marshburn, Medical Office Administration Instructor; Melinda Morgan, Medical Assisting Instructor; Marissa Ritter, Director of Institutional Effectiveness; Isai Robledo, Director of Educational Partnerships & Initiatives; Jenny Thomas, Electronic Services Librarian; DeShandra Woodle, Accounting Instructor.