Department Namesake is Special Part of CCR Program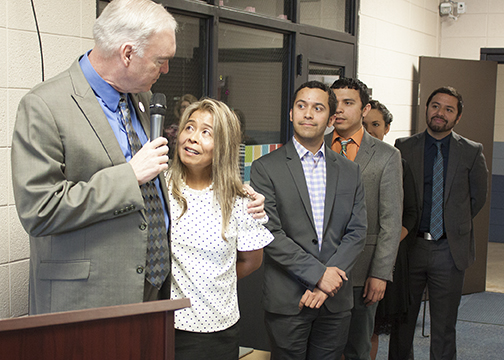 Career and College Readiness Naming
Randolph Community College named its College and Career Readiness Department in honor of Dahlia Gubalane Oldham of Seagrove, a graduate and fervent supporter of the program, the College, and the RCC Foundation.  
During a naming ceremony in 2018 at the Asheboro Campus, RCC President Robert S. Shackleford and Oldham unveiled the name on a plaque in the reception area of the department. The ceremony was attended by Oldham's three sons, Josh, Carl and D.J., along with friends, students, RCC trustees and RCC Foundation board members, and numerous RCC staff members.
Josh and Carl Oldham are graduates of Randolph Community College with Associate in Arts degrees. Oldham earned a bachelor's degree in home economics in her native Philippines before she came to the United States and married William Oldham of Seagrove. She was a full-time wife and mother to three boys before deciding to go back to school. When she couldn't get her high school transcript from the Philippines, she enrolled in RCC's College and Career Readiness program and earned her high school equivalency diploma.
RCC President Robert Shackleford said he first became acquainted with Oldham when she was a student in the GED™ program. "She was an encouragement to her classmates," he said, and when she finished her GED™ in December 2009 before many of her classmates, "she continued to come to campus to tutor her classmates." When those classmates were ready to graduate but couldn't afford the cost of a cap and gown to walk in the graduation ceremony, Oldham bought caps and gowns for them. "I loved her spirit and passion, and her care for people," said Shackleford.
When a job opportunity opened in the College and Career Readiness department, Shackleford hired Oldham as a student in-take specialist. "She was an inspiration to the students and the staff," he said. "This is where her heart was." In addition to her advocacy for her fellow students, Oldham became a generous donor to the RCC Foundation and has designated her gift to the College and Career Readiness program to help students like her. In remarks at the ceremony, Oldham said of the dedication plaque, "When (the students) see my name, I want it to be an example to those coming day after day…that through hard work and determination, you can succeed."