RCC holds ribbon cutting for Welding Center expansion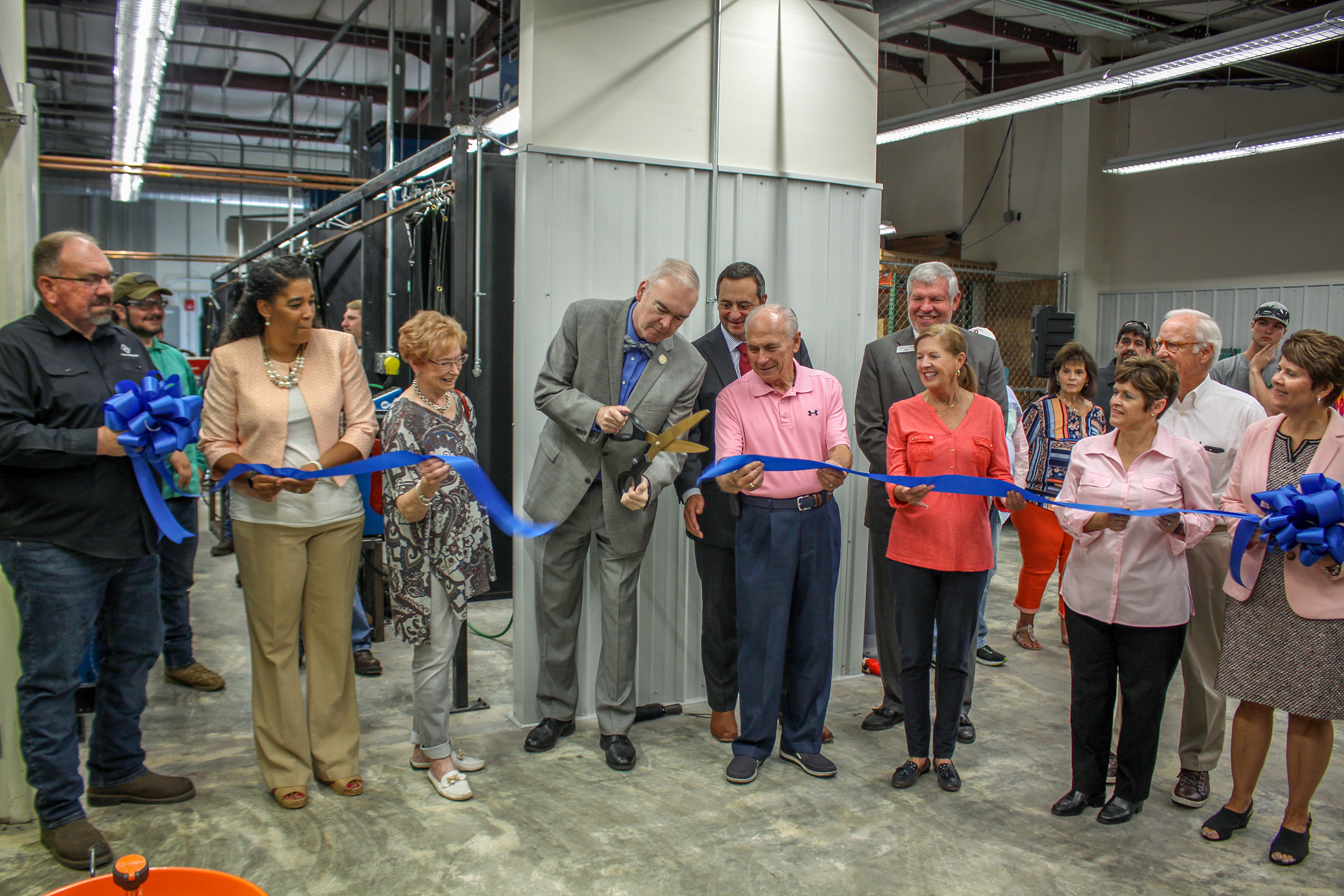 Center now has 31 state-of-the art booths
ASHEBORO — Randolph Community College held a ribbon-cutting ceremony Thursday as the College increased its number of welding booths at the Archdale Center to 31. Approximately 2,000 square feet of classroom and office space was converted into lab space to accommodate more students.

The ceremony, which was attended by RCC faculty, staff, students, and alumni, and members of the community began with opening remarks by RCC President Dr. Robert S. Shackleford Jr., who noted that the facility began with 10 state-of-the-art welding booths.

"We had people coming from around the state to see it," he said. "They were just amazed at what kind of facility we put together. The program has gone through a lot of transitions — mainly thanks to [Welding Department Head] Michael Ford. Michael has led in some great strides forward for our welding program."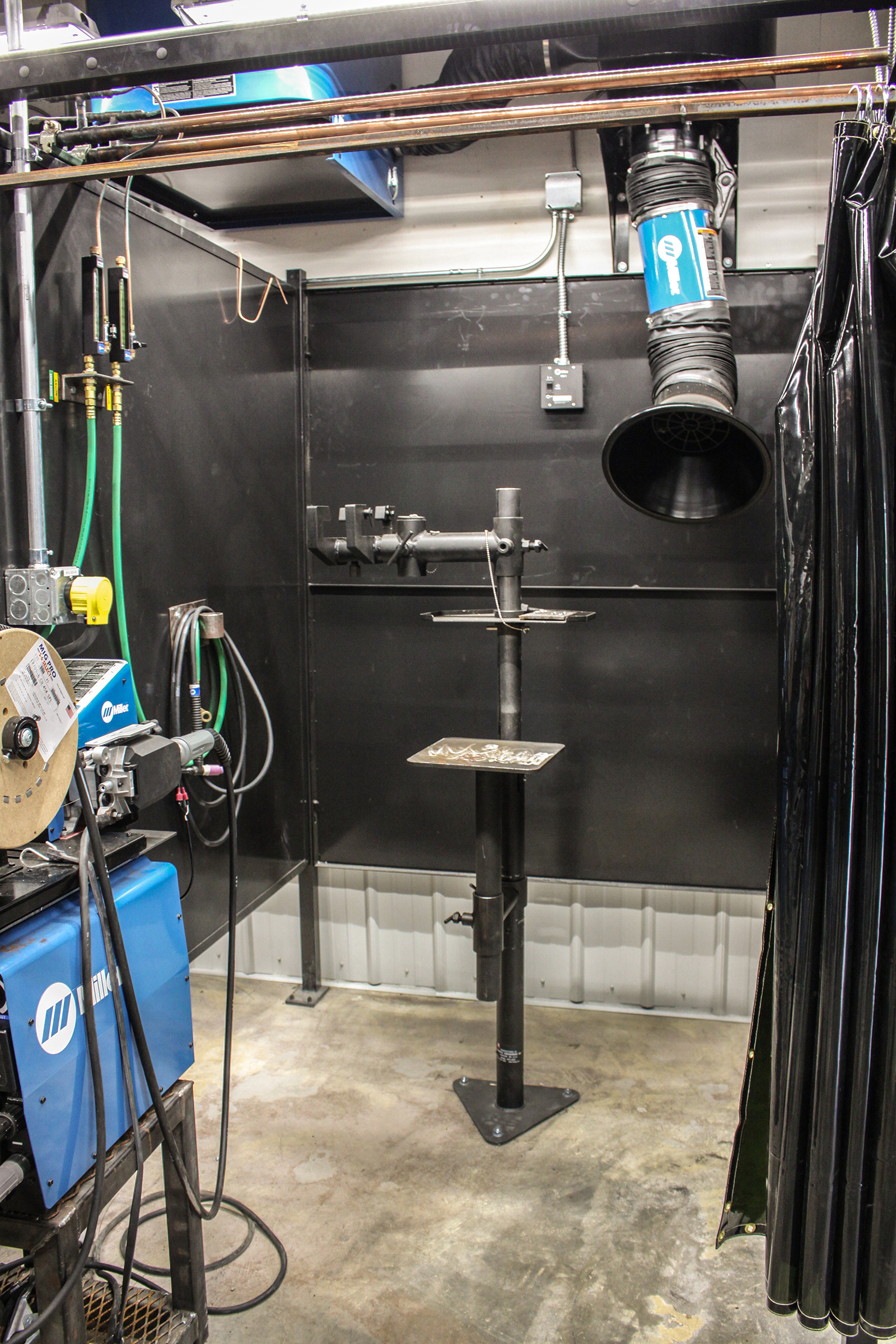 One of those strides was getting the Archdale Welding Center named an Accredited Testing Facility (ATF) by the American Welding Society last year. The AWS Accredited Test Facility program establishes minimum requirements for test facilities, their personnel and equipment to qualify for accreditation to test and qualify welders. RCC's testing program can test welders from any one of eight different codes and standards. The designation means that RCC's Certified Welding Inspector (CWI) can test welders for the American Welding Society certifications that are recognized anywhere in the world. RCC is one of only five AWS Accredited Testing Facilities sites in North Carolina. Students who receive an AWS certified welder certification will be in high demand from local companies.

"With 31 booths, we are able to expand our programs, do more testing and certifications," Shackleford said. "The faculty here are very familiar with some of the major industries that hire welders. They understand what [industries are] looking for; they find out what kind of testing it takes to get a job there. They don't just teach classes to our students and then let the students arrive unprepared. ... Our goal and our interest at this college is not to put diplomas on walls all over Randolph County. It's to get people great jobs and great careers."

Director of the Archdale Center Tonya Monroe spoke after Shackleford, saying the ceremony "highlights and is a tangible reminder of the commitment and mission of Randolph Community College, which is Creating Opportunities and Changing Lives. This day is made possible in part by our unwavering commitment to providing the highest quality welding center for our faculty and students. These new welding facilities are a bold reflection of that commitment."

Vice President of Instructional Services Suzanne Rohrbaugh said the expansion provides more opportunities for the workforce and helps meet the economic development needs of the county. Ford echoed her sentiments.

"We can increase the enrollment cutoff from 20 to 30," he said. "The big picture is getting that many students wanting to do this."

Rohrbaugh also discussed the benefits students will have, including safety with more room to work and the possibility of having day and evening classes along with continuing education opportunities.

Being an approved testing facility through the American Welding Society "is a huge benefit to our students," she said. "It provides students the opportunity to actually do some industry-recognized testing and earn a credential while they're here as a student. ... As you can see, we're passionate about our teaching and learning and opportunities that we can provide our students. It's an exciting day any time that we can extend that opportunity and can expand the offerings here in Randolph County. ... This was truly a concerted team effort and for that we are very grateful for that."

Attendees included members of the RCC Board of Trustees — John Freeze, Dr. Cindy Schroder, and James Gouty; Chairman of the Randolph County Board of Commissioners Darrell Frye, County Commissioner Kenny Kidd, Mayor of Archdale Bert Lance Stone, Archdale-Trinity Chamber of Commerce President Beverly Nelson, Randolph County Economic Development Corporation President Kevin Franklin, and Archdale City Manager Zeb Holden.