Veterans Education Benefits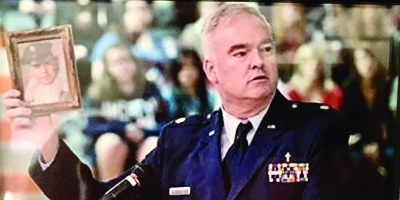 Veterans, thank you for your service. We owe you a debt of gratitude for your selflessness. We want to help your civilian transition process run as smoothly as possible, at least when it comes to your education. Our team is here for you, to ensure you get the best benefits for your unique situation. 
A Message from RCC's President: "We eagerly embrace veterans as students at RCC … we have someone designated specifically to help veterans, clear the obstacles to get into school so they can move on with their careers after their service in the military. Without your service, our nation would be less than the glorious shining light than it is. Thank you so much for all you have done. I wish you the very best in all that you do. "I particularly wanted to serve in the military, one because I wanted to provide a service to my country, but two because I grew up with a photo in my home of my father in his Air Force uniform before I was even born, before he and my mother even married, and I was so impressed with that photo of him in that uniform and knowing that he had served his country that I made it a goal in my life that one day I want to put on that uniform and I want to do my part to help keep America safe for my children and their children."                                                        -Dr. Robert S. Shackleford Jr., Chaplain, U.S. Army Reserves, 22 years
Randolph Community College education programs are approved by the North Carolina State Approving Agency for the enrollment of persons eligible for education assistance benefits from the U.S. Department of Veterans Affairs (VA). Those entitled to VA benefits are eligible veterans, participants in the Montgomery G.I. Bill® contributory program, active duty military in voluntary education programs, drilling National Guard, drilling Reservists, and spouses and children of disabled or deceased veterans. The Office of Financial Aid and Veterans Affairs provides information and assistance to students applying for VA education benefits.
G.I. Bill® and Tuition Assistance Programs
See detailed information about the particular G.I. Bill® and Tuition Assistance Programs below.
The following are general descriptions of the veteran education benefits available at Randolph Community College. Please see the VA Certifying Official regarding any specific questions regarding these programs.
Veterans Education Benefits