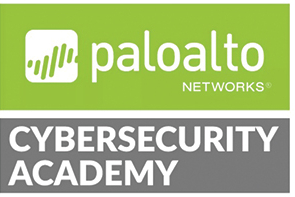 Through Randolph Community College and our partnership with the #1 firewall appliance manufacturer and distributor in the world, Palo Alto Networks (PAN), students can learn how to install, configure, and manage a PAN firewall. Students are provided with free coursework with labs, and also a fully licensed PAN firewall (VM-50) to use for class and preparation for obtaining the following certifications:
PCCSA – Palo Alto Networks Certified Cybersecurity Associate
This course helps learners to identify common attacks and threats made against networks, and to identify vulnerabilities in network security. This course also describes the current cutting-edge technologies to prevent successful cyberattacks and is intended for learners who want to enter the field of cybersecurity.
PCNSA – Palo Alto Networks Certified Network Security Administrator
In this course the student should learn and get hands-on experience configuring, managing, and monitoring a firewall in a lab environment.
Configure and manage the essential features of Palo Alto Networks next-generation firewalls
Configure and manage GlobalProtect to protect systems that are located outside of the data-center perimeter
Configure and manage firewall high availability
Monitor network traffic using the interactive web interface and firewall reports
Palo Alto Networks Education
Training from Palo Alto Networks and a Palo Alto Networks Authorized Training Center, such as RCC, delivers the knowledge and expertise to prepare you to protect our way of life in the digital age. Our trusted security certifications give you the next-generation security platform knowledge necessary to prevent successful cyberattacks and safely enable applications.
** Salaries with Palo Alto Networks certifications can start in excess of $80,000.
Free Self-Paced Courses