Manicuring/Nail Technology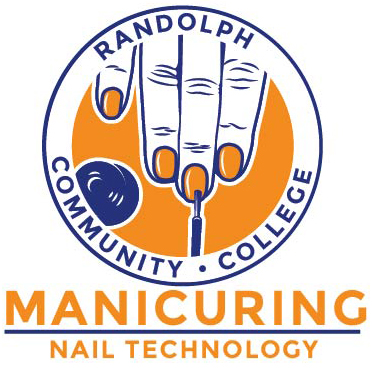 If you like expressing your creativity through nail design or want to add manicuring certification to your resume, then come be part of our Manicuring/Nail Technology program. You will learn to be a manicurist or nail technology specialist with classes in our simulated salon environment. This program provides competency-based knowledge, scientific/artistic principles, and hands-on fundamentals associated with the nail technology industry.
Upon graduation, you will be prepared to take the North Carolina Cosmetology State Board Licensing Exam and, upon passing, be licensed and qualify for employment in beauty and nail salons, as a platform artist, and in related businesses.
General College admissions requirements.
Purchase of books and kit from RCC Campus Store.
Specific uniform and shoes are required.
Students are exposed to many products and should not be overly sensitive to nail products.
Upon successful completion of the Manicuring/Nail Technology Certificate program, the student should be able to:
Safely and competently perform nail care, including manicures, pedicures, massage, decorating, and artificial applications in a salon setting.
Demonstrate competence necessary for the licensing examination, including advanced nail care, artificial enhancements, decorations, sanitation and infection control procedures.
The Manicuring/Nail Technology curriculum provides competency-based knowledge, scientific/artistic principles, and hands-on fundamentals associated with the nail technology industry. The curriculum provides a simulated salon environment which enables students to develop manipulative skills. To effectively train Manicuring/Nail Technology professionals, the performance of certain functions is incorporated throughout the program. Faculty and students are required to demonstrate proficiency of these functions in the Manicuring/Nail Technology program. The essential functions include:
Critical Thinking: critical thinking ability sufficient to gather relevant information, interpret data, recognize problems, and use a process to make informed, independent decisions that show good judgment. For example, making a good decision about the best financial report to produce based on user needs.
Interpersonal Skills: interpersonal abilities sufficient to interact with co-workers and clients, function and contribute as part of a team, be accountable for self and others, and maintain appropriate hygiene for an office environment. For example, the ability to interact effectively with other members on a team project.
Communication Skills: speak English, write English, listen and comprehend written and spoken words, and communicate information and ideas so others will understand. For example, the ability to discuss and present ideas and information to a client.
Mobility: mobility that is appropriate for an office or classroom setting is needed. For example, mobile enough to sit and stand repeatedly in an office setting.
Motor Skills: be able to sit for extended periods of time and manual dexterity. For example, as needed for computer work/keyboarding.
Hearing: hearing ability to hear sounds at a close range (within a few feet of the observer). For example, being able to hear and respond to an instructor or other students in a classroom.
Visual: visual ability to see with normal or corrected vision, tolerate working indoors in artificial light and the glare of computer screens. For example, the ability to look at a computer screen for long periods of time.
Tactile: ability to perform physical activities that require use of hands and arms. For example, possessing finger and manual dexterity necessary to manipulate computer and other office equipment.
Weight-Bearing: none.
Cognitive: cognitive ability to use logic and reason, attention to detail, and short-term and long­ term memory skills. For example, the ability to remember a concept covered in a class in a previous week of a semester.
Visual Color Discrimination: visual color discrimination ability to match or detect differences between colors, including shades of color and brightness. For example, the ability to determine color schemes in the development of a design project.
EXAMPLES ARE NOT ALL INCLUSIVE.
Randolph Community College is an ADA compliant institution. The College does not discriminate on the basis of disability in the admissions process or in access to its programs, services and/or activities for qualified individuals who meet essential eligibility requirements. The College will provide reasonable accommodations for documented disabilities of individuals who are eligible to receive or participate in college programs, services and/or activities. Student Services provides a disability counselor to assist students in requesting disability related accommodations. If a student believes that he/she cannot meet one or more of the essential functions without accommodations, the student is encouraged to disclose the disability to the disability counselor as soon as possible. Students must certify the ability to meet essential functions of the curriculum by a signed statement when they begin the program.
Contact Us!
Have more questions about the Manicuring/Nail Technology Program? We're here to help.
Dean Brewer
Department Head, Cosmetology
dlbrewer14251@randolph.edu
336-610-4248